Khabib Nurmagomedov and Tony Ferguson: How the Rivalry Boils Down to One Epic Showdown
Published 12/04/2019, 1:27 PM EST
By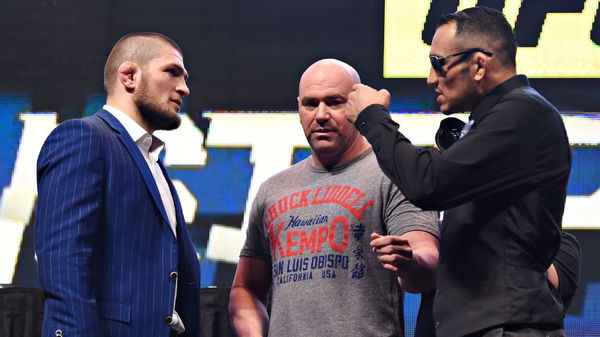 UFC has seen some unforgettable rivalries over the years, rivalries that transcend generations. Tito Ortiz vs Chuck Lidell, Anderson Silva vs Chael Sonnen, Conor McGregor vs Nate Diaz – these fights generate incredible enthusiasm among the fans. In the recent times, no other fight is as much anticipated as the fight between lightweight elites, Tony Ferguson and Khabib Nurmagomedov.
ADVERTISEMENT
Article continues below this ad
The unbeaten Russian phenom, Khabib has become one of the biggest stars this sport has ever seen. He has faced some of the legends of this generation including the likes of Conor McGregor and Rafael Dos Anjos.
However, he is yet to face his toughest challenge, Tony Ferguson.
ADVERTISEMENT
Article continues below this ad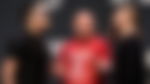 Their fight was made official 4 times in the past. However, due to unfortunate injuries and botched weight-cut, fans were deprived of this battle. Now, after going through a dozen opponents, Tony Ferguson has made himself the obvious contender for the lightweight title.
Well, it seems the fifth time might be the charm as Ferguson is set to face the Russian on April 18th, 2020.
With the title clash ahead of us, let's take a stroll through the memory lane. Let's check out all the times this mega-fight was booked but did not see the inside of the octagon.
Khabib Nurmagomedov Suffers Career Threating Rib Injury
Ultimate Fighter 22 Finale: Dec 11, 2015
The Russian fighter was 6-0 in UFC when his first fight against Tony Ferguson came about. Young Ferguson was on a hot streak and coming off the Ultimate Fighter season 22. Both fighters were to fight in the season finale before Nurmagomedov suffered a potentially career-threatening injury.
This was not the first time, Nurmagomedov had to cancel a fight due to an injury.
After his fight with Rafael Dos Anjos, Nurmagomedov went through knee surgery. He then was to make his return against Donald Cerrone. However, another knee injury ensured that Nurmagomedov would have to wait to fight Cowboy.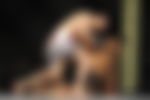 After this series of injuries, Nurmagomedov even started doubting his MMA career.  "I broke a rib and once again retired from the fight, I really wanted to come back, I'm not sure I'll be back at all ever, thank you very much to all my fans." said the Russian after the fight with Cerrone was canceled.
Tony Ferguson would go on to fight Edson Barboza after Khabib pulled out. However, Ferguson was not pleased with the turn of events as he was looking forward to facing the unbeaten Russian.
"I've had hurt ribs and I've had broken arms in fights and still kicked ass and came out victorious. These dudes are using excuses, man," said Ferguson on Nurmagomedov pulling out of the fight.
Freak Lung Injury of Tony Ferguson
UFC on Fox 19, April 16, 2016
Khabib Nurmagomedov vs Tony Ferguson came around the second time for the UFC on Fox 19 card. Fans were excited to see this fight, but there were no escaping injuries.
A little around 11 days before the fight, Ferguson announced that he has blood/ fluid in his lungs and due to that he will be out of the fight against Nurmagomedov in UFC Tampa.
Usually I can Power thru small Bumps & Bruises. Doc Said I have Fluid/Blood in my Lung #UFCTampa I Will Heal Up. I Will be Back.#TeamElCucuy

— Tony Ferguson (@TonyFergusonXT) April 5, 2016
The no 1 title contender for the lightweight title was on the line in this fight. However, after Ferguson was out due to injury, Khabib Nurmagomedov went on to face Darrell Horcher on short notice. Fans began to wonder if they will ever see these two share the octagon.
Khabib Nurmagomedov's Life-Threatening Weight Cut
UFC 209: March 4, 2017
They say the third time is the charm. Well, not if you are waiting to see Tony Ferguson vs Khabib Nurmagomedov. 
Both Ferguson and Nurmagomedov were coming from impressive wins in their last fights.
Ferguson was coming off a win against former champion, Rafael Dos Anjos. While Nurmagomedov had a dominant performance against Michael Johnson in his last fight.
Finally, fans would get to see them fight each other for the interim lightweight title. But theirs was not a night to be!
A harsh weight cut left Khabib Nurmagomedov in the hospital. He withdrew from the title fight and Ferguson ended up fighting Kevin Lee for the interim title.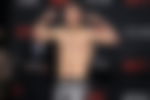 "In the evening, I feel badly. I feel different. I never feel like this. One day before weigh-in, of course, I don't feel good all the time, but I think this is like something different. And when I go home the night before weigh-ins, I feel crazy. I'm cutting weight with my team, and I don't remember how I cut weight. I don't remember a lot of things, something going wrong. I feel so bad. I never feel like this." Nurmagomedov explained after withdrawing from the fight.
The doctor strictly prohibited Nurmagomedov to fight. He even said that the Russian might die if he continues the weight cut process.
Though Nurmagomedov again pulled out from the Ferguson fight, he assured the fans to come back stronger.
"Sometimes when I have injury or when I have bad situation, I all the time come back strong. Now, I know a lot of people asked about this, a lot of fans asked about this because this is a very big fight. The UFC promote this fight very good. We promote this fight. A lot of people are waiting for this fight. I know a lot of fans are upset about this, and I understand this, but I want to say sorry about everything. And I come back. I'm going to come back." explained Nurmagomedov.
Tony Ferguson would win the interim title by beating Kevin Lee via submission after a grueling fight. 
Tony Ferguson Trips Over Wire, Suffers Horrific Knee Injury
UFC 223: April 7, 2018:
It was time to crown a new undisputed champion in the lightweight division. Khabib Nurmagomedov was to face the interim champion, Tony Ferguson for the fourth time. Alas! Ferguson suffered a knee injury in a ridiculous fashion just before the big fight.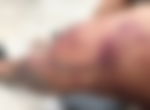 Who would have guessed that an elite level of mixed martial artist would get injured by tripping over a wire right before the biggest fight of his life?
I'm told the injury to Tony Ferguson was literally caused by a trip. The freak accident of all freak accidents. He was walking, saw someone he wasn't expecting to see, veered sharply to say hello and tripped.

— Brett Okamoto (@bokamotoESPN) April 1, 2018
Ferguson's injury was not the worst thing during the fight week. Conor McGregor would make the headline for throwing a dolly at the Nurmagomedov's bus after a media event.
What a crazy situation! After the fourth cancelation of the Tony Ferguson vs Khabib Nurmagomedov fight, Max Hollway stepped up to fight Nurmagomedov for the lightweight title.
Great – Max Holloway, the greatest featherweight of all-time against the unbeaten Khabib Nurmagomedov.
Even with Ferguson pulling out Holloway vs Nurmagomedov was an exciting fight. However, Holloway too will pull out from the fight after hospitalization due to a harsh weight cut.
In the end, Al Iaquinta would fight Khabib Nurmagomedov for the undisputed lightweight title. Though Al would put a valiant effort, Nurmagomedov would win the fight convincingly and become the UFC lightweight champion.
However, what about Tony Ferguson vs Khabib Nurmagomedov?
The Final Showdown
ADVERTISEMENT
Article continues below this ad
April 18th, 2020 
Khabib Nurmagomedov and Tony Ferguson have forever been on a collision course. Nothing makes more sense than them to fight each other for the lightweight title. Fans have been waiting for this fight for years and their wishes came true when UFC announced the bout for the fifth time.
Although this fight has been canceled on four different occasions, now is the right time for them to fight to determine who the best lightweight fighter in UFC is.
ADVERTISEMENT
Article continues below this ad
While Nurmagomedov is coming off wins over Conor McGregor and Dustin Poirier, Tony Ferguson dominated  Anthony Pettis and Donald Cerrone in his last two fights. Both the fighters are on their prime at the moment and they are on a winning streak for years now.
So buckle up your seatbelts, and brace yourself for the ride. Because things will go wild when these two juggernauts stare each other in the eyes inside the octagon with a common goal in mind – the UFC lightweight title!