Khabib Nurmagomedov Says Comparison To Muhammad Ali 'Inappropriate'
Published 09/16/2020, 9:29 AM EDT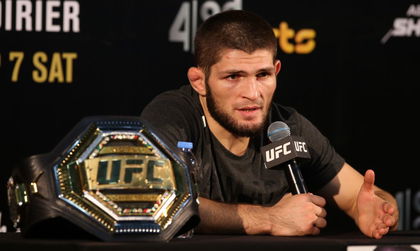 ---
---
Khabib Nurmagomedov is one of the biggest stars in the UFC at the moment. The Dagestan native is undefeated in his MMA career with a 28-0 record. This is something that was previously unheard of in the sport of MMA. 
ADVERTISEMENT
Article continues below this ad
"The Eagle" has been a big star in the UFC for a while now. However, a few years back, he was not as widely recognized the world over as he is now. Things changed when Khabib fought Conor McGregor for the lightweight title. Following his win over "The Notorious" at UFC 229, the Russian saw a meteoric rise in fame. 
ADVERTISEMENT
Article continues below this ad
Khabib Nurmagomedov is now highly popular across the globe and has amassed a huge fan following. Khabib has one of the biggest followings on social media in all of MMA. Nurmagomedov is now set to defend his lightweight title at UFC 254 against Justin Gaethje. This will be his third title defense. 
Khabib will return to the city that saw him submit Dustin Poirier in round 3 of their fight, in his second title defense. This time, however, he faces the biggest test of his career in Justin Gaethje, who is on a four-fight win streak, all four of which were stoppages.
Khabib Nurmagomedov on comparisons with Muhammad Ali
ADVERTISEMENT
Article continues below this ad
In a recent interview, Khabib revealed his thoughts on the comparisons between him and boxing legend Muhammad Ali.
"I think comparing Ali (Muhammad) and me is probably wrong. Only if we talk about the fact that we're both Champions and both Muslims. But all the things he did outside the ring with them, I can't be compared. Indeed, at the time, he was a champion. He was another race and at the time black people were treated badly in America."
The undefeated Champion went on to add, "According to his biography, he was not even served in restaurants. He threw away the gold medal. He changed the attitude towards his race very much. So we can't be compared.
ADVERTISEMENT
Article continues below this ad
"To be able to compare me with him, I need to go back to those years and be black and be a champion, after that we would know. In this case, we can not be compared. I like that people compare us but I think it's inappropriate."
[youtube https://www.youtube.com/watch?v=UgUZ-jmIIdQ]