Kimi Raikkonen Claims Pressure at Ferrari and Alfa Romeo the Same
Published 12/15/2019, 12:24 PM EST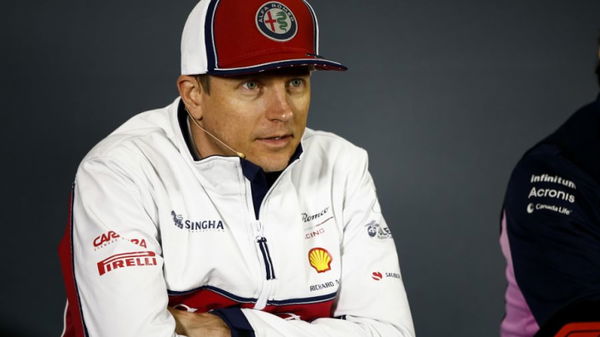 ---
---
Kimi Raikkonen has said that the pressure to perform at Alfa Romeo does not differ from Ferrari. Raikkonen said that he applies the same level of expectations on himself. This is in spite of the vastly different ambitions of the team. At Ferrari, he was helping the team compete for titles. At Alfa Romeo he's helping the team win the tightly contested mid-table battles.
ADVERTISEMENT
Article continues below this ad
Kimi Raikkonen ended his five year stint with Ferrari in 2018. He swapped seats with Charles Leclerc and rejoined Sauber F1, now re-branded as Alfa Romeo. It's been nearly two decades since he linked up with the team, having made his F1 debut with them back in 2001.
Speaking about the expectations of a new team, he commented
ADVERTISEMENT
Article continues below this ad
"I don't think the pressure was any different, obviously we want to do well and like I said, it's a shame we've kind of fallen down as a team but as a driver, I think everyone puts a lot of pressure on themselves and in the end the work that we do over the race weekend is not really any different whichever team you're in. The meetings are very similar between teams, the driving is there and the racing."
It's certainly strange to see him not competing for titles or being a part of a championship contending team. Only during his stint with Lotus, he wasn't in a top team barring his debut season. However, it's evident that he puts the same level of commitment to each team and race weekend.
ADVERTISEMENT
Article continues below this ad
Between 2014-18, he finished in the top four of the drivers standings thrice. In 2019, a new reality has hit. He finished 12th in the drivers standings, with 43 points. He only scored fewer points in his first couple of seasons in Formula One.
There's been one positive for him joining Alfa Romeo. There are fewer commercial and sponsorship commitments for him. That lets him spend more time with his budding family.
"Outside of racing it has been less busy so that's nice part of it plus obviously the team is very close to where I live so I don't need to travel to different countries, in many ways it helps, I have a bit more time to stay with the family. It's a nice thing."
ADVERTISEMENT
Article continues below this ad
In fact, Raikkonen's son Robin has started racing in go-karts. Raikkonen wholeheartedly embraced the role of being a father and is nurturing his son with karts. With more family time, it can help him unwind and relax after a tiring race weekend.
With 315 Formula One entries at the end of the 2019 season, he's the second most experienced race driver. He will become the most experienced driver in Formula One history after round 12 of the 2020 season. Over his long career, Kimi Raikkonen has won a world championship and 21 races, and stepped onto the podium a 103 times.