Why Kimi Raikkonen Has A Point To Prove At The 2019 Spanish Grand Prix?
Published 05/08/2019, 12:43 PM EDT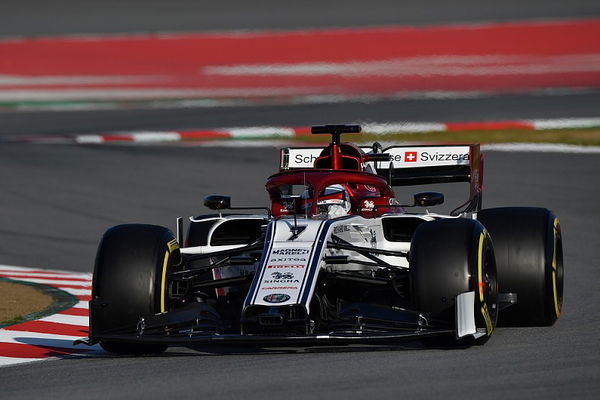 ---
---
He last made headlines at the famous racing track at Spain whilst posing with a young admirer inside the Ferrari paddock. His fan, apparently- a kid in single digits of age- was nearly inconsolable and at an apparent loss of words following his idol's retirement early on in the 2017 race. Then, in 2018, he would end up with another DNF, thus making for 2 retirements in the last three attempts with the Scuderia. Life's not been that great and all fun for Kimi Raikkonen in Spain.
ADVERTISEMENT
Article continues below this ad
It was in 2016, where the fastest driver on the grid- remember the 1:19:119 at Monza in 2018- was found second on the podium at Spain, in a hardly-contested battle with Max Verstappen, the then race-winner.
But all that said, for a driver who's made consistency a bit of a habit, ending up in most consistent points finishes during his career- 32 at one stage- hasn't quite had a consistent run at the Spanish Grand Prix.
ADVERTISEMENT
Article continues below this ad
Does that bother Kimi Raikkonen- you are compelled to ask?
In fact, on the contrary, it appears that the famous Finn isn't quite pleased with himself currently. You read that right.
Kimi Raikkonen is perhaps not happy about his own form at the moment. This is, despite the following two facts being true, that aren't some revelations or a figment of one's imagination in the first place.
a) First, the main contributor to all the points that his team Alfa Romeo Racing have scored this season, is none other than Kimi Raikkonen himself.
b) Second, Kimi has, so far, succeeded in scoring in every single race held thus far, beginning from Bottas' sensational win at Australia, proceeding to Leclerc's spellbinding effort at Bahrain, moving on to Hamilton's sensational win at China and as seen recently, Valtteri's dominant win at Baku.
That said, what Kimi Raikkonen feels is perhaps a 'lost opportunity' is the points he may have scored at the events at China and Baku.
For instance, the Finnish driver, who was pushed back to the pit-lane (from where he'd begin his Azerbaijan race) in lines with an error in qualifying, was found catching Hamilton's Mercedes during the qualifying run.
It's anybody's guess whether 'The Iceman' lost some opportunity there or not?
But all that said, here's a case in point. The upcoming Grand Prix at Spain would be Kimi Raikkonen's eleventh contest at the famous European circuit. In the past, he's been at the very top of the podium here on a few occasions, two to be precise.
For Raikkonen, who'd love to score a few handy points- following his P8 at Australia, P7 at Bahrain, P9 at China, and P10 at Baku, respectively- it's imperative that he did something special at Barcelona.
ADVERTISEMENT
Article continues below this ad
In the past, he's won some closely-fought races here in the Fernando Alonso-land, one with Ferrari and McLaren each, as seen in 2008 and 2005. In fact, his mega triumph in 2005 nearly drove Ron Dennis to an exasperatingly emotional state. Raikkonen would love to collect points this time around, even as he knows that in an Alfa Romeo, his chances of doing that are at best, in fighting off the likes of Renault, McLaren, and Haas- three teams that's he's (so far) consistently beaten in the battle for the midfield.
Moreover, another couple of points or a finish close to P7 or P8 would mean that he'll collect points in the first five races of the 2019 season. But what'll be key for Kimi would be to make the most of the challenging Saturday, not really his biggest strength as seen this season- isn't it?
This will mean holding an edge over the likes of the Toro Rosso's as well, who've been pretty much up there with the Alfa Romeo on straight-line speed. What'll impact Kimi Raikkonen positively to have some support from his teammate, Antonio Giovinazzi, who'll be keen to open his account sometime soon!
ADVERTISEMENT
Article continues below this ad
So how about making a real race out of the Spanish contest folks?