Klopp keeps it 'normal' as Liverpool draw 0-0 at Spurs
Published 10/17/2015, 1:36 PM EDT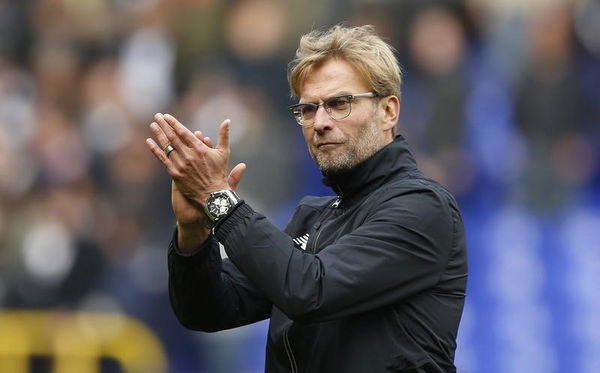 ---
---
By Mike Collett
LONDON (Reuters) – Jurgen Klopp introduced himself as the "the Normal One" at his first media conference and the new Liverpool manager ended up having a relatively normal day when his side drew 0-0 at Tottenham Hotspur on Saturday.
That is, of course, without the phalanx of photographers that followed his every move, the TV interviews before kickoff and double the usual number of reporters at his post-match news interview.
But in between his team failed to produce a win, much like in the closing days of the sacked Brendan Rodgers' regime, and drew for the sixth time in seven matches in all competitions.
Former Borussia Dortmund coach Klopp, who has been the subject of intense media coverage since his arrival in England, remained relatively normal on the sidelines too.
The German stood throughout the match, urging his team forward at every opportunity, but there was little in the way of drama or histrionics and in the end he embraced his opposite number Mauricio Pochettino as the teams shared the points.
Twenty years ago another Juergen K from Germany — Klinsmann — set Spurs and English football alight with his skills on the pitch and many are predicting this one will do the same off the field and lead Liverpool back to the heights they once occupied.
The 48-year-old Klopp thought the home of his old compatriot was not a bad place to start his new career.
"I looked around, and thought, yes, White Hart Lane, a great stadium, there are worse places in the world to be, but then put that aside and got on with the game and the work."
TYPICAL PERFORMANCE
The game turned out to be something of a typically normal Liverpool performance.
They started by swarming all over Tottenham, hit the bar through Divock Origi early on, failed to find a winner and ended up drawing once again.
Liverpool suffered two bad injury blows this week with Danny Ings and Joe Gomez damaging knee ligaments that will keep them out for the season as well as losing striker Daniel Sturridge for this match after a training ground injury on Friday.
But Klopp took those injuries and the day in his stride,
"You can only concentrate on the players playing," he said, "and football can be exciting and spectacular even without goals, and today was a very good, a very hard game. After three days of training, it was a good result.
"Now we have one game between me and the players, our first experience and our work has started."
That work will continue in the next few days with Liverpool playing three matches at Anfield between now and the end of the month against Rubin Kazan in the Europa League, Southampton and Chelsea in the Premier League and Bournemouth in the League Cup.
(Reporting by Mike Collett; Editing by Ken Ferris)