Kumble Reintroduces the John Wright 'BUDDY' Program
Published 07/03/2016, 1:42 PM EDT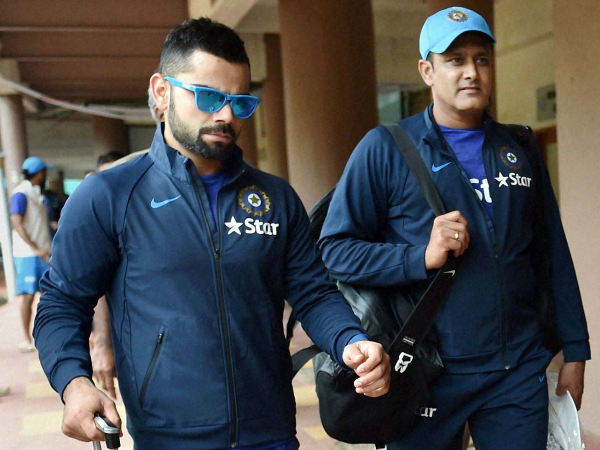 ---
---
The five-day camp in Bangalore acts as India's precursor to the Test series in West Indies and like many of the players insist, they do not have too much time to get into that mode already. For a new coach, it probably will take a bit longer to settle down and understand the various moods of the team members, but Kumble has started in earnest and has tried to make his mark already. Like the BUDDY system that has been reintroduced in the Indian camp which was brought by John Wright under his reign.
ADVERTISEMENT
Article continues below this ad
It's a system where the players are split into pairs with each helping out the other's weaker suit. During the 2001 series against Australia, Wright assigned a partner to each member of the team, usually pairing a batsman with a bowler. One such relationship, VVS Laxman becoming Zaheer Khan's unofficial batting coach, carried on well beyond Wright's tenure. Kumble has instituted something similar, usually pairing a batsman with a bowler or an allrounder: Shikhar Dhawan with Mohammed Shami, for example, or Virat Kohli with Bhuvneshwar Kumar.
"Communication is everything in this sport. It's about senior guys communicating with junior guys. Actually, we tied up each guy with another," says Binny. "Me and Rohit paired up together. Rohit has played a lot of one-day and Test cricket. For me, to share thoughts with him is the way forward. If I can help Rohit by two per cent, maybe he can help me with 30 per cent. That's what we were looking to do today, helping each other in situations."
ADVERTISEMENT
Article continues below this ad
"It's about me and Rohit communicating about our net sessions, areas that I bowl. If I feel that I need to communicate something with him, (I would). In the past, many guys held back (their views) because they didn't want to say something to upset another guy. But (now), we have been pushed in a direction to communicate what we want, specially with our games. There is a lot you can learn from someone else, even by telling him that I think this is the way forward," he adds.
"Basically, we have been divided in such a way that the batsmen help bowlers and vice versa," says leg-spinner Amit Mishra. "So, whenever the situation arises that we have to go with six or seven batsmen, the batsman can chip in and bowl 7-8 overs. My buddy is Pujara. Since he bowls leg spin, he has been teamed with me. So he helps me with batting and I help him with leg spin. That will help the team."
And what if it comes down to a fight between the buddies for a lone spot in the playing eleven? "Noooo! Not yet," chuckles Binny. "I hope it doesn't come to that. Look, the team comes first. Whatever needs to be done on that day or before the Test match, we are there to do it."
More from EssentiallySports on Cricket