Why Kumble is the wrong choice
Published 06/29/2016, 8:19 AM EDT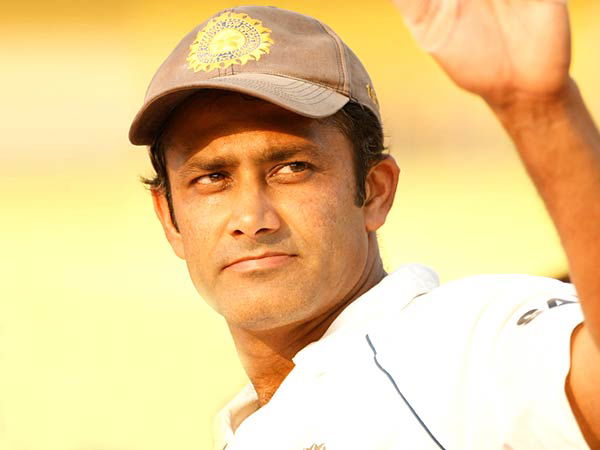 ---
---
Just like his playing career, Anil Kumble has had a sense of surprising all and he has kept his image as he was named India's head coach. It might have ultimately boiled down to a toss-up between the two ex-captains: Ravi Shastri and Anil Kumble. Both were great cricketers during their time. While Kumble was a match-winner on Indian pitches , Shastri's record abroad speaks volumes of his consistency. Shastri was one of the best all-rounders in ODI cricket during his golden days.
ADVERTISEMENT
Article continues below this ad
But,  Kumble may not be the right man for the job. Being experienced as a player and as a coach are 2 different things. Coaching an Indian team demands disparate abilities, mindsets, temperaments, and backgrounds. Keeping aside the cricketing skills for a moment, the most crucial aspect of coaching an Indian cricket team would be the man-management skills of the head coach.
It is in this regard that Shastri had an edge over Kumble. Shastri has been able to manage the Indian team quite brilliantly and players such as Kohli and Suresh Raina admire him greatly and believe that Shastri's tips have had a positive effect on their batting approach.
ADVERTISEMENT
Article continues below this ad
Shastri has been a television commentator for quite a number of years and has travelled to almost every cricketing nation for the same. This experience would have certainly helped India;s cause when they go to England to defend the Champion's Trophy. He had been the team director for some time now and had seen almost all the best Indian cricketers closely. He also knows a great deal about opposition cricketers- their skills, their weaknesses and the threats they pose to team India.
Being a commentator he surely would have interacted with a number of youngsters and upcoming cricketers in the national side as the biggest challenge for any coach or captain is to connect with young cricketers of the team Shastri, a seasoned cricket expert won't have missed even a single trick in the book as he is smart, sharp and can't be fooled easily and these qualities of his would have surely come in handy while giving team inputs about opponents, strategies, pitches and playing conditions. Kumble though outstanding as he was as a cricketer, does not quite match up in these areas to Shastri.
You can keep sports out of politics, but you cannot keep politics out of sport . The BCCI is tight-lipped about these developments, but surely the three-man committee of former Test cricketers Sachin Tendulkar, Saurav Ganguly and VVS Laxman, influenced the decision of ousting Ravi Shastri. It is but common sense that a panel will select a person with whom they have shared the dressing room n number of times. Sachin Tendulkar, Saurav Ganguly, Anil Kumble and VVS Laxman once formed the 'Fab Four'and have certainly continued their friendship till date, as it is apparent from the panel's decision.
ADVERTISEMENT
Article continues below this ad
The Dhoni factor too might have come into play. It is well known that Kohli backs Shastri. Besides, Shastri had made it clear in an interview to the media that it was time for MS Dhoni, skipper of the limited-overs teams, to step down and Kohli to take over in all formats. Thus choosing Shastri would have created an awkward situation. It is well known in the cricket circuit that Dhoni, who played under Kumble and took over as Test captaincy when he retired in 2008, highly regards him. So it was proved that Dhoni being a senior player has much more say in administrative matters than Kohli.
The fact that Kumble, as the ICC cricket committee chairman, passed a rule which allowed a maximum of four fielders outside the circle in the middle overs of ODI cricket proved to be a negative point for the spinners who really are India's strength. This rule allowed five fielders outside the circle in the final 10 overs of an innings thus handing over an advantage to countries (not India) which boast of a good pace attack. Many experts feel that Kumble missed a trick there and should not have allowed spinners to be so badly comprised during the middle overs.
Another disturbing fact of Kumble's stint with various teams as it appears is that he runs from the challenges. He abruptly resigned as chairman of the National Cricket academy. He had made some presentations but failed to carry the rest of the team along. After resigning he said: "I had a three-year vision, a holistic approach for the NCA that was not in alignment with the rest of the committee. It didn't make sense to me to just be a figurehead in this kind of a situation. So I thought it was better that somebody else take over."
ADVERTISEMENT
Article continues below this ad
Kumble's tenure as a mentor to the Royal Challengers Bangalore too was also short lived. He quit the RCB to join the Mumbai Indians for the 2013 edition of the IPL. At that time, Kumble said: "I have made this decision to take up a new assignment based on an opportunity that my company, Tenvic has been offered."
And he quit Mumbai Indians too in December 2015. This seems ironic as Kumble was a fighter to the core during his playing days. We still remember and admire his bowling effort against the West Indies. In this match, he bowled despite having a fractured jaw and took the crucial wicket of Brian Lara . But surely as seen above playing and managing are 2 different skill sets