Lakers News: Apart from LeBron James and Anthony Davis, Manager Willing to Trade Everyone
Published 01/20/2020, 2:19 AM EST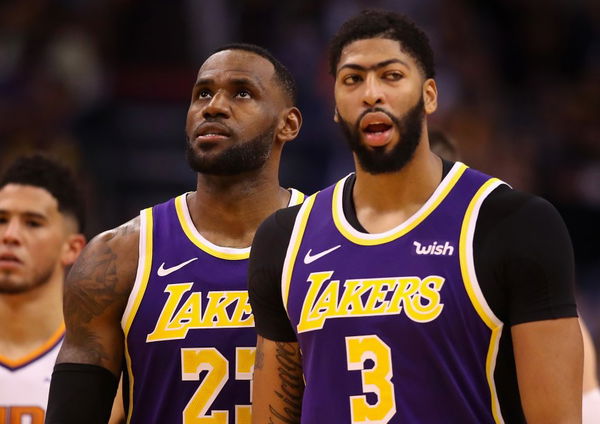 ---
---
The 2020 NBA trade deadline is fast approaching ( 6 February ). The teams are going all-in with their baits to get the players who will help them win this season. Amongst these teams is the ultimate competition, the Los Angeles Lakers. They seem determined to get what they want. The LA Lakers, who experienced everything last season; injuries to star players, hot/cold performances, virtual controversies, and amazing victories, have decided to bag this season as well.
ADVERTISEMENT
Article continues below this ad
Robert Pelinka ( General Manager, L.A. Lakers) has declared that he is 'prepared to trade anyone on the roster, except Anthony Davis and LeBron James, if it means filling a gap the Lakers need to win the championship.'
Who's swimming in the Lakers pool?
ADVERTISEMENT
Article continues below this ad
Kyle Kuzma : Kyle Kuzma ( small forward, LA Lakers ) has been in the news as the most favorable trade option to be sent back into the pool. He is a young talent who has a lot to offer, but on his own terms. Even though the Lakers had a good season recently, a lot of times because of Kuzma, he has also displayed a lot of dry performances. Along with the twitter controversy revolving around his coach, Clint Parks, which also affected Kyle afterward. These are contributory factors for Kyle's obvious trade. Whichever team gets its hands on Kuzma, surely will have gained an opportunity at a strong core.
Rajon Rondo : Rajon Rondo, an elite ballplayer in his early career, has been giving overnight surprises to the Lakers nowadays. His bond with Davis ( from when they played for the New Orleans Pelicans together ) is usually said to be the reason why Rondo got a pass into the Lakers. It would benefit the team if they can trade Rondo for someone stable.
Why Davis and James?
Anthony Davis and LeBron James are the "Scariest Duo" on the court, owing to their amazing partnerships. This has resulted in some well-played assists and individual makes for both the star players. James led the team to victory in the post injured AD games. Rob Pelinka is far from letting Davis go. These are the Lakers' star players who brought the franchise back on its toes. Even though the General Manager's declaration might harm the team's morale, the Lakers are going to go all in to win this championship.