Lance Stroll: Moving From Williams F1 to Racing Point Like Changing Racing Categories
Published 12/17/2019, 7:29 AM EST
By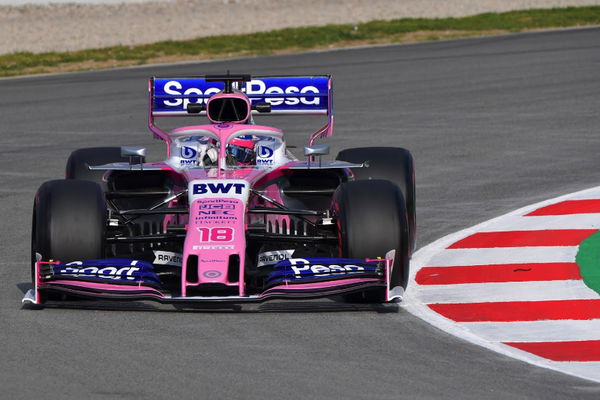 Lance Stroll compared moving to Racing Point F1, from Williams F1 akin to moving up in racing categories. Stroll spent his first couple of seasons with Williams F1, as the British team struggled immensely in 2018. Mid 2018, Lance's father Lawrence Stroll bought out Force India F1, renaming it as Racing Point. Subsequently, they signed Lance Stroll for 2019. The Canadian youngster had a mixed season, generally finishing out of the points. He completed 2019 with 21 points. A total of less than half of his more experienced teammate, Sergio Perez.
ADVERTISEMENT
Article continues below this ad
Stroll was asked what was the difference between driving for Williams and Racing Point. He feels that his current team is in a more competitive mid-field battle with other teams. Only 34 points separated Renault, Torro Rosso, Racing Point and Alfa Romeo in the constructors' standings.
To him, both teams are heading in completely different directions. Williams has languished at the back of the grid for the last couple of seasons. This season there was a sizeable gulf between both Williams and the 18th fastest car on the grid. Racing Point, on the other hand, has been a mid-field battling team.
ADVERTISEMENT
Article continues below this ad
Comparing the two teams if there was a noticeable change, Stroll commented:
"I see a difference in speed. You look at the grid, it's definitely a much more competitive environment."
ADVERTISEMENT
Article continues below this ad
It's a blow to an ailing Williams which has been criticized heavily all season. None more so than former driver Robert Kubica. Incidentally, Racing Point might bring the Polish driver in some testing capacity within the team.
When talking about the future of him and Racing Point, he was very upbeat on the prospects. Claiming that the Winter of 2018 did not let the team showcase its real development capabilities. The transition of team ownership and structure put them all on a back foot. However, he's confident that this year the team will be taking giant strides forward in car development.
The engineers that work with Stroll, he's in the right hands. The motivation for the team is high according to Stroll and these engineers can help him fight for point finishes more often.
ADVERTISEMENT
Article continues below this ad
Stroll hasn't endeared himself to fans in recent times. To many, he's seen as a talentless pay driver who does not merit a seat. However, it hasn't fazed Stroll who is F1's second youngest podium sitter after a 3rd place at Azerbaijan in 2017.
He possesses pace. In his three seasons, he's generally amongst the faster drivers at the start, making up a lot of positions on the opening lap. Overall, despite a strong debut season, Lance Stroll has had two mediocre seasons in the sport. If Lance Stroll has moved up a category of racing from Williams to Racing Point, he will need to up his on-track record as well.