Lando Norris and Milk: The Story Behind How the McLaren F1 Driver Became Internet's Milk Sensation
Published 10/30/2019, 9:02 AM EDT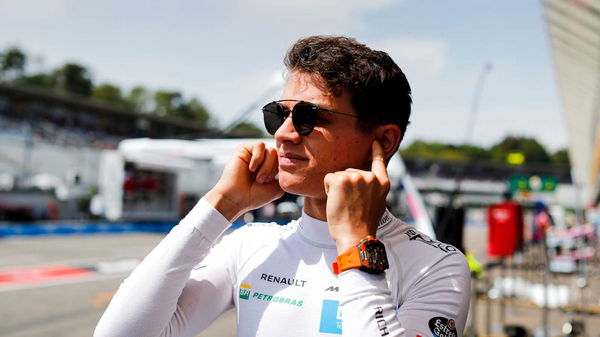 ---
---
McLaren rookie Lando Norris has made a lot of waves in Formula One with his driving. However, that is not the only thing he is known for, he has excellent social media presence and he knows how to use it. One thing that he absolutely adores, is milk, and he is proud of it, and the Internet loves him for it.
ADVERTISEMENT
Article continues below this ad
Since then, social media and even his own teammate, Carlos Sainz, have made references to his love of milk. Also, in an Instagram image, he posted a picture of posters of himself and Sainz. He noted in the caption that he is taller that Sainz Jr. The Spaniard couldn't help interjecting, "Only in the poster, bro! need more milk!"
The 19-year-old driver's Twitter and Instagram is flooded with recurring jokes about milk. The young Briton actually brings with him a light-hearted sense of humor that is severely lacking in Formula One. In fact, Lando Norris has dubbed as the new Meme King of the F1 paddock, though he does not let it affect him on-track.
ADVERTISEMENT
Article continues below this ad
ADVERTISEMENT
Article continues below this ad
Norris is actually the youngest British driver to debut in Formula One, trumping the likes of Lewis Hamilton and even Jenson Button.
The comparisons to the soon-to-be six-time champion, Lewis Hamilton are unavoidable. Both drivers debuted under McLaren's wing, though the team's competitiveness on both occasions were chalk and cheese.
Another love of Norris' is social media and the banter that he brings to the table is side-splitting. He gets along handsomely with Carlos Sainz off the circuit and on it as well. He even streams videogames on the platform, Twitch, and shares it with his numerous followers.
ADVERTISEMENT
Article continues below this ad
Another hilarious aspect about him is his team radio exchanges during each race. Previously, Fernando Alonso and Kimi Raikkonen would provide radio gold. However, they can rest easy knowing that the radio humour is in good hands.