Lando Norris Proves Why He Should Be in NASCAR Instead of F1
Published 03/18/2020, 1:13 PM EDT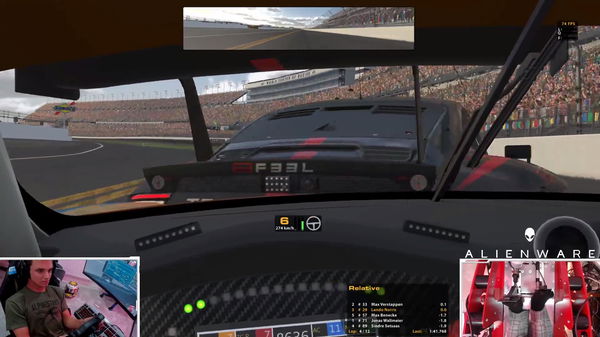 ---
---
Formula One driver Lando Norris had the most-watched Twitch stream of Sunday with his viewer count moving past the 70,000 mark. Norris was taking an interest in an extemporaneous online race that Veloce Esports had sorted out in the wake of the wiping out of the season-opening Australian Grand Prix.
ADVERTISEMENT
Article continues below this ad
Norris' stream had a lot of in excess of 100,000 individuals who saw the race progressively over an assortment of stages including Twitch, YouTube, and Mixer. Notwithstanding Norris, the race named "Not the AUS GP" and run on Codemasters' F1 2019 computer game included other enormous names like previous F1 drivers Esteban Gutiérrez and Stoffel Vandoorne, just as Real Madrid goalkeeper Thibaut Courtois, star sim racers and notable YouTube personalities.
ADVERTISEMENT
Article continues below this ad
Interestingly enough, for somebody who races in F1 against probably the greatest names in the worldwide game, Norris was breaking under the weight of the attention. "I'm more nervous now than when I drive the actual car!" he said as the watcher tally continued climbing. The impact on his nerves was recognizable as he committed diverting errors, for example, more than once disregarding DRS or thinking he'd had the world's best beginning when he moved past everybody on the formation lap.
Lando Norris hits Verstappen off the track
The game finishes for Norris in tears of laughter, for Verstappen the game finishes in the walls.
ADVERTISEMENT
Article continues below this ad
Lando Norris partook in the virtual Australian Grand Prix a couple of days back. The youthful Brit was already busy yesterday at the racing simulation game iRacing. Norris frequently races against or with Max Verstappen on iRacing. Right now, two Formula 1 drivers went up against one another during the Pro Fun Cup.
The video shows how Verstappen leads during the first heat of the Pro Fun Cup. Norris follows the Dutchman and jumps into the slipstream. At that point things turn out badly, Norris taps Verstappen, where the Dutchman loses control and winds up in the wall. Norris drives on and assumes control over the lead. The McLaren driver can't contain his tears of laughter after the occurrence.
Norris let out a boisterous 'Oh!'. He looked stunned for a couple of moments before his face lit up with a grin. He giggled about it: 'I'm crying!' and was at first hit with a 55-second punishment. However, this was withdrawn after the recording was surveyed. Some state it was a lag/net code issue.
ADVERTISEMENT
Article continues below this ad
Lando Norris' vehicle lagged into Max Verstappen's back guard, with just Verstappen's vehicle enlisting the effect and enduring the results. This would clarify the replays and why the punishment was withdrawn.