Largest Premier League wins
Published 08/29/2015, 10:30 AM EDT
By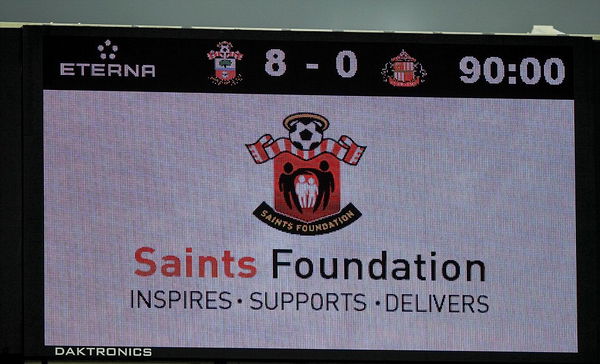 People love tightly contested goal scoring matches. Sometimes, all the goals are scored by a single team in a lopsided contest. Here are the top 10, largest victory margins in the Premier League era.
ADVERTISEMENT
Article continues below this ad
10. Chelsea 7-0 Stoke city
Chelsea were in a tight battle for the 2009/10 Premier League title which had  just gotten intense following a defeat to Tottenham Hotspurs. They would anyway seal the title starting with a 7-0 home win over Stoke City. It would be their third of four games in which they scored seven or more goals that season.
ADVERTISEMENT
Article continues below this ad
Four Blues players were on the score-sheet, including a hat trick by Malouda (his first in English football). This match would play a vital role in helping Chelsea fend off Manchester United for the premier league title and help them break the Premier League scoring record.
9. Arsenal 7-0 Everton
Arsenal had hoped to continue their league dominance following their invincibles of 2003/04. However, Chelsea took the Premier league in a convincing manner. In their final home game, Arsenal disposed Everton 7-0. Six Gunners were on the score sheet, including some of their most iconic players such Pires, Viera and Bergkamp. The match was by then a formality as Chelsea had already won the title.
8. Middlesbrough 8-1 Manchester City
Normally, teams like Manchester United, Arsenal, Manchester City and Everton and even Blackburn Rovers in the 90s are the kind you expect to see on the right end of the result. Its surprising to see, Manchester City were on the receiving end of a 8-1 thrashing from Middlesbrough. Given that it was in 2008, is even more shocking as it happened right before City began to establish itself as a powerhouse in England.
Elano got the lone city goal as five Middlesbrough players were on the score sheet.
7. Nottingham Forest 1-8 Manchester United
From all the largest margins of victory, this is the only one match where the away team won in a convincing manner. This came in the 1998/99 season, during which United won the treble. The sole goal from Forest came from Alan Rogers who had equalized for his team early in the game. After that United, turned the notch up and won the game in a convincing manner, making it the largest away victory margin in the Premier League. United had only 3 goal scorers, but that included a four goal salvo from their "super sub" , Solskjær.
6. Southampton 8-0 Sunderland
Southampton's 2014/15 season exceeded all expectations to finish 7th and with a respectable tally of 60 points. While their season included wins over Arsenal and Manchester United, the biggest triumph was their 8-0 thumping of the black cats, Sunderland AFC.
In what was a team effort, the saints had 5 different scorers with Pelle the only Saints player to score more than once, as Sunderland added 2 goals thanks to two own goals. This 8-0 win was a massive boost to Southampton's Goal Difference at the end of the season (it beat the Goal difference of Liverpool and Tottenham who both finished ahead of them).
Some joked that Sunderland was the biggest disaster to leave Southampton since the Titanic.
5. Chelsea 8-0 Aston Villa
Chelsea faced a torrid first half to the 2012/13 season. Following the much wanted Champions League victory in 2011/12, they struggled in the first half of the premier league campaign and Champions League Group stage.
Following a loss in the FIFA Club World Cup finals, their first premier league game was a home stand against Aston Villa. The Blues showed their class, with 7 players on the score sheet. Oscar was the only player to score more than once. Lucas Piazon could have made it 9, but had his penalty saved. This was one of Rafa Benitez's finest games as the head of the Blues, and this match is the only one in the premier league to have seven goalscorers.
https://www.youtube.com/watch?v=PefWEPHwCQM
4. Chelsea 8-0 Wigan Athletic
Heading into the final match week of the 2009/10 premier league, Chelsea were holding a single point lead over United and needed to beat Wigan to win the title. They did that with style. Five players made the score sheet, including a brace by Anelka and a hattrick by Dider Drogba. The 3 goals allowed Drogba to win the Premier league golden boot.
The match saw Wigan become the first team to lose by an eight goal margin twice in the same season, as Chelsea were the first team since Tottenham in 1961 to score more than 100 league goals, with a final tally of 103. Chelsea were also the first team to score more than seven goals on four different occasions in the league.
https://www.youtube.com/watch?v=9DWtJJW68aU
3. Tottenham Hotspurs 9-1 Wigan Athletic
What was the first of the two eight goal margin defeats for Wigan Athletic, turned out to be the biggest win for Tottenham in the premier league. Starting with Defoe and Crouch up front, Tottenham just held a 1 goal lead at half-time thanks to Peter Crouch.
The second half saw nine goals being scored, including eight by Tottenham (which became a record for most goals in a half by a team). Six players (including one from Wigan) were on the score sheet. Defoe was the hero, scoring five goals. If there was any consolation for Wigan, they denied Spurs a clean sheet thanks to Paul Scharner. 2009/10 was the first time Spurs would finish 4th and reach the Champions League.
https://www.youtube.com/watch?v=ALNwBjugMbw
2. Newcastle United 8-0 Sheffield Wednesday
With just one point in their first seven games in the 1999/2000 season, Newcastle were under immense pressure to get their season together. What better way to do it by scoring eight goals. In a match against struggling Sheffield Wednesday.
Four Newcastle players made the score sheet including record premier league goal scorer, Alan Shearer who slotted five goals. This was one of his brightest moments with the north-east side, but Newcastle had lost momentum and would finish 11th that season.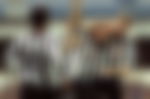 1. Manchester United 9-0 Ipswich Town
ADVERTISEMENT
Article continues below this ad
The 1994/95 Season was when Manchester United set the record for the largest ever Premier League win. The defending Champions were struggling up front and they solved it by acquiring Andy Cole. March saw United thump Ipswich Town 9-0.
Four United players were on the score sheet. The biggest contributor was mid-season acquisition, Andy Cole who scored 5 goals. Ipswich were just unable to respond to United. However, the title for the season would go to Blackburn Rovers, but United can be glad to still hold the largest winning margin in Premier League history.
ADVERTISEMENT
Article continues below this ad
https://www.youtube.com/watch?v=YZHaIOCjr3E
Some honorable mentions are