Late eagle puts McIlroy in Abu Dhabi contention
Published 01/23/2016, 8:02 AM EST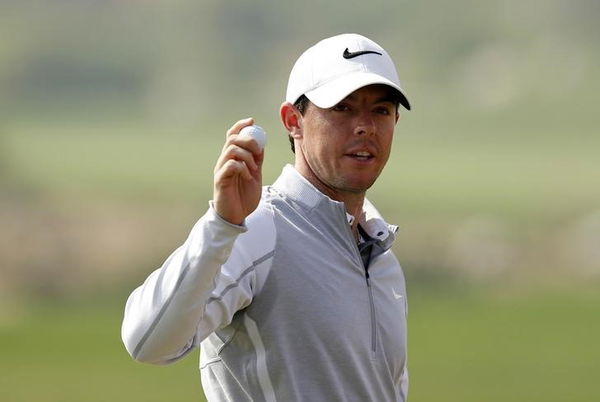 ---
---
By Matt Smith
ADVERTISEMENT
Article continues below this ad
ABU DHABI (Reuters) – Rory McIlroy grazed the pin from nearly 270 yards on the final hole of his fog-delayed second round at the Abu Dhabi Championship on Saturday, before settling for a tap in eagle and a place in the leading threesome for the afternoon's third round.
Such a scenario seemed improbable 20 minutes earlier when the four-times major winner was one-over after 16 holes, five strokes behind clubhouse leader Andy Sullivan, and facing his first birdie-less round since May's Irish Open.
ADVERTISEMENT
Article continues below this ad
Then the Northern Irishman made a birdie three on 17 after hitting the pin from distance before a 268-yard fairway wood on the par-five 18th almost landed him a career-first albatross.
He made the two-foot eagle putt to sign for a two-under 70 and eight-under total to sit two adrift of Sullivan (67).
"I said, let's finish 3-3 and I was able to. I knew 18 was a chance and 17 playing downwind, I would have a wedge in there," said McIlroy, who switched to a five-wood from a driver for the pivotal shot on 18.
"I felt it was downwind and if I had let the driver get a little bit right at all I had a chance of going into the water.
"I couldn't hole from outside two feet so I thought I'd hit a couple of shots within two feet on the last two holes. It glossed over a pretty average round."
LATE START
McIlroy and his playing partners – U.S. Masters champion Jordan Spieth and world number six Rickie Fowler – were among 60 golfers resuming their second round after fog delayed Friday's start and meant they couldn't finish that day.
Saturday's start was also held back because of poor visibility. The 26-year-old McIlroy, though, had a title challenger in clear view.
"I'm hitting the ball well tee to green," he said. "I feel there were a couple of misreads rather than actually anything that was wrong on the greens. The game feels good, good enough to win this week."
McIlroy, England's Sullivan and U.S. amateur Bryson DeChambeau – whose second-round 72 also put him on eight-under – will tee off again at 3.35 p.m. (1135 GMT).
ADVERTISEMENT
Article continues below this ad
Seven players including world number five Henrik Stenson will resume on seven-under.
The third round began at 1.35 p.m, so few players are likely to complete 18 holes before dusk falls around 6 p.m.
Spieth (73) is three-under, Fowler (68) is six-under.
ADVERTISEMENT
Article continues below this ad
(Reporting by Matt Smith. Editing by Patrick Johnston)