Latest Arsenal Transfer Rumors
Published 01/12/2015, 8:08 AM EST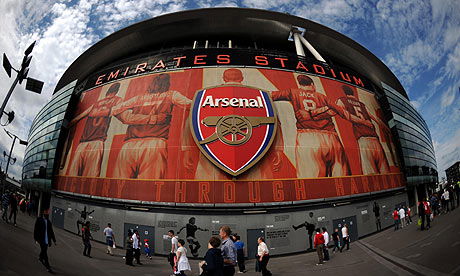 ---
---
Arsenal have had a pretty dismal season till now, probably one of the worst in the last few years. They sit 6th in the league table currently, sometimes jumping to 5th. As a club with a rich history Arsenal have seen themselves squander chances time and again and fans now are satisfied with a 4th place finish every season. This year too they might get a top 4 finish but the chances of finishing above that are speculative and not guaranteed.
ADVERTISEMENT
Article continues below this ad
Arsenal's season, just like previous seasons have seen the team plagued with injuries most of them being long term injuries. Apart from that Arsenal's defensive worries never seem to end with Mertesacker and Monreal drawing flaks from the Arsenal faithful time and again. Arsene Wenger, being typical Wenger, stated that Arsenal might be active in the January transfer window; signs of which are clearly not visible. But one thing that has been associated with Arsenal for many seasons now are the transfer rumours linking Arsenal with some very competent and talented players. Last year saw Gonzalo Higuain being heavily linked with a move to the red part of North London, the saga finally ending with Higuain choosing Naples over London. This year has been no different with Arsenal being linked with some very talented players. So here are a few of the players who are still being linked to Arsenal.
Mario Mandzukic
ADVERTISEMENT
Article continues below this ad
The Croatian has seen a rich vein of form while his time at Bayern, him being thus transferred to Atletico Madrid. Sadly, he hasn't been in the form he used to be once, many saying that he sometimes shows signs of laziness in front of the goal. A move to Arsenal might be likely as Fernando Torres has been brought into the line up by Deigo Simeone hence sidelining Mario. But the thing is that Arsenal have a decent attacking force with Sanchez, Giroud and Welbeck scoring goals in every match, the attack further enhanced by the return of Theo Walcott, thus the transfer might just be a speculation.
Transfer Possibility : Low 
Mario Suarez
Another Atletico man linked to Arsenal is Mario Suarez. Mario Suarez clearly isn't a part of Diego Simeone's future plans, being left out of the side in many matches. The form of Koke has further aggravated his plight hence forcing him to consider his future at Madrid. Arsenal on the other hand have serious defensive issues with the back four constantly being cracked wide open. Arteta and Flamini aren't growing any younger and a young defensive midfielder is what every Arsenal fan has been hoping for since the departure of Alex Song.
Transfer Possibility : Medium to High
Loic Perrin
Arsenal's defensive worries seem to be the story of every season and this season is no different. The signing of a Center Back would really help the cause and also bring about a sense of competition for a place in the starting eleven. Loic Perrin has been linked to Arsenal for some time now, though reports suggest that Arsene isn't willing to pay the asking price of  £8 Million.
Transfer Possibility : Low to Medium 
Every year Arsenal have been linked with some crazy transfers which are nothing but wild speculations and chances of them being completed are near impossible. This year too Arsenal have been linked to some such transfer rumors:
Isco
ADVERTISEMENT
Article continues below this ad
Arsene Wenger always has has an eye for spotting young talent. He has always been optimistic about Isco's abilities, ever since he was a Malaga player. Even now he has been vocal about his praises for Isco but has never really shown interest in buying him. Rumor has it, Arsenal were about to make bid of £64 Million this January. The possibility of such a transfer going through is impossible. Though Isco has been overlooked quite a bit by Ancelotti but a move to Arsenal from Real Madrid is something quite unfathomable.
Luis Suarez
Last year too Luis Suarez was linked with a move to Arsenal, the whole thing ending up in an ugly manner. This year too he has been linked with the likes of Arsenal, Chelsea and Manchester United. The possibility of Suarez coming back to Premier League is unlikely, more so to a team other than Liverpool who themselves might not be able to afford him.
ADVERTISEMENT
Article continues below this ad