Latest Fortnite Update Makes Changes to Primal Shotgun and Recycler
Published 04/09/2021, 3:42 AM EDT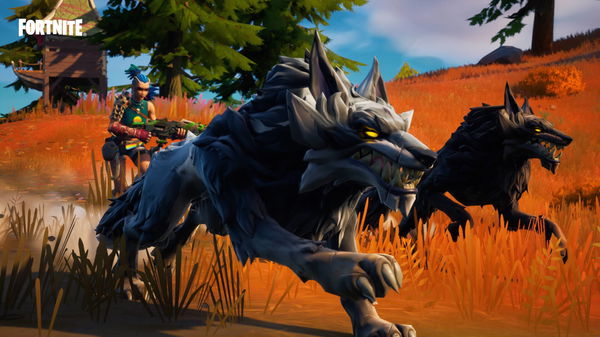 ---
---
The current season in Fortnite started out to be really disappointing. The community had numerous complaints about Chapter 2 Season 6 regarding the state of the gameplay elements in the game, as well as the competitive aspect of Fortnite. However, Epic Games tried to bring things back to speed with the major 16.10 update patch. This one added loads of interesting new content and simultaneously made changes to some of the aspects of the game. For instance, it made a much-needed tweak to the Primal Shotgun.
ADVERTISEMENT
Article continues below this ad
Earlier today, devs at Epic Games showcased their expeditiousness once again as they have made further tweaks to the game in a recent update. As we have seen for a while now, Epic Games has only been announcing the major updates and has been releasing the minor updates in a much more low-key manner. Earlier today, devs released one such sleeper update, which includes some minor yet important changes.
The iconic Fortnite pro and content creator, SypherPK, recently spoke about these changes on one of his latest videos.
ADVERTISEMENT
Article continues below this ad
Further reading: Apex Legends Kicks Off War Games Event Next Week With Five New Game Modes, Skins, and Rewards
 The latest update in Fortnite has made some necessary tweaks
Recently, the game had added an intriguing new weapon: the Recycler Gun. The Recycler technically grants you the boon of unlimited ammo, but with conditions applied. This weapon has a clip capacity of three bullets. However, if you run out of ammo, this gun can make its own by 'recycling' builds and raw materials available around you.
However, many players had argued that the weapon is pretty underwhelming due to the difference between its clip capacity, the time it takes to replenish ammo, and the damage that it can deal. But they can now put their minds at ease. In this latest update, devs have provided a major buff to the Recycler's build damage. This weapon can now take down freshly placed builds with a single shot, and wooden builds with two shots.
ADVERTISEMENT
Article continues below this ad
Furthermore, this update has nerfed the Primal Shotgun by a great deal. This is, as Sypher says, "This might be the nail in the coffin for the Primal shotgun". The popular Fortnite data miner Hypex has posted the changes that devs have made to this formerly broken gun.
ADVERTISEMENT
Article continues below this ad
These are obviously some of the changes that players have been asking for. Let us see how these pan out in the end.
Trending Stories