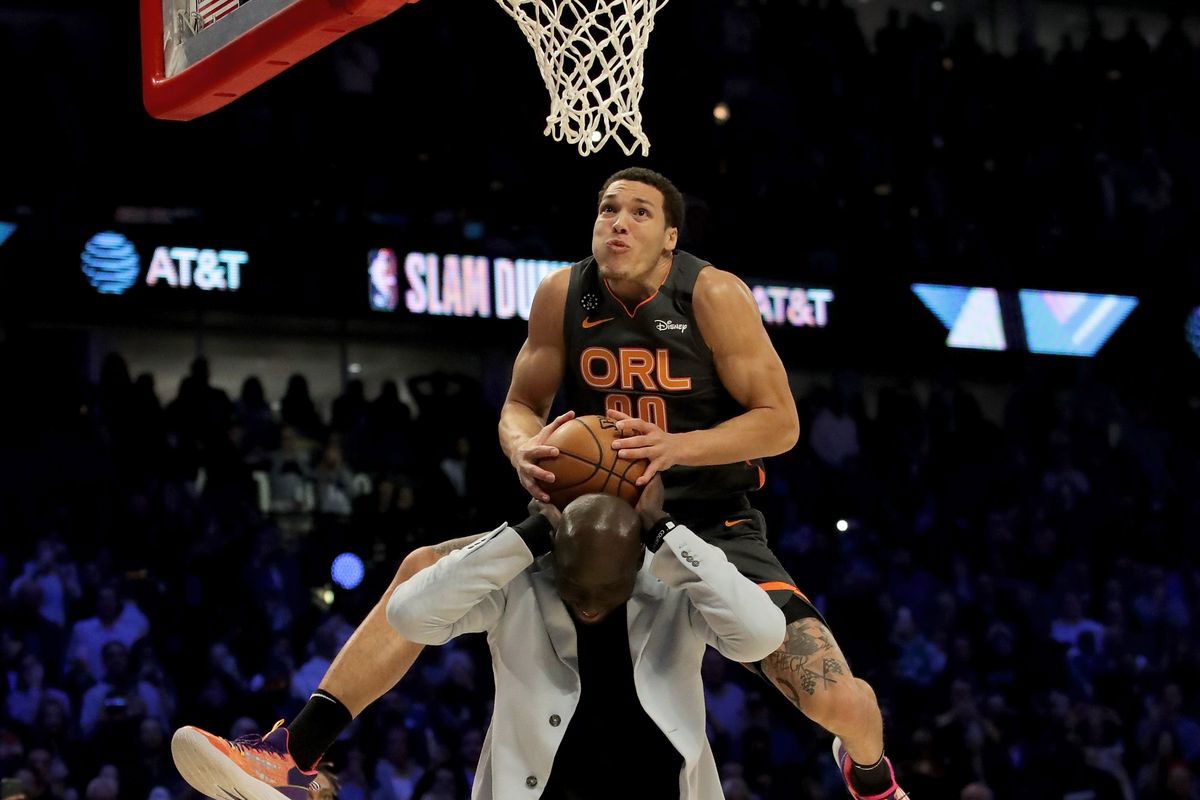 A feeling of Deja vu might have hit Aaron Gordon and many others inside the United Center in Chicago on Saturday.
In 2016, Gordon fell behind Zach LaVine despites some eye-catching dunks. Four years on, Gordon's fate remains the same. Competing against Miami Heat's Derrick Jones Jr. in the finals on Saturday, the contest once again went to two tie-breakers and Gordon once again fell behind despite some unbelievable jams.
And it did not end without some controversy. After initially scoring perfect fifties, Jones scored a 48 in the final tie-breaker. For the final dunk, Gordon put in a jam over 7 foot 5 inch Boston Celtics rookie Tacko Fall. However, he earned only a 47 for the slam.
After the contest, one of the judges revealed that it should have been a tie.
"We thought it was going to be tied. We were like, 'This is a tie!'" one of the judges said as per Ramona Shelburne of ESPN. "But somebody didn't do it right. I don't know who it is."
Twitter reacts to Aaron Gordon getting robbed
Many players, pundits, and fans believed Gordon should have won the 2020 NBA All-Stars Slam dunk contest. Many players including the likes of LeBron James, Luka Doncic, Joel Embiid took to Twitter to express their dissatisfaction over Gordon's loss.
2 🏆 should have been rewarded tonight that's for damn sure!! Keep it a buck y'all. 🤦🏾‍♂️!! Them boys both put on a show! Professional DUNKERS

— LeBron James (@KingJames) February 16, 2020
what? 🤷🏼‍♂️

— Luka Doncic (@luka7doncic) February 16, 2020
@Double0AG bro you can have my trophy. I'm heated. 🤬🤬🤬

— Terrence Ross (@TerrenceRoss) February 16, 2020
One of the craziest dunk contest I've ever seen!!! @TheRea1DJones and @Double0AG did there thing!!! They both should've just won real talk 💯💯💯

— Donovan Mitchell (@spidadmitchell) February 16, 2020
AG GOT ROBBED AGAIN #BS

— Joel Embiid (@JoelEmbiid) February 16, 2020
That was legendary… but damn they did Aaron wrong again🤦🏽‍♂️

— Rudy Gobert (@rudygobert27) February 16, 2020
How can you single handedly have 3 of the top 10 dunks ever completed in the #NBADunkContest and never have been a champ? 🧐😒 @Double0AG #robbery

— Reggie Jackson (@Reggie_Jackson) February 16, 2020
This had to be one of the best dunks ever

Aaron Gordon absolutely robbed pic.twitter.com/svKUhotEkW

— Devin Keller (@D_Keller19) February 16, 2020
Can't have the dunk contest be at the level, then end it like that smh….

— 🏁 Jamal Crawford (@JCrossover) February 16, 2020
I feel sick for AG man. You re the people champ bro @Double0AG !!!❤️❤️

— Evan Fournier (@EvanFourmizz) February 16, 2020
Anybody: *does basic between the legs dunk*

Judges: 50!!!!!!!!!

Aaron Gordon: *does 540 windmill between the legs back flip from the free throw line*

Judges: pic.twitter.com/phMDRLf7R6

— • (@BronAndBrow) February 16, 2020