LeBron James Remembers His High School Basketball Days Amid Coronavirus Break
Published 03/18/2020, 4:51 AM EDT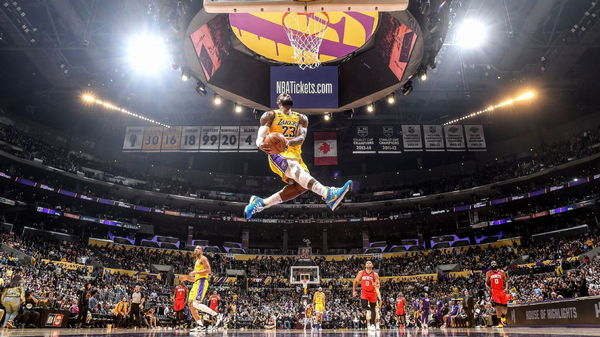 ---
---
Quarantine has given a hard time for each one of us alike. Whether it's me, you or LeBron James himself. LA Lakers star LeBron James in his recent Instagram stories shared how is he spending his days amid coronavirus pandemic. And not to everyone surprise, he is doing the exact thing that Stephen Curry admitted doing a few days ago. You might have guessed it right, it's watching his own highlights on YouTube. Well, he is not wrong because all NBA fans are doing the same regarding their favorite players and teams.
ADVERTISEMENT
Article continues below this ad
In his recent Instagram stories, LeBron James could be seen viewing his full match at St. Vincent-St. Mary High School, Akron. 'High School Footage. Watching full games for back when' LeBron added on his story. LeBron in another story mentioned how the game between St. Vincent-St. Mary High School vs Columbus Brookhaven was an OD hype back then. He added that their team should have taken that 'L' back then. In the next story, he explained "That boy at the free-throw line was a problem!! Drew Lavender!! Sheesh".
ADVERTISEMENT
Article continues below this ad
If you are thinking about watching those highlights, then we got you fam. Here is the 'OG' YouTube video which LeBron James is watching:
http://https://www.youtube.com/watch?v=nKT7Wwm6T48
ADVERTISEMENT
Article continues below this ad
LeBron James and the saga of Quarantine
This was not the first time that LeBron James has added something on his social handle amid the quarantine period. On the first day of NBA suspension, he urged out to 'Cancel 2020'. And when the official quarantine period got started he shared that he is watching the highlights of his days from Miami Heat with his best friend Dwyane Wade. Dwyane Wade and LeBron was clearly 'THE' duo to watch out for back then. Wade and LeBron won every accolade during those 4 years. Miami Heats won back to back championship because of the exploits of 'Big three' during that time.
Then on Twitter, 4 times MVP announced that he is going to Wakanda as coronavirus fear is growing. He also added how he is also in need of a wine partner to cope with this boring period of quarantine. Till then, we hope to see more of LeBron on social media, as we count days to NBA re-opener.
ADVERTISEMENT
Article continues below this ad