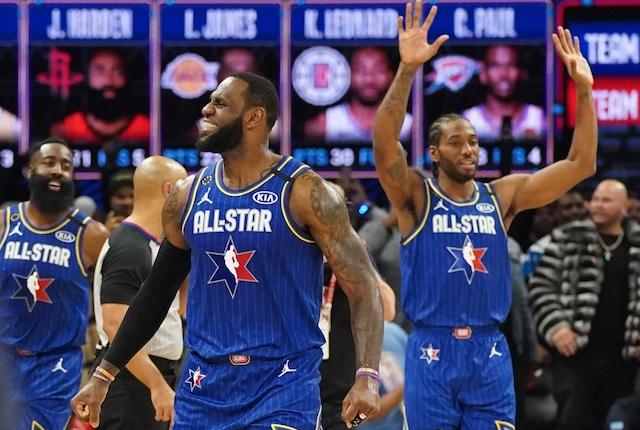 The 2020 NBA All-Star game saw a much-heated contest than a regular All-Star contest. Perhaps the change in format inflicted a highly competitive game. A high-intensity final quarter finished in a much simpler manner. Anthony Davis made the second of his two free-throws taking the Team LeBron James to a win.
Davis might have won the game for his team but the play was actually intended to finish with a Kawhi Leonard shot. LeBron James said that their coach Frank Vogel discussed a play during the timeout that would see Kawhi put a shot similar to the one he did against the Sixers while in Toronto.
"Coach [Vogel] drew a play in timeout to get a pindown for Kawhi. We were doing the Toronto vs. Philly game-clinching play where he (Kawhi) hit the shot over Embiid," James said ahead of the Lakers' game against Memphis Grizzlies.
"They switched down on AD (Anthony Davis). Two guys went to AD, so Kawhi went directly to James. James drops the baseline to CP (Chris Paul) in the corner. CP drove down the middle, kicked it back to me and they were scrambled defensively.
"For a moment I was about to go one on one. And then when I saw Kyle Lowry was on AD, we just made eye contact. I already knew he was going to dunk.
&nbsp
Watch LeBron James and Anthony Davis banter about the last play at the All-Star Game pic.twitter.com/0LmHEWTfxj

— Melissa Rohlin (@melissarohlin) February 20, 2020

LeBron James and co. get back to action after All-Stars
After the All-Star break, the Lakers resume their league campaign with a game against Memphis Grizzlies on Friday. They are comfortably on top of the Western Conference with a 0.774 record. Aiming for their first Championship in the post-Kobe Bryant era, the Lakers would already have a few plans for the postseason. A possible return of DeMarcus Cousins from his injury will certainly help the Lakers achieve their aspirations.