Lee Chong Wei: The Rising
Published 10/27/2015, 11:25 AM EDT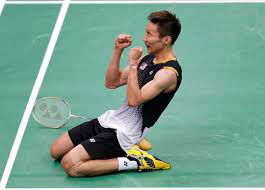 ---
---
Well, there aren't many people who don't know who Lee Chong Wei is. Nevertheless, to brief,  Lee Chong Wei, is a professional badminton player from Malaysia.  One of the greatest players to have played this game, Lee has a trophy cabinet which is second to none, comprising of 58 Career titles  including 2 Olympic Silver Medals.  Lee was ranked first worldwide for 199 consecutive weeks from 21 August 2008 to 14 June 2012. He is the 3rd player from Malaysia to reach the top of the rankings and the ONLY player from Malaysia to hold this ranking for more than a year.
ADVERTISEMENT
Article continues below this ad
2014 was a very eventful year for Lee. In January, Lee lost to Chen Long from China in the Korea Open Super Series event, his 4th straight defeat to the Chinese. But soon in the same week, he won his 10th Malaysian Open Crown. He also won his 3rd All England title as well as his first Indian Open Super Series title. He also won the Japan Open Super Series. But it was not all good for him, as he lost in the Finals of the BWF World Championships and also in Semi-Finals of the Asian Badminton Championships. In October of 2014, Badminton Association Of Malaysia confirmed that one of the top shuttlers has tested positive for Dexamethasone, a steroid. Dexamethasone is not a performance-enhancing drug but a commonly-administered anti-inflammatory corticosteroid that is not illegal when used off-season for injury rehabilitation but deemed illegal if discovered in an athlete's body during competition. On 5th November 2014, Lee flew to Norway to witness the testing of his "B" sample,  after the "A" sample had already been tested positive in October. On 11th November 2014, the BWF confirmed that Lee was temporarily suspended from participating in the tournaments due to the drug violation.
On 27th April 2015, the court in Amsterdam lifted the ban on Lee, as they were convinced that he had no intent of cheating. Lee was given his player ID back by the BWF, and he again started competing.
ADVERTISEMENT
Article continues below this ad
The 2015 edition of the Sudirman Cup was Lee's first tournament after 8 months. His game had seen a dip, but his confidence was that of a true champion, winning all three matches he played. Such was the stature of Lee's game and dominance, that the next 2 tournaments he participated, he won both without having to stay on the court for more than 40 minutes for any match. Lee Chong Wei was not at his best, but he had the character which led him to yet another BWF World Championships Final. Sadly, he lost in straight sets. Nevertheless, he was coming back strongly. After suffering shock exits in tournaments to follow, Lee was once again on the podium when he won his Third French Open Title. 
At the age of 33, Lee is still going strong and pushing hard for 2016 Rio Olympics which probably will be his last tournament. Lee Chong Wei has laid a legacy, one which is incomparable and almost impossible to match.
People say, " Warriors are born , not made." Lee is a warrior, and there will be no surprise if he ends up winning the Gold medal at the Olympics. Every legacy needs a perfect ending and the Gold medal would be the perfect ending. But being an LCW fan, I wish he never retires. But every starting has an ending, I wish him the perfect ending he wishes for.