Top 5 Legendary Manchester United No.7
Published 09/01/2015, 12:34 PM EDT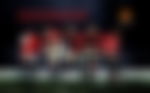 ---
---
In the realm of world football, few shirts have been as iconic as the legendary Manchester United No.7 shirt. From the the era of pre Busby Babes and pre Munich Disaster to the modern brilliance of Cristiano Ronaldo, there haven't been any shirt more quintessential and seminal than the Red Devils No. 7 shirt. EssentiallySports take a journey down the memory lane to take a look at the top 5 legendary players to grace the No. 7 jersey.
ADVERTISEMENT
Article continues below this ad
Manchester United's love affair with the hallowed jersey #7 dates back to generations. The famous Scarlet jersey has been bejeweled by many legends; United's number sevens have invariably attained cult status. It took pure genius, unparalleled inspiration and sheer charisma to be a true United number seven. The magic surrounding the famous piece of cloth has been surreal – it was as much a privilege to wear the celebrated number 7 for the chosen players, as for the mere mortals who got the opportunity to get bedazzled by the genius of these magnificent men.

5. George Best
ADVERTISEMENT
Article continues below this ad
Speed, agility, skills, brilliance on the field and a nagging ability to score from seemingly impossible positions and improbable range tells only half the story of the genius of this boy from Belfast. Shrugging off the initial homesickness which troubled him, Best signed for Manchester United on his 17th birthday and went on to win the League twice and even more famously, in a particular evening at Wembley 10 years after the infamous Munich Aircrash, went on to lift the European Cup, scoring and winning 4-1 against Benfica.
George Best was the first of the many greats to don the No.7 jersey of Manchester United, scoring 137 times in 361 appearances and winning the prestigious Balon d'Or award (The only Irishman to receive the honour till now) in 1968 to cap off a fairy tale 67-68 season. Fondly remembered "El Beatle" by his followers, George Best had the distinction of being the greatest English player ever to grace the sport and is probably the only player to have been considered better than Pele by Pele himself.
His swashbuckling flair on the field was very much evident in his personal life off the field as well and is often attributed to the downward spiral of his career and, in general, of his life. Alcohol consumed him as much as he consumed alcohol, destroying his career and in 2005, the magician left us battling alcoholism.
4.Bryan Robson
Bryan Robson became the face of the Manchester United side of the 1980s, famously captaining the side to an FA Cup win in 1983 becoming the first English captain to lift the trophy for United.
There was nothing that this Captain Courageous couldn't do on the field. This former English international was the very embodiment of a complete footballer as he controlled matches from midfield and had the capability to turn the match on its head with his moments of inspiration.
Famously captaining Manchester United for record period of time, Robson's trademark bursts through the midfield resulted in an impressive goal-scoring return, but his anticipation, bravery, competitiveness and stamina also made him a formidable player in his own half.
Scoring 99 goals in 461 games for Manchester United, he remained at Old Trafford till 1994, most famously lifting the Premier League Trophy in 1992 for the first time in 24 years and beating the then great Barcelona side in 1991 European Cup Winners Cup final in Rotterdam.
"Captain Marvel" as he was fondly nicknamed, has ever since been regarded and remembered as a United legend since his retirement.
3. Eric Cantona
The King Eric Cantona was the personification of the brand of football which Manchester United played under Sir Alex Ferguson. Flair, swagger, style and doggedness. Eric Cantona had everything. He could light up the Old Trafford with his little piece of magical footwork or could get himself into trouble by doing silliest of things. Whatever he did, Eric "The King" Cantona was always in the spotlight. He just can not be ignored.
Emergence of United on a domestic and global front can be attributed to the heroics of 2 men in particular. During several matches leading up to the title race vs Newcastle United, Manchester United scraped through by the hardwork of a particular personality in the form of Peter Schmeichel in front of the posts and one flamboyant Eric Cantona on the other end of the pitch as Manchester United, on several occassions, grazed past their oppositions with a 1-0 scoreline. The goalscorer? Eric Daniel Pierre Cantona.
He was an apt leader for a club with the stature of Manchester United and brought a different dimension of swagger to the legendary No. 7 shirt. His most famous/infamous incident came while playing an altogether different sport. The kung-fu kick which he landed on a Crystal Palace fan was his way of establishing his authority on the game. Although banned, his essence grew. He was never out of the spotlight and he thrived in spotlight, in the end scoring a winner against arch-rivals Liverpool on his return from a 9 month ban.
Scoring 64 goals in 143 appearances for Manchester United, his contribution to the club is more on a psychological front than statistical. And for that reason, he's so fondly adored by his fans as "THE KING". He couldn't be called erratic. Eccentric? Maybe. Genius? Obviously. Whether it's his dangly run against Sunderland or his even better celebration at the end of that run, he was unstoppable.
His aura resonated and his personality rubbed off a little with his fellow companions, upgrading the level of football anyone in his vicinity. Cantona's style of play greatly affected his teammates and his club and all this can be attributed to his confidence. In the words of another legendary United captain, Roy Keane, ""Collar turned up, back straight, chest stuck out, Eric glided into the arena as if he owned the place." Cantona owned the football field he was playing in.
2. David Beckham
A Fergie fledgling of the famous Class of '92, David Beckham turned out to be the most glamorous of all the Class of '92 students. Bursting onto the Premier League scene with an outrageous half-line goal against Wimbledon, David Beckham was not the typical flamboyant, speedster winger. In fact, he was the sniper crosser sort of winger, delivering balls into the box with pin-point accuracy. The same attribute later developed him into a legendary free-kick specialist.
Scoring 62 times in 264 Manchester United league appearances, Beckham was also a master in reading the game and could even play as a central midfielder if the circumstances demanded, as he brilliantly displayed in the most famous night of his career, vs Bayern Munich in barcelona, Nou Camp during the European Cup Final. He had a thunderous right foot and his goal against Arsenal in '99 semi-final replay against Arsenal is a peach. Unluckily, it has been overshadowed by another goal scored by his teammate Ryan Giggs in the same match, widely regarded as the greatest FA Cup goal. His chips were audacious as well, and he has scored quite a few goals with them as well.
If Eric Cantona brought flair to the Red Devils, David Beckham brought recognition. The global brand that is Manchester United as we see it today, is a major contribution of David Beckham, both on the field as well as off it. He was the George Best of the 90s, albeit, minus the negative traits. A crowd puller. The famous stance and look is a thing every 90s guy has imitated once.
David Beckham used to hit free-kicks with such pin point accuracy and precision that he is still regarded as one of the Premier League greatest free-kick specialist, partly because of his lethal dead ball skill as well as the consistency with which he used to hit them and at crucial moments, let it be the famous free-kick propelling England into World Cup or the last minute free-kick against Leicester City for Manchester United. The Golden Boy thundered home numerous free kicks and coined the term "bend it like Beckham" during his time at Old Trafford.
1. Cristiano Ronaldo
The best player in the world was bought as a lean 18-year-old. 6 years later,with Real Madrid paying a whooping $132 million to Manchester United, the thin boy was the FIFA World Player of the Year (once), Balon d'Or winner (once), European Champion (once), English Champion (thrice), Fa Cup winner (once), Football League (twice).
ADVERTISEMENT
Article continues below this ad
Regarded as the greatest player in the world and one of the greatest ever to grace the game by many, he was a gem of revelation by Sir Alex Ferguson. A bargain buy from Sporting Lisbon, the Portugese winger went on to score 84 times in 196 appearances for United.
A bag full of trickeries and skills, lethal pace, venomous right foot, ballistic left foot, a giant in the air, Cristiano Ronaldo developed himself impeccably into a footballing machine. The lean and thin Cristiano Ronaldo of Sproting Lisbon disappeared as he converted himself into a beast. Add a deceptive technique of taking free-kicks and David Beckham was forgotten quite quickly than anyone thought he would be.
ADVERTISEMENT
Article continues below this ad
Cristiano Ronaldo not only propelled Manchester United into a footballing force domestically but made them into a worldwide phenomena. United were practically unbeatable and their deadly counterattacking style of play was epitomised by the holy trinity of Carlos Tevez, Wayne Rooney and Cristiano Ronaldo, reminiscing of the good ol' days of Best, Law and Charlton. By the time he left 6 years later, Cristiano Ronaldo had already embedded himself in the United folklore.