Leicester City Create History as they Score Nine Past Southampton
Published 10/26/2019, 8:19 AM EDT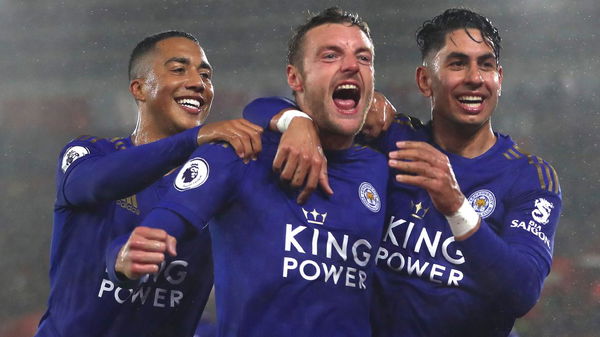 Leicester City absolutely ran riot on a Friday evening that very few in Southampton would want to look back at.
ADVERTISEMENT
Article continues below this ad
Brendan Rodgers's side managed to score as many as nine goals to script history at the St. Mary's. The win has taken them to second in the Premier League table behind Liverpool temporarily.
Records broken-
ADVERTISEMENT
Article continues below this ad
Leicester equalled the recorded for the largest ever margin of victory in Premier League history, alongside Manchester United's 9-0 win over Ipswich at Old Trafford in March 1995.
The victory was the biggest-ever by an away side in an English top-flight league match in the 131-year history of the Football League.
The only  pair to score hat tricks in the same match before Friday were Jermaine Pennant and Robert Pires, against Southampton. Ayoze Perez and Jamie Vardy, again against Southampton, scored hat tricks.
1️⃣-0 Chilwell (10')
2️⃣-0 Tielemans (17')
3️⃣-0 Perez (19')
4️⃣-0 Perez (39')
5️⃣-0 Vardy (45')
6️⃣-0 Perez (57')
7️⃣-0 Vardy (58')
8️⃣-0 Maddison (85')
9️⃣-0 Vardy (90+4')

Yes, that did really happen, @LCFC! 👏👏 pic.twitter.com/Vhk1T8NMy9

— Premier League (@premierleague) October 26, 2019
Brendan Rodgers' side became only the second team in Premier League history to establish a five-goal lead in the first half of an away game in the competition, after Manchester City against Burnley in April 2010 (also 5-0).
Southampton goalkeeper Angus Gunn's beat his dad Bryan's record defeat – a 7-1 against Blackburn back in 1992
What they said-
Leicester City manager Brendan Rodgers:
"We said at half-time, keep your speed in the game and we have to punish them. It is tough for Ralph but we have to do our job and score as many goals as we can," he told Sky Sports.
"The game is 0-0 at half-time we said. This is part of our education we have to come out of the boy zone and play like a man and respect the game. They are very talented and learning to be ruthless.
"We believe in our work, believe we can push over the course of the season. Our mentality is how we work every day. The players want to get better and improve. A great, great win and now we have to go focus on the cup game."
Hat trick scorer Jamie Vardy:
"We actually found out [about the record] at 6-0 when Jonny Evans came sprinting over and said if we carry on doing what we're doing we can get the record. We've gone all the way to the end and managed to do it. Great performance from the lads and absolutely buzzing for the fans."
"Jonny Evans sprinted over at 6-0 to tell us we could break the record"

Jamie Vardy reacts to his hat-trick as Leicester beat Southampton 9-0 at St Mary's – a record Premier League away win. pic.twitter.com/RTY8bBnZvc

— Sky Sports Premier League (@SkySportsPL) October 25, 2019
Southampton manager Ralph Hasenhuttl-
"It would be easy to say the red card after 10 minutes was to blame but I think it's not normal to discuss every goal and every high of the result."
"I take 100 per cent responsibility for this result today and it was no performance from my team this cannot happen in this way. The best thing in the stadium – besides the opposition – were the crowd who stayed in the stadium. How they act is more than we deserve, and I apologise for this no performance today.
"We were not committed enough and with how strong Leicester were, we just couldn't defend against it. If you ask me if I'm shocked tonight, with every goal we conceded, what do you think?"
"For me, I've never had such an experience in my entire managing career."
Southampton player Nathan Redmond-
"It was an embarrassing performance, the stuff of nightmares and especially playing at home. It just wasn't good enough and one of the poorest performances since I've been at the club and we'll have to debrief that whole game from start to finish tomorrow.
ADVERTISEMENT
Article continues below this ad
"There were a host of things that went wrong – the red card decision and then the quick goal at the same time. We conceded goals far too quickly in the first half.
"We need to do much, much better. I think we had a few players out of position after the sending off and we tried to deal with it as best we could.
"There are the things we need to look at tomorrow, but it was an embarrassing performance."
ADVERTISEMENT
Article continues below this ad
Highlights: