Lewis Hamilton: Everything You Need to Know About his Mother and Step Mother
Published 11/21/2019, 3:14 PM EST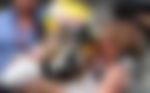 ---
---
Mercedes driver Lewis Hamilton has certainly made his family extremely proud when he seized his 6th F1 world championship. While his father Anthony has been far more involved in his career, his mother has also been supportive.
ADVERTISEMENT
Article continues below this ad
Hamilton's birth mother, Carmen Larbalestier was born in 1955, but she and Anthony Hamilton separated when Lewis was just two years old. Hamilton is mixed race, as his father was dark-skinned, while his birth mother was white, as was his step mother.
Carmen won custody of Lewis until he was 12 years old, and he was raised alongside half-sisters Nicola and Samantha. After that, he moved to live with father Anthony, stepmother Linda and half-brother Nicolas.
ADVERTISEMENT
Article continues below this ad
However, even though he is living away from his birth mother, Lewis Hamilton harbours an excellent relationship with her.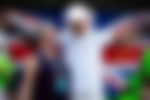 While she has largely stayed out of the limelight, she has shown up at a few races to support her son. It is also note-worthy that Carmen shares a good relationship with Linda. In fact, at the 2008 Chinese Grand Prix, Larbalestier was seen embracing her son and his stepmother Linda.
On the subject of Linda, she took an active role in raising Lewis when he moved in with her and Anthony. Linda was also regularly spotted at races alongside Anthony, even after he was sacked as Lewis' manager.
ADVERTISEMENT
Article continues below this ad
Speaking about the support that he gets from his family, Lewis Hamilton said, "Just having my dad, my mum, my brother and Linda there for me is far greater than the support of 100,000 people in a stadium."
"Without my family, I wouldn't be able to do anything. I owe everything to them. My dad for pushing me, and helping me with decisions. My mum, my two mums, for being so supportive, for raising me and for giving me direction. And my brother who's never ever doubted me."
"She [Carmen] is incredibly considerate, very caring and fun."
ADVERTISEMENT
Article continues below this ad