Lewis Hamilton wins fifth title in Mexico
Published 10/28/2018, 5:02 PM EDT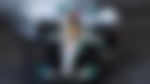 ---
---
Lewis Hamilton won his fifth drivers' championship as he finished fourth behind Verstappen, Sebastian Vettel and Raikkonen, enough to confirm it for him with two races to go yet in the season.
ADVERTISEMENT
Article continues below this ad
The title was the fourth for Lewis Hamilton with Mercedes, after he also won the title with them in 2014, 2015 and 2017. His first title came in 2008, albeit with McLaren. It was also the second consecutive year in which the Brit won it in Mexico.
In fact, this year's race followed a similar script to the last, as Verstappen came back from second place on the grid, winning it at the start and then controlling the rest of the race to win it. The only difference was that Lewis Hamilton finished fourth instead of ninth.
ADVERTISEMENT
Article continues below this ad
Vettel just could not do enough to prevent Lewis Hamilton from winning it and taking it to Brazil as the Mercedes driver had a superior start, picking off Ricciardo before Turn 1 itself. After that, it was about being steady but he still attempted a risky pass on Kimi Raikkonen, which he managed to pull off eventually.
However, Mercedes seemed to have mixed up their strategies for a second consecutive race as they brought in both Lewis Hamilton and Bottas together early on in the race while the Ferraris chose to stay out. It paid off for them as Vettel took advantage of a Virtual Safety Car to go past Ricciardo first.
He then used his younger tyres to quickly catch Lewis Hamilton and pass him within two laps of going past Ricciardo. The supersofts did not seem to work too well for Mercedes as the Brit was continually on his radio to complain about its degradation. However, it did not matter in the larger scheme of things.
Here is how twitter reacted to the historic feat by Lewis Hamilton:
Yes, this was really Will Smith on Lewis Hamilton's radio. pic.twitter.com/Ep3ZTqZTJ7

— Nick Bromberg (@NickBromberg) October 28, 2018
"That's how you're supposed to drive!!" – a cool message from Will Smith to 5-time world champion Lewis Hamilton.#MexicoGP pic.twitter.com/LWLkuWKr0M

— Welile 'Welinho' G (@WelsWG) October 28, 2018
🏆🏆🏆🏆🏆@LewisHamilton is a FIVE-time world champion!#F1 #MexicoGP pic.twitter.com/lRx0tVl1zA

— Formula 1 (@F1) October 28, 2018
HAMILTON: "It's a very strange feeling… It wasn't won here, it was won with hard work through a lot of races. Fangio did it with Mercedes, so it's incredible!" #MexicoGP 🇲🇽 #F1 pic.twitter.com/m21Jf7RJ0r

— Formula 1 (@F1) October 28, 2018
"I wouldn't be here if it wasn't for my family, and for all the hard work my Dad did. It's a very humbling experience."

Legend. 🖐️#HiFive #F1 #MexicoGP #F1ESTA

Sky Go: https://t.co/rTTSbV31T2
Live blog: https://t.co/kwZ6oAmYmN pic.twitter.com/yyebX655kb

— Sky Sports F1 (@SkySportsF1) October 28, 2018
🥇 2008
🥇 2014
🥇 2015
🥇 2017
🥇 2018@LewisHamilton becomes just the third driver in history to win five or more world titles.#HiFive #F1 #MexicoGP #F1ESTA

Sky Go: https://t.co/rTTSbV31T2
Live blog: https://t.co/kwZ6oAmYmN pic.twitter.com/1XSBxpGzCb

— Sky Sports F1 (@SkySportsF1) October 28, 2018
HE'S DONE IT! Lewis Hamilton is a five-time #F1 champion after finishing fourth in Mexico.

He moves level with Juan Manuel Fangio on five world titles. pic.twitter.com/RKgnjWsGVD

— ESPN F1 (@ESPNF1) October 28, 2018
— C a r l y (@cmack_89) October 28, 2018
Will Smith on the team radio to Hamilton #F1 🤣 pic.twitter.com/mZVsS7qULt

— Sonuç T Saltunç (@STSaltunc14) October 28, 2018
WOOOOOOOOOOOO!!!!!!!! Congratulations @LewisHamilton #F1 2018 World Champion!!!!!!!! #MexicoGP

— Becca Louise Jones (@BexLouJ) October 28, 2018
World Champion again 😍😍😍😍 Congratulations @LewisHamilton! #LH44 #5 #WorldChampion #F1 #MexicoGP

— Catherine (@Kate00019) October 28, 2018
For just the third time in F1 history, we have a five-time world champion: congrats @LewisHamilton!!!#F1 #MexicoGP

— Luke Smith (@LukeSmithF1) October 28, 2018
Congratulations @LewisHamilton 5 times #F1 World Champion @MercedesAMGF1 @mexicogp #Formula1 #MexicanGP pic.twitter.com/4elUCAoZfp

— Formula 1 Circus (@Formula1circus) October 28, 2018
Lewis Hamilton is a legend of British sport. I know F1 isn't what it used to be but his record is phenomenal.

— Tom Greggan (@Tom_Greggan) October 28, 2018
So very well done "the man from Stevenage" @LewisHamilton now 5th time #F1 World Champion at #F1Mexico 👍 pic.twitter.com/bWQxT1nUcw

— Carole Luck (@caroleluck) October 28, 2018
Well done @LewisHamilton 5th time #F1 WORLD CHAMPION! pic.twitter.com/ybMc9qe45R

— Robert Magori (@robertmagori) October 28, 2018
🏆🏆🏆🏆🏆

Level with Fangio, closing in on Schumacher. A true legend of #F1 @LewisHamilton

— Russell Carey (@Fuffell) October 28, 2018
Les DONUTS 🍩🍩🍩🍩🍩#F1 #MexicoGP 🇲🇽 pic.twitter.com/bJ8LZ92gnv

— Secteur F1 🏎🇫🇷 (@Secteur_F1) October 28, 2018
Congratulations @LewisHamilton on your fifth #F1 world title 💫💫 pic.twitter.com/c0ctmbxRGI

— L. (@jones_1_L) October 28, 2018
ADVERTISEMENT
Article continues below this ad
ADVERTISEMENT
Article continues below this ad