Lewis Hamilton, Leclerc Respond to Verstappen's Rant Against Vettel
Published 04/13/2019, 2:08 PM EDT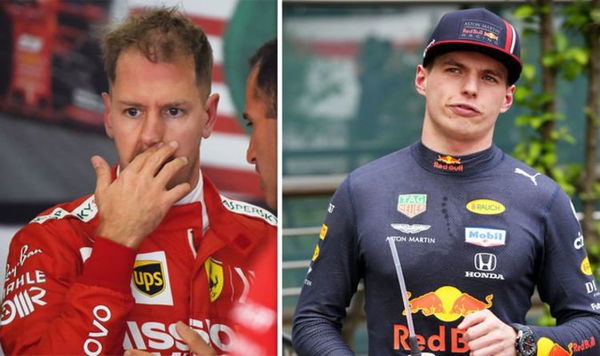 ---
---
It's not always that Lewis Hamilton and a Ferrari driver can agree on something. But blame no one. Don't blame Lewis. Also, don't hold anyone from Ferrari to ransom on this one. Wondering why? Well, after all, both happen to be figures from opposing teams, right?
ADVERTISEMENT
Article continues below this ad
Yet, there is something on which Lewis Hamilton shares a common view with an opposite number from Ferrari. Wondering what that is and who that person is? Well, it's none other than everyone's favorite driver from the 2019 Bahrain Grand Prix: Charles Leclerc.
So here is what Lewis Hamilton, a five-time world champion and a six-time pole sitter at China agrees with Leclerc on.
ADVERTISEMENT
Article continues below this ad
According to news, both Leclerc and Lewis Hamilton concur on there being no 'unwritten' rule on the out-lap run-ups.
Here's why.
As seen during the final stages of a thrilling qualifying run for the 2019 Chinese GP, Max Verstappen had alleged that upon his hot lap, during the final Q3 run, Sebastian Vettel caused him all sorts of problems.
This is the reason for which Verstappen, who failed to make it to the podium here in Shanghai in 2018, alleged that he was unable to make enough time to set that hot lap.
This was simply owing to the fact Verstappen couldn't find time to have a second run in Q3. Interestingly, one mustn't forget that Vettel, who starts from third, will start his China challenge ahead of Verstappen, who begins from fourth.
ADVERTISEMENT
Article continues below this ad
But that told, where does that leave Lewis Hamilton and Leclerc?
Apparently, Leclerc shared the following:
"To be completely honest you cannot have an agreement about not overtaking on the out-lap because different teams have different strategies with the tyres," the Monegasque analysed."
ADVERTISEMENT
Article continues below this ad
The Ferrari driver would also go on to add the following in addition to the above, "Basically we need to follow what we are told so it's not possible, unfortunately."