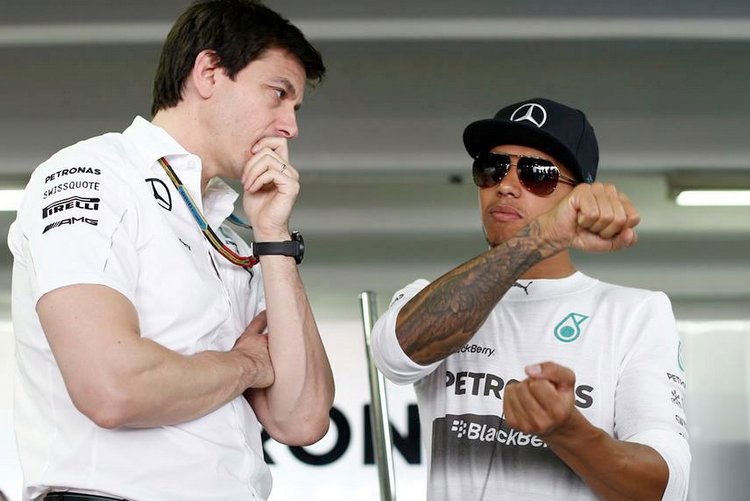 Yesterday Mercedes-AMG F1 and Lewis Hamilton had fun poking Toto Wolff for his ice driving skills or rather lack of them. Mercedes F1 twitter handle posted a video of Toto's ice-driving incident. The video shows Toto Wolff stuck in deep snow unable to pull his car out. The team Twitter handle poked fun at Toto's driving skills. And he is also heard saying, " I think I'm off the track".
"I think I'm off the track…" 😂😂😂

We see ice-driving's going well, Toto pic.twitter.com/XXkjEZsHuS

— Mercedes-AMG F1 (@MercedesAMGF1) February 6, 2020
Toto Wolff, Mercedes AMG F1 boss was seen driving a Mitsubishi Lancer Evolution in the video.
The video has garnered over 283 thousand views and hundreds of retweets.
Lewis Hamilton takes a jibe on Toto
A second video was posted recently showing Toto stuck in the snow once again. This time Lewis Hamilton filmed the event and poke fun at Toto for the incident. Hamilton takes a jibe at Toto stating that he ran off the track. And says that he might have spooked him(Toto) when he came on his radio unannounced.
It's happened again! 😂😂😂pic.twitter.com/NTiJ8sKwMr

— Mercedes-AMG F1 (@MercedesAMGF1) February 6, 2020
Toto Wolff's racing career
Wolff is a veteran driver, having competed in the Austrian Formula Ford Championship, German Formula Ford. And have won the 24 Hours Nürburgring in his classification in 1994.
In 2002 Wolff completed in 6th spot in the N-GT class in the FIA GT Championship and won one race. He later went to the Italian GT Championship in 2003, winning a race in 2004 in the FIA GT Championship. Wolff was the runner up in the Austrian Rally Championship in 2006, and victor of the 24-hour race in Dubai.
Wolff has additionally filled in as a teacher at the Walter Lechner Racing School. And in 2009 became a lap-record holder on the Nürburgring Nordschleife in a Porsche RSR.
The video was posted from the Mercedes-AMG F1 headquarter located in Brackley, England. The location of the shoot is unknown.
Brackley, situated 70 miles northwest of London, has been the home of the modern-day Mercedes F1 team. Ever since Mercedes-Benz returned to Formula One in 2010.
Before that, the facility was home to Brawn GP. Who won the 2009 Formula One World Championships with Jenson Button and Mercedes-Benz engines. After Brawn GP's takeover by Mercedes-Benz, the Brackley factory subsequently became the home of the MERCEDES GP PETRONAS Formula 1 team (now known as Mercedes-AMG Petronas Motorsport).