Lewis Hamilton Believes Charles Leclerc is Reaping Rewards of Sebastian Vettel's Development of Ferrari
Published 09/28/2019, 10:53 AM EDT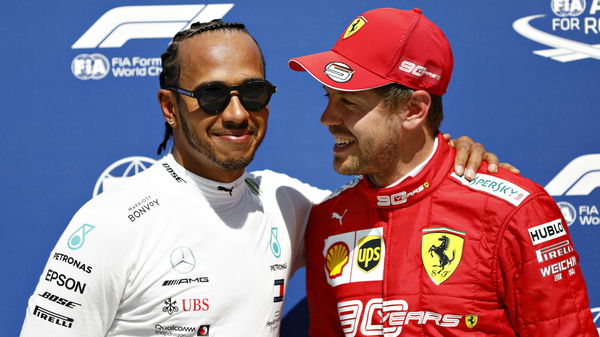 ---
---
It is no secret that Lewis Hamilton and Sebastian Vettel have immense respect for each other. One could even go as far as to call it a 'bromance' between the Mercedes and Ferrari drivers.
ADVERTISEMENT
Article continues below this ad
Recently, Lewis Hamilton spoke about the influence Sebastian Vettel had on the development of the car. When he spoke about Charles Leclerc, he believes that as the younger driver, the Monegasque driver may not have had as much input in the car.
After Vettel's Singapore Grand Prix 2019 win, Hamilton said, "I was happy for Sebastian, look Charles is a great driver but he's just alright. Do not underestimate how much input Sebastian Vettel has had in getting that car to where it is. The car that Charles Leclerc has stepped into is a Sebastian Vettel car. He helped develop that car to get it to the point where it can win a Grand Prix".
ADVERTISEMENT
Article continues below this ad
Up until this point, many were under the impression that Sebastian Vettel was past his prime. However, when the Singapore Grand Prix came by, he nailed the undercut to perfection and forced his doubters to eat humble pie.
ADVERTISEMENT
Article continues below this ad
Both Lewis Hamilton and Sebastian Vettel are getting to the point where they are the old guard. It is fairly well-known that the older generation of drivers are good at developing the cars. Alfa Romeo's veteran driver, Kimi Raikkonen is proof of that, as his inputs have helped the team develop into a solid midfield team.
Similarly, Sebastian Vettel is filling that role of the development driver and his inputs are valuable. At the same time, he is also fuelling his own championship ambitions in order to grab his 5th title. If Vettel does win another world championship, it would be his maiden title with Ferrari, having won his earlier 4 with Red Bull Racing.
ADVERTISEMENT
Article continues below this ad