Lewis Hamilton – Romain Grosjean 2012 Belgian GP Crash Slow-Mo Reveals the Severity of the Crash
Published 02/17/2020, 12:13 PM EST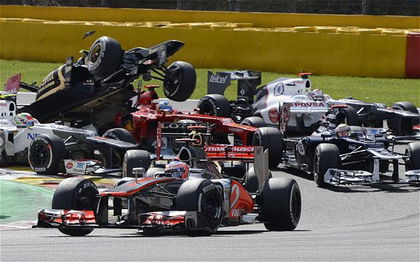 ---
---
Many of you must remember the awful accident at Le Source during the 2012 Belgian Grand Prix at Spa-Francorchamps. It involved Lewis Hamilton, Romain Grosjean, Fernando Alonso, Sergio Perez, Pastor Maldonado, and Kamui Kobayashi.
ADVERTISEMENT
Article continues below this ad
Many consider involvement in this accident as a reason why Fernando Alonso missed out on his third Formula 1 World Championship that year. Before this race, he was leading the championship by 40 points over the Red Bull duo.
Unquestionably, this DNF (didn't complete) and subsequent accident at the Japanese Grand Prix caused a huge loss of points for the Spaniard. And ended his chances of winning the WDC that year in a below-average Ferrari.
ADVERTISEMENT
Article continues below this ad
A Reddit user called 'u/Akashic101' used some advanced video rendering to resample the crash footage from 2012. And effectively slowed the on-board camera footage down to 400 frames per second. Hence making a 'super slo-mo' adaptation of the terrible occurrence.
Watch the Reddit thread here: https://www.reddit.com/user/Akashic101/
Grosjean and Lewis Hamilton Made Contact Inducing a Huge Crash
Pastor Maldonado took a jumpstart and started his race before the lights had gone out, passing the Saubers. Romain Grosjean made a decent start and was moving up to the inside of La Source, but in doing so, he squeezed Hamilton between himself and the pit wall.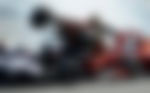 The two made contact, and both of them lost control. Grosjean bumped into the back of  Checo Pérez and became airborne. He crashed directly into Alonso's Ferrari, missing Alonso's head by a few inches.
Whereas, Lewis Hamilton crashed into Kobayashi and Alonso after taking a heavy hit. Pérez lost his rear wing and touched Maldonado making him spin.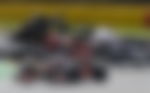 Jenson Button escaped from the rumble and scored a perfect victory. He dominated the whole weekend, from P1 in qualifying to lead every lap in the race.
ADVERTISEMENT
Article continues below this ad
Aftermath
Romain Grosjean received a fine of €50,000 along with a one-race ban at the Italian GP. He was charged for initiating the crash at the start of the race.
Additionally, Pastor Maldonado received 2 'five-place grid penalties' at the Italian Grand Prix. The first one for his jump start and the second for causing an avoidable collision with Glock after his spin.
ADVERTISEMENT
Article continues below this ad
The incident is credited to make FIA rethink driver safety policy. And led to the creation of the 'halo' on open-wheel racers of our modern era.