"Life's a F*cking Trip"- Nickmercs and Other Streamers Ecstatic as He Makes It Big With Trevor Noah Interview
Published 06/11/2021, 8:03 AM EDT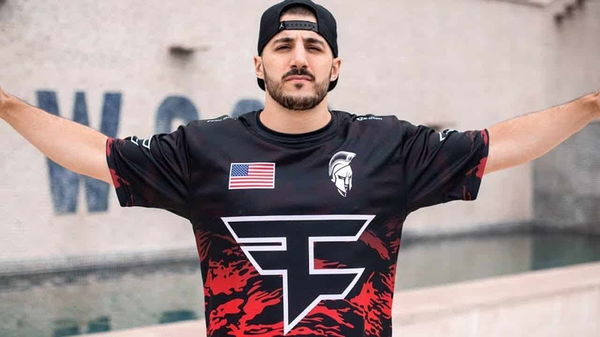 ---
---
It didn't take long for a streamer to hit mainstream media again after the massive success of the Jimmy Fallon Among Us stream which involved content creators like Corpse Husband, Sykkuno and Valkyrae. Recently, Faze Clan member Nick 'Nickmercs' Kolcheff talked to popular Daily Show host Trevor Noah, about his crazy life revolving around video games.
ADVERTISEMENT
Article continues below this ad
Following the interview's telecast, many of Nick's friends and colleagues from the streaming world congratulated him on his stupendous dub.
ADVERTISEMENT
Article continues below this ad
Streamers congratulate Nickmercs on his Daily Show interview with Trevor Noah
On a recent episode of The Daily Show with Trevor Noah, Nickmercs talked about the global popularity of gaming and Esports. He mentioned a lot about playing and streaming video games as a job and also stated his love for the industry. During the interview, he even made a slight dig about his friend, TimTheTatman, not being a great video game player. In the end, fans witnessed an entertaining interview between two of the most popular celebrities in their line of work.
He recently posted a tweet of him watching the live telecast of his interview with Trevor Noah. Many of his friends from the streaming world such as DrLupo, Ray Narvaez Jr, Arab and former 100 Thieves member Classify congratulated him on his epic mainstream success.
I feel like he did you dirty, mainstream really has it out for you

IMO Trevor should have been doing the Nickmercs cam as well

— Arab (@YourFellowArab) June 11, 2021
Nick even got his props from MLG co-founder Sundance DiGiovanni. Nickmercs had a huge hand in the success of Major League Gaming in the late 2000s, and it was cool to see a legend like Sundance show respect to one of the industry's most revered personalities.
MLG

The beginning. Some of my favorite times! Thankful for you & the team, brotha. 🤝

— FaZe Nickmercs (@NICKMERCS) June 11, 2021
FKD,

Appreciate all the twitter love over the years fam. That shit ain't go unnoticed 💪🏼

— FaZe Nickmercs (@NICKMERCS) June 11, 2021
Nick even got GOAT shouts from Toronto Ultra pro COD player Methodz. Along with that, Fortnite pro Issa also joined in on the GOAT chants following Nick's epic moment.
Faze Clan supporting Nick all the way
Nickmercs has been on a roll ever since he joined Faze Clan two years ago. He is one of the group's most famous content creators, and he has played countless video game titles like Call of Duty Warzone and many more.
During his chat with Noah, he talked about the group's recent milestone of being on the cover of Sports Illustrated. Nick was also in the cover photo of the reputed sports magazine with the group's esteemed members like Rug, Swagg, and Temperrr. Along with that, the issue also included the organization's star athletes in NFL Quarterback Kyler Murray and Basketball star Bronny James.
ADVERTISEMENT
Article continues below this ad
To more days like this, my boy 🍻

— FaZe Nickmercs (@NICKMERCS) June 11, 2021
Nick received some love from his cover partner, Swagg, for this 'sensational' milestone. Plus, Faze Clan also hyped up his major victory with the Trevor Noah interview. It's only the beginning of Nickmercs' rise in the streaming industry and fans can expect to see him shine in more interviews and mainstream events.
ADVERTISEMENT
Article continues below this ad
WATCH THIS STORY- What Makes GTA: San Andreas So Good?