Lionel Messi Accuses Copa America of Corruption and Favouritism
Published 07/07/2019, 5:22 AM EDT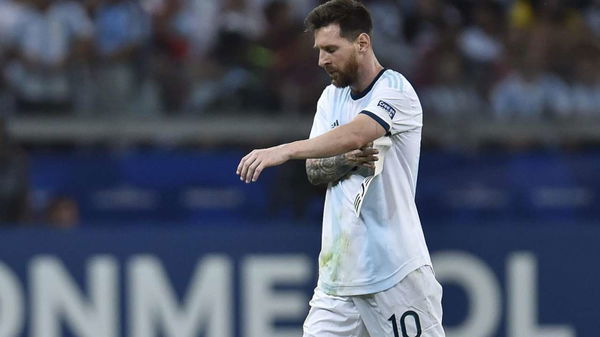 Lionel Messi accumulated his second ever red card in his career under controversial circumstances. The good news was that it made little different to the eventual result as Argentina beat Chile 2-1 in the Copa America's third-place play-off.
ADVERTISEMENT
Article continues below this ad
Manchester City's Sergio Aguero and Juventus' Paulo Dybala hammered in a goal each to hand Argentina the lead. Lionel Messi was involved in the first goal of the match, though Chile clawed back the advantage to register a 2-1 victory.
Unfortunately, controversy erupted when the Barcelona superstar was sent off before half-time. The 32-year old was involved in a bizarre clash with Chile's Gary Medel. In the end, with referee intervention, both players were sent off the field.
ADVERTISEMENT
Article continues below this ad
Lionel Messi stuck in a hard challenge from behind while Medel put the ball out of play. It was at that point that the defender reacted angrily and a near-shoving match ensued. Admittedly, Medel seemed like the more aggressive player, but since the two were chest to chest, the referee saw fit to card them both.
https://www.youtube.com/watch?v=C-ctH5VCn4k
Afterwards, an infuriated Messi went to town with his criticism of the Copa America officials. The Barcelona star had already criticised officials after Argentina were beaten by Brazil in the semi-finals. Obviously very upset, he elected to boycott the medal ceremony and refused to accept third place.
"What I said, happened. I didn't go to the podium because we shouldn't be part of the corruption and lack of respect," an upset Messi declared.
"We were meant for more but they didn't let us be in the final. The corruption and the refs didn't allow the people to enjoy and football is ruined.
"The corruption and the referees didn't allow us to be in the final. You have to say the truth."
"I didn't collect my medal because we shouldn't be part of corruption. I don't have doubts that Brazil will become champion. Everything it set up for them. I think they gave me a red card because of my previous words about this Copa América edition. I always tell the truth, it makes me calm."
In response, South American football federation CONMEBOL released a statement on the matter. While they did not refer to Messi specifically, they insisted: "Said accusations represent a lack of respect for the competition, all the football players involved and the hundreds of professionals of CONMEBOL, institution that since 2016 has been tirelessly working to transparent, professionalize and develop South American football."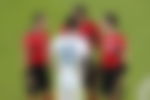 Lionel Messi and Medel both chase the ball. Medel bumps into Messi a few times, a yellow card at most as Messi stands his ground. Referee gives both men a straight red card. Messi didn't do anything other than putting his hands behind him. The ref has gone insane. pic.twitter.com/gSGOEDlIjx

— Noah (@brokenakatsuki) July 6, 2019
Lionel Messi has NOT held back after his red card in the Copa America 3rd place playoff, refusing to show up for the medal ceremony and taking aim at VAR and standard of refereeing.

"We don't have to be a part of this corruption. The cup has been made for Brazil."

— Just Football (@JustFootball) July 6, 2019
https://twitter.com/mr_gannu/status/1147675176143749120
ADVERTISEMENT
Article continues below this ad
Lionel Messi: "I think they gave me a red card because of my previous words about this Copa América edition."

— 𝐀𝐅𝐂 𝐀𝐉𝐀𝐗 💎 (@TheEuropeanLad) July 6, 2019
ADVERTISEMENT
Article continues below this ad