Lionel Messi & Cristiano Ronaldo Top the Player Ratings in FIFA 20
Published 09/10/2019, 6:20 AM EDT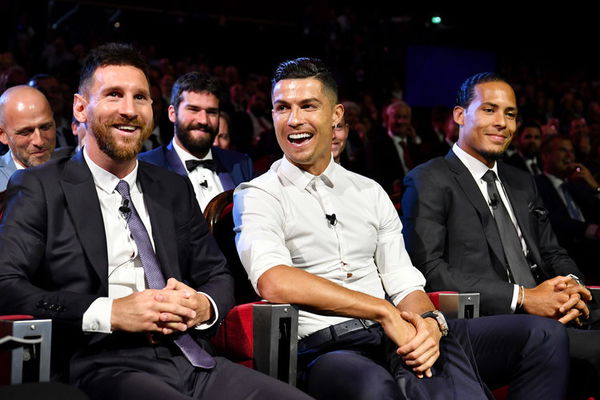 ---
---
EA Sports released the players ratings for the 2020 edition of their football game- FIFA 20. Unsurprisingly, Barcelona's Lionel Messi and Juventus's Cristiano Ronaldo topped the ratings with 94 and 93 respectively.
ADVERTISEMENT
Article continues below this ad
Ronaldo's rating dropped one point from the previous edition of the game to 93. He, along with Messi were the joint highest in FIFA 19. Neymar, as in FIFA 19, is rated 92 behind the duo in FIFA 20.
Former Chelsea superstar Eden Hazard has also kept his rating at 91, so has Manchester City star Kevin De Bruyne despite missing the major part of the last season due to injury.
ADVERTISEMENT
Article continues below this ad
Jan OBlack is the highest rated goalkeeper at 91, while Virgil van Dijk is the highest rated defender at 90. Luka Modric slips a point to 90, while Liverpool forward Mohamed Salah and Barcelona goalkeeper Marc-André ter Stegen complete the top 10.
David deGea, after a dismal season, was left out of the top ten, dropping his rating from 91 last year to 89 this year. Madrid's Sergio Ramos was another notable absentee from last year, with the Spaniard also dropping from 91 to 89.
While the top ten sits this way, many were left disappointed with the ratings of a few of the players below.
19-year old Dortmund starlet Jadon Sancho, for one, wasn't happy even after his impressive upgrade from 72 in FIFA 19 to 84 FIFA 20. He seemed unhappy with his 'passing' rating.
Sancho took to Twitter to express his feelings. "77 passing?!" he wrote with a screenshot of his card, with the and a number of confused emojis.
ADVERTISEMENT
Article continues below this ad
It didn't take long for EA Sports to reply. Defending their rating, EA Sports wrote, "Why pass when you have 90 dribbling?"
That still didn't sit well with Sancho, who tweeted back: "I think both could be 90, a bit harsh."
Another rating that wasn't taken well was of Liverpool forward Roberto Firmino. On this instance, it was not as much the player, but the fans felt that his rating should have been higher. Many fans on social media mocked EA Sports for the rating of the Champions League winner.
ADVERTISEMENT
Article continues below this ad