Lionel Messi Scores again from a Free Kick as Barcelona Ease Past Sevilla
Published 10/08/2019, 8:24 AM EDT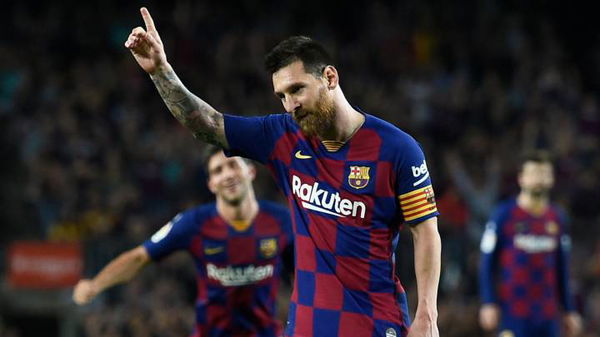 Luis Suarez, Arturo Vidal, Osumane Dembele and Lionel Messi- all get on the scoresheet as Barcelona score four past Sevilla on in their LaLiga clash on Monday.
ADVERTISEMENT
Article continues below this ad
Ernesto Valverde made a few changes to the startng lineup as Sergio Busquets and their €120 million signing Antoine Griezmann were benched. Barcelona opened the scoring in the 19th minute with a spectacular goal from Luis Suarez.
Soon after, Arturo Vidal have finishing touvh to a sublime passing move to score the second goal and Dembele scored a solo effort to put Barcelona 3-0 up after 35 minutes.
ADVERTISEMENT
Article continues below this ad

It was late in the second half that Lionel Messi scored yet again from a free kick. He scored his 43rd direct free kick goal and his 37th in 38 games against Sevilla. Messi, who missed the major part of the season so far due to injury, started scoring in what promises to be another high scoring season for the Argentine.
Could yesterday be more perfect?

– Suarez wonder goal.
– Dembele crochet goal.
– Messi freekick goal.
– Arthur 2 assists.
– Ter Stegen clean sheet.
– 4-0 win at home. pic.twitter.com/sTLFAIp4jd

— Diehard Cule (@TheBarcaAddict) October 7, 2019
OF COURSE Messi waited for Sevilla to score his first goal of the season.

That was his 37th goal in 38 games against his favorite opponent. ? pic.twitter.com/tS9VyMvV8k

— FOX Soccer (@FOXSoccer) October 7, 2019
?[AS] |  Lionel Messi closes in on Pelé's historic haul.

? His free-kick against Sevilla on Sunday has left the Barcelona star just 39 goals off Pelé's total of 643 for Santos. pic.twitter.com/XNe1169VgD

— BarçaTimes (@BarcaTimes) October 8, 2019
ADVERTISEMENT
Article continues below this ad
Messi opened his scoring account of this season with one of his specialties: the free kick. Against Sevilla, the Argentine scored his 43rd goal from a free kick with Barcelona. There truly is no stopping him. [sport] pic.twitter.com/z6rZ4BMpdk

— barcacentre (@barcacentre) October 8, 2019
Barceolna, who seemed to have a perfect match till then, were shown two red cards towards the end in a space of just about a minute to end the match with nine men. While debutant Ronald Araujo could live his dream for just 14 minutes before being sent off for a rash challenge, Dembele, 60 seconds later, was sent off for dissent towards the referee.
ADVERTISEMENT
Article continues below this ad
Manager Ernesto Valverde, speaking about the red cards after the match said: "The referee will have his opinion on the situation, and he is entitled to his views. However, I am not so sure the decisions were correct in a clean game. Araujo's sending off did not seem to be a red card, but I am not neutral in this."
"As for Dembele, I was surprised to see him sent off for making a comment to the referee. I don't think it would have been a long comment made by him. Even I find it difficult to communicate to Dembele in Spanish, so I am surprised that he made a comment to the referee."