Top 5 Liverpool FC Comebacks
Published 04/18/2016, 1:29 PM EDT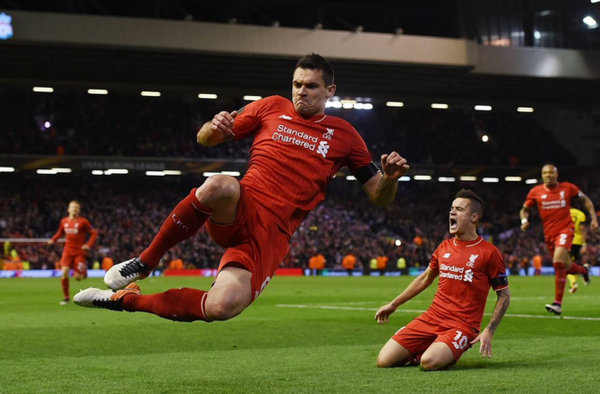 ---
---
Liverpool FC are famous for a number of things. They're famous for being one of the oldest teams in the Premier League, they're famous for being the holders of the most number of CL trophies for an English team – 5 to be very precise and they won't let you forget it- but most of all, they're known for their freakishly remarkable ability to come back from the worst of the situations on field. It doesn't matter who gets the goal as long as someone gets it, that's the theory they thrive on and somehow, it's worked for them.
ADVERTISEMENT
Article continues below this ad
Liverpool once again produced another outstanding comeback when they defeated Borussia Dortmund this Friday with the final score-line standing at 4-3, having trailed 0-2 at half-time. In this light, we take a look at the top 5 Liverpool comebacks giving us football fans the thrill of a lifetime.
ADVERTISEMENT
Article continues below this ad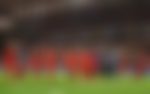 Regarded as one of the best matches played by Liverpool and indeed one of the best Champions League finals ever, the Miracle of Istanbul definitely had everyone watching on the edge of their seats. This is how it played out- Milan were the favourites for the win on the night with a strong team consisting of Paolo Maldini, Kaka, Andrea Pirlo and Andriy Shevchenko among many more but that never stopped the English side to give them a run for their money.
AC Milan started the match in stunning fashion, with the first goal coming in the first minute giving their opponents something to fight for. The trophy seemed another step away for Liverpool, now. Things went further downhill for them when the Argentinian Hernan Crespo scored twice in 6 minutes, with Kaka running rampant in midfield. Things were looking bleak and the morale on the field for The Reds was at an all time low.
But the second half started in a rather unexpected way when Liverpool rose from the dead and no, they did not look back. Within  just 9 minutes of the restart, Steven Gerrard gave the Reds a glimmer of hope, with the Liverpool captain rising high to power home a brilliant header from Riise's cross. The game was back on. They say the game is about mental strength as much as it is about physical fitness and Liverpool proved this point with utter grace that night. No force in the world could stop them now as they scored 2 more goals in the next 6 minutes and took the game to extra time and then to the penalties. No points for guessing who won the penalty shootout but rest assured, it was one of the best penalty shootouts performed as Jerzy Dudek went on to save shots from Andrea Pirlo and Andriy Shevchenko. Needless to say, they won their 5 CL trophy that night and it was perfect.
Final Score: AC Milan 3-3 Liverpool (Penalties 2-3)
https://www.youtube.com/watch?v=tnB4XAhl6PY%20
FA Cup Final, 2006 (Liverpool vs. West Ham)
Having taken a two goal advantage, West Ham thought that the game was done and dusted but Steven Gerrard had other plans for the night. West Ham were comfortably leading 2-0 thanks to Jamie Carragher's own goal and Dean Ashton's beautiful finish. Cisse then grabbed one back for Liverpool in the first half itself before the skipper levelled for the Reds. But ten minutes after the equaliser, the Hammers added another twist to the table when Konchesky's cross somehow landed up in the Liverpool net. But with only added time left, Captain Fantastic did it again for Liverpool!
The ball was floated into the West Ham penalty area and the Hammers scrambled to clear, only for the ball to fall to Steven Gerrard, who thundered home a low drive from all of 35 yards out. The Reds held on through extra time and managed to survive when a deflected Reo Coker shot was saved onto the post by Reina. It was another 3-3 draw and another penalty shootout in two consecutive finals for the Reds. Liverpool then prevailed in the dramatic shoot-out, with Reina making up for a poor performance during normal time with three crucial spot-kick saves. Only Teddy Sheringham from West Ham was able to covert a shot. Liverpool lifted the FA Cup trophy in 2006 escaping a defeat but winning in style.
Final Score: Liverpool 3-3 West Ham (Pens – 1-3)
http://https://www.youtube.com/watch?v=Pad0rFKZja8
UEFA Champions League Group Stage, 2004 (Liverpool vs. Olympiacos)
Sometimes the impossible cannot be achieved right away, it is simply delayed. Such was the case with this game of Champions League where Liverpool faced Olympiacos and Liverpool's talisman Steven Gerrard is the one to call when you're thinking of coming back to win the match 1-3 from a goal down. The objective here was simple: they needed to beat the Greek side to go through. But after Olympiakos scored first, Liverpool needed to score 3 as even a 2-1 win would see the Greeks go through on away goals. Olympiacos were in good form with a brilliant defensive structure that caused trouble for The Reds that night at Anfield. And of course it was Steven Gerrard who rose up to the occasion and did what he does best.
Many fans and experts, Gerrard included claims that the goal against Olympiacos was one of the most important goals of his career and for the club, mainly because of the timing of the goal. Sinama Pongolle equalised for Liverpool early after the restart, but they struggled to get more goals. Time was running out and Benitez brought on the young striker Mellor for Baros in the 78th minute. The change proved to be a crucial one as Mellor got Liverpool's second within 3 minutes of coming on. The youngster proved crucial again as he lined up Gerrard to rise to the occasion again and he did just that. The inspirational skipper who would go on to be a catalyst in many a comeback in the future hit a thunderous drive past the goal keeper to send the fans into a frenzy and Liverpool to the knockout stages.
Final Score: Liverpool 3-1 Olympiakos 
http://https://www.youtube.com/watch?v=PG_TD-4AuKw
Premier League, 1996 (Liverpool vs. Newcastle)
Branded as one of the greatest games of the PL era, this match defines what comebacks are and how unpredictable football can get. Both the sides wore their best performance hats and neither of them were willing to go easy on the ball. Robbie Fowler struck for Liverpool after just two minutes, before Les Ferdinand and David Ginola had Newcastle leading 2-1 inside the quarter-hour. Fowler equalised after the break, only for Faustino Asprilla to put Newcastle 3-2 ahead before the hour-mark.
Stan Collymore grabbed his first goal with little more than 20 minutes to play to tie the game at 3-3. Just when Newcastle thought they could escape Anfield with a point the former Nottingham Forest striker slotted home Liverpool's winner. It was indeed Collymore's day and more so, Liverpool's.
Final Score: Liverpool 4-3 Newcastle
http://https://www.youtube.com/watch?v=gwCDYc-r3iI
Europa League, 2016 (Liverpool vs. Borussia Dortmund )
Over the last couple of years, Liverpool FC has been subjected to many laughs about how they don't perform well in important games and to some extent that was true. Their game was lacklustre with very little effort shown but then Jurgen Klopp happened and suddenly, Liverpool breathes a new air that is untouchable by the others. The air is more positive and optimistic and has glimpses of a team that can go ahead and win tournaments and prove to be a real threat to other teams.
No one imagined that in an ordinary Europa League quarter-final where the favourites were BvB, Liverpool would sweep in and take all the glory. It started the way it was supposed to with BvB going 2 goals up courtesy of Mkhitaryan and Aubameyang, but then Origi scored after the break and the deficit was reduced. But Dortmund were having none of it and Marco Reus who did brilliantly to set up Aubameyang earlier, calmly curled home a lovely finish to make it 1-3 for Dortmund. But Liverpool weren't finished yet!
ADVERTISEMENT
Article continues below this ad
There was no Gerrard to inspire them to the impossible this time, but their star of the season stepped up again and got the comeback started. Exchanging a neat one-two with Milner, Coutinho produced a fine drive from outside the box to give his team some much needed hope. It was a goal Gerrard would have been proud of. It was all an upward climb after that. A corner from the left fell kindly for Mamadou Sakho and the defender reacted quickly to head home. It was that fated 3-3 scoreline for Liverpool on the night of another magical comeback, but this time a 3-3 would not be enough for Liverpool. And Liverpool hadn't had enough either! Deep into added time, Milner who was fantastic on the night dinked a brilliant cross to the far post and Sakho's centre back partner Dejan Lovren rose this time to head home the winner and drive the fans crazy. Another magical European night at Anfield was complete and Klopp had outdone his beloved former club!
The Liverpool manager went on to comment  'Liverpool's this win is inspired from the 2005 Istanbul comeback'.
Final score: Liverpool 4-3 (Agg: 5-4)
ADVERTISEMENT
Article continues below this ad