Liverpool vs Manchester United: Top 5 clashes in EPL era
Published 01/15/2016, 12:14 PM EST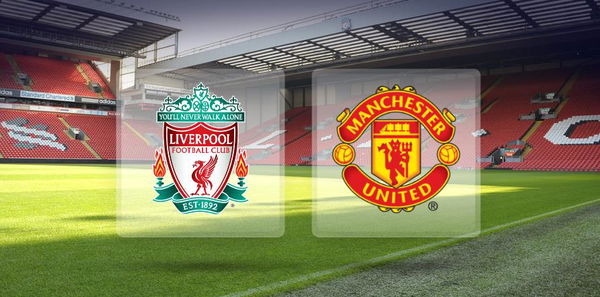 ---
---
The Premier League has witnessed less rivalry more intense than Liverpool vs Manchester United. Though not a derby technically, the two most successful sides in the Premier League have given us unforgettable moments. With great players in both the sides, a Liverpool VS United clash has always been one to savor.
ADVERTISEMENT
Article continues below this ad
Here, we look at five exceptional matches played by the two giants.
The list is from Premier League era and from league matches only. The list is ordered in the timeline they occurred.
ADVERTISEMENT
Article continues below this ad
Liverpool 3 – United 3 (4 January, 1994)
One of the greatest comebacks ever in the Premier League history was completed by Liverpool just 11 minutes from time. United took a 3 goal lead inside 24 minutes of the match. Steve Bruce, a young Ryan Giggs and Denis Irwin were on the score sheet before the half an hour mark.
The shell shocked were in for a treat though. Liverpool equalized just 1 minute later from a Nigel Clough screamer. At the 38 minute mark Clough scored another one and it was game on. The comeback was completed at 79 minute when Neil Ruddock scored a memorable header.
Liverpool 2 – United 3 (11 January, 1999)
David Beckham can give a mean cross, that's no secret. They are so good that even Jamie Carragher couldn't resist to score from them.
Though the English defender has been one of the best defenders to grace the Premier League, it was a match that he would have tried really hard to forget as he scored two own goals.
Astonishingly, both the goals came in the first half, as United raced to a 1-3 lead inside the first 45 minutes. A late Patrick Berger wasn't enough as United held onto the one goal cushion, giving them a memorable win at Anfield.
Manchester United 1 – Liverpool 4 (14 March, 2009)
Rafa Benitez might have failed at Madrid, but he was pivotal in Liverpool's most successful period in recent times.
He proved his mantle again when his Liverpool side, led by the rampant Steven Gerrard and Fernando Torres, thrashed United at Old Trafford, a feat rarely achieved by rivals under Sir Alex Ferguson.
The hosts started the game perfectly as Cristiano Ronaldo converted an early penalty conceded by Liverpool.
Just like it was not Jamie Carragher's night 10 years ago, this wasn't one for Nemanja Vidic. His mistake led to the first goal and was sent off for a foul on Steven Gerrard in the second half.
It was an inspired performance by Liverpool as they scored 4 past Edwin van der Saar.
Manchester United 3 – Liverpool 2 (19th September, 2010)
Though Dimitar Berbatov was often seen as the one who did not live up to the £30m price tag, to most of the United fans his performance against Liverpool in 2010-11 season just made him worth it.
The Bulgarian put up one of the best performances of his life as he scored a stunning hat-trick, and all goals had just class written all over them. The striker was in breathtaking form that season and eventually won the Golden Boot for scoring 20 goals.
His first was a header, but second one was probably the highlight of the season. A delightful bicycle volley. Steven Gerrard, as he has done so many times, inspired a comeback when he scored from the spot and a wonderful 20 yard free-kick. It was Berbatov again as he nodded on his third and completed a memorable day for him and the fans.
Liverpool 3 – 1 Manchester United (6th March, 2011)
It's not every day that the one scoring a hat-trick is not even close to the best player in the match. This was Luis Suarez's day as he ripped apart Manchester United and played part in all the three goals scored by Dirk Kuyt. The first one was the pick of them all as Suarez beat 3 United defenders before just squaring the ball for the Dutchman. The last one was a trademark free-kick which was deflected by Van der Sar in path of a grateful Kuyt.
Though Javier Hernandez pulled one back in the stoppage time, it was party time at Anfield as United were humbled by their arch rivals.
Honourable Mentions
It's impossible to pick the best match from this clash, and here are some other matches who deserve a mention.
ADVERTISEMENT
Article continues below this ad
Liverpool 2-1 Manchester United in 2008
Manchester United 0-3 Liverpool in 2014
Liverpool 1- Manchester United 2 in 2015.
ADVERTISEMENT
Article continues below this ad