Van Gaal vs Mourinho-What goes around comes around?
Published 10/26/2014, 3:51 AM EDT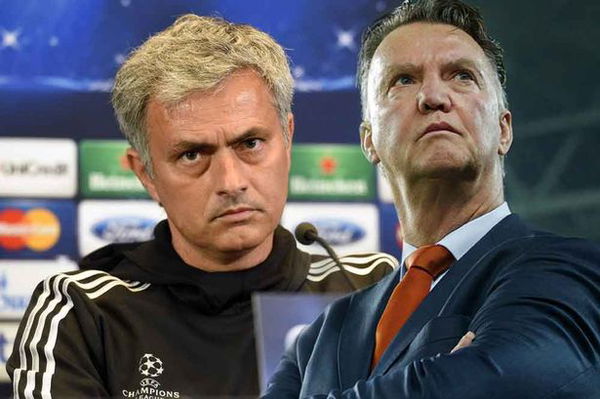 ---
---
Two decades ago, no one would have thought this day would have come.
ADVERTISEMENT
Article continues below this ad
Battle of the giants. Clash for supremacy. Showdown ultimate.
What makes this Sunday's match between Chelsea and Manchester United so special, you ask?
Simply put, it is a battle of the minds, tactics and ideals. The teacher versus the student.
ADVERTISEMENT
Article continues below this ad
Van Gaal and Jose Mourinho go long back, to 1997, when Van Gaal took over the managerial post from Bobby Robson. The former had already proved his value to the world, winning 3 Eredivisie titles and 1 UEFA Champions League with Ajax, notably going the whole 1994-95 season unbeaten. He was initially supposed to be the youth manager, but with Bobby's team failing and also the long history of players Ajax and Barcelona have shared, Van Gaal was an obvious choice as a replacement.
Jose Mourinho, on the other hand, had his career in Barcelona as a translator for Bobby Robson. He soon gained enough trust and value to be made a pseudo 3 assistant, helping Bobby plan training schedules and analyze opponent's tactics. When the latter was fired, Mourinho was called to the board meeting with the president of the club as well as the new manager. Jose thought he was being fired and hence reacted furiously, claiming a role in their previous successes. Van Gaal saw something in him, and hence gave him a chance. And the rest is as we see today.
Mourinho was given a chance to prove his worth, and he wouldn't let it go. Van Gaal used to doubt him initially though he soon gained enough trust to help LvG regularly as assistant coach. It is said that Mourinho's genius came to be known to LvG when they used to train positional play at the Camp Nou. Louis even mentioned how Jose used to lose his cool and shout, if he found something wrong. And that is something which pleased LvG, and aggressive tone and the guts to stand up, something he saw in himself. By the second season under LvG, he had gained enough experience that Louis trusted him with certain matches in the season (Copa Catalunya). And Mourinho used to fire up the whole dressing roomduring half time, with Louis watching. What better start to a managerial career than the mighty Barcelona itself!
ADVERTISEMENT
Article continues below this ad
Mourinho's managerial way has been affected by the Dutchman's philosophies. They both share an enormous sense of work ethic. Both believe in the team rather than individualistic genius. Brazil and Barcelona legend Rivaldo was first pushed off position and then not played completely by Louis, under his managerial days. We already know of Jose doing the same with Mata and Lampard, not showing any regret leaving either of the two players. Clearly they were not afraid of taking bold decisions. They also share a tactical similarity of sorts, as both of their styles involve fluidic and dynamic passing, rotating around midfielders.
Soon, Jose grew big enough for his assistant role, and wanted to make a future for himself. His fate led him to his home nation of Portugal with Benfica. And since then he never looked back. From Benfica to rivals Porto, Chelsea, Inter, Real Madrid and back to his London team, he has only grown in stature, and his resume might beat any. With 2 Champions League trophies and 7 league titles, he's no joke and probably one of the best managers in his generation. Louis van Gaal on the other hand has over 9 league titles and a single Champions league title.
The last time these two met was back in 2010 in the Champions league final when Jose's Inter defeated Bayern Munich 2-0 in a match where amazingly, Inter only had 34% possession. Before the match, Van Gaal himself was quoted saying "He [Mourinho] trains to win. I train to play beautiful football and win. My way is more difficult." Even though Jose doesn't really play attractive football, parking the bus; the real question remains whether the winning formula masks over beautiful, classic football. Will the apprentice overshadow his master yet again?
ADVERTISEMENT
Article continues below this ad