LPGA Pro Receives Massive Support in Her Protest Against Prize Money Inequality in Women's Golf
Published 09/06/2021, 8:35 AM EDT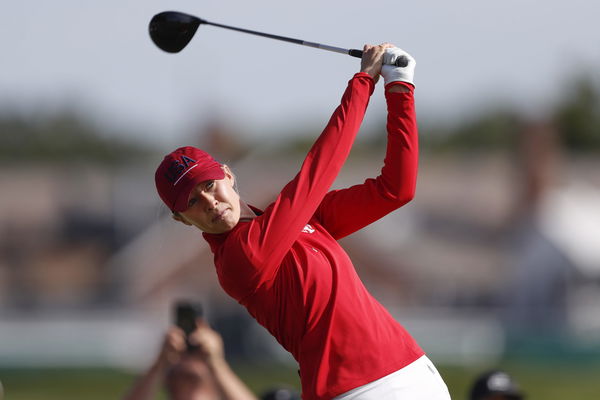 ---
---
The 2020-21 PGA Tour season just concluded with the 2021 Tour Championship. Meanwhile, the LPGA season will stretch till November 21, with the season-ending CME Group Tour Championship. While both the men's and women's tours have similar number of events, there seems to be a huge gap when it comes to prize money. 
ADVERTISEMENT
Article continues below this ad
The PGA Tour offers lucrative prize money figures to its golfers, while the LPGA falls short in that category. For instance, the winner of the Tour Championship in men's golfer will take home $15 million, while in the women's game, the champion's payout is just $1.5 million. There is a massive gap between these two prize money payouts. 
LPGA Tour Pro voices out against prize money inequality in golf
ADVERTISEMENT
Article continues below this ad
The 2021 Tour Championship pulled the curtain on the 2020-21 PGA Tour season. The event was played at East Lake Golf Club where Patrick Cantlay took home his first-ever FedExCup trophy. Of course, the scenes were grand, but they also shed light on the massive inequality that exists between men's and women's golf. 
Former Golf Channel reporter Lisa Cornwell shared a staggering post about the Tour Championship prize money. However, she put it in direct comparison with how male golfers dominate career earnings ahead of female golfers. 
Chew on this for a minute…

Lexi Thompson has 11 #LPGA wins and 74 top 10s.

Meanwhile, Patrick Cantlay just earned 3.6 million dollars more in one week than Lexi has earned in her ENTIRE career.

Okay, back to my 🥃…

— Lisa Cornwell (@LisaMCornwell) September 5, 2021
Patrick Cantlay took home a $15 million bonus for winning the Tour Championship. Annika Sorenstam, meanwhile, has made $22,577,025 through career earnings. There's roughly a $7m gap between what Cantlay earned in one tournament versus what Sorenstam earned in her entire career. 
This obviously implies that there is a huge gender inequality when it comes to prize money. Eight-time LPGA winner Brittany Lincicome vented her frustration over this through a strong tweet. She called for a change, to which a lot of Twitter fans expressed their support as well as an explanation. 
 Twitter comes to the aid of women's golf
The major reason why men's golf tournaments offer lucrative prize purses is that they have a lot of sponsors. That is not the case with the LPGA or any other women's tour, but it's high time that it changes. 
A lot of them were calling for sponsors to wake up and generate interest in women's golf. A small portion of fans were persistent that the LPGA does not generate similar revenue as the PGA Tour and hence the huge difference.
This is like Hockey vs other 3 major sports. It's the only league where the players don't have hundred million dollar contracts & that's basically cuz they're wasn't a huge fan base for it. LPGA will get it's dues, but it's gotta start at the top, more sponsors=big purses👛💰

— HeyHozer_TakeOffEh (@SoucyA85) September 6, 2021
I think golf should have more tournaments combining the LPGA and PGA tour during the season. Let everyone play male or female. The LPGA has world class golfers that I believe could compete in PGA events.

— sabresthoughts (@sabresthoughts) September 6, 2021
I agree totally. For the money to be equal though, sponsor $ need to increase. That's where the work needs to be done.

— Chris Aulbach (@cdaulb) September 6, 2021
Just so unfair, watching the Solheim cup and they show 15 commercials between shots, when the have men on its 2 maybe 3 max and right back to play.
Just so unfair..🤬

— Richard Marconi (@golfrichmar) September 6, 2021
The LPGA doesn't generate the same revenue. This isn't difficult to understand.

— Jarred Ramnath, PGA, TPI (@vjramnath) September 6, 2021
Sponsorships don't start at the top, they start at the bottom. If you can get eyeballs the sponsors will pay.

Men's US Open final round had 5.7 million viewers. Women's had 878,000.

Men's purse was $12.5M
Women's was $5.5M

Based on viewership the women got almost 3x the money.

— MM GOLF STUDIO🇺🇸 (@MMGOLFSTUDIOS) September 6, 2021
It's simple supply and demand. LPGA is not as fun to watch as the PGA Tour. That's why. A lot of that has to do with the fact that it isn't promoted well at all. Need to put more into a mixed event possibly? That's how to get more money. Also need a star, Nelly could be that.

— Spieth Legion (@SpiethLegion) September 6, 2021
ADVERTISEMENT
Article continues below this ad
I agree. Woman sport must change now. Everything should be the same. The lady's put in extremely hard work aswell. Its 2021 not 1921. People must stop been so narrow minded and open there eyes.

— Ands (@Andrew00648593) September 6, 2021
Simple, all we need is to 1) find sponsors that are willing to fork out more money for LPGA tournaments, 2) get the major TV networks to air more LPGA tournaments, not just on Golf Channel which is horrable IMO.

— Mike Austin Golf (@chsuncy) September 6, 2021
ADVERTISEMENT
Article continues below this ad