'Unbelievably Stupid' – Solheim Cup Putting Controversy Sparks Massive Outrage From Golf Fans and Former Tour Pro
Published 09/05/2021, 6:00 AM EDT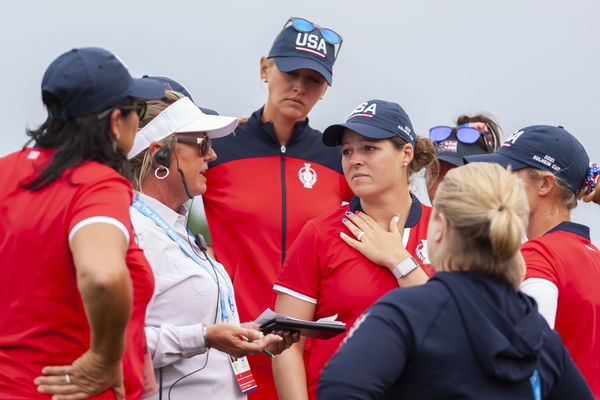 ---
---
The Solheim Cup is currently taking center stage at the Inverness Club in Toledo, Ohio. As usual, Team USA is battling with Team Europe for one of the highest honors in women's golf. However, the competition never really catches fire without a controversy taking place. That's exactly what happened on Friday when Nelly Korda and Alley Ewing played against Nanna Koerstz-Madsen and Madelene Sagstrom. 
ADVERTISEMENT
Article continues below this ad
This was a foursomes match between Team USA and Team Europe – which the Americans won in a controversial fashion. None of the golfers were involved in creating the drama, and it was in fact, the rules official who caused quite a bit of outrage. 
What blew up as a controversy during Day 1 of the Solheim Cup?
ADVERTISEMENT
Article continues below this ad
Nelly Korda and Alley Ewing defeated their European opponents in their foursomes match, but Korda later revealed that this is not the ideal victory that she wanted. Here's why she felt that way after going one up against the Europeans. 
As Korda and Ewing were playing Koerstz-Madsen and Sagstrom, controversy erupted on the 13th hole. Korda was left with a big eagle putt to win it on the 13th for Team USA. The Olympic gold medalist made a terrific putt, but the ball stopped just before the hole, leaving her onto her knees in disbelief. 
The ball did not seem to go in, and as a result, Sagstrom picked up her opponent's ball and threw it back at her, which means that she conceded her next putt. Once again, the ball did not go in and was sitting very close near the hole. 
Sagstrom's act is what caused the controversy. Since Korda didn't make the putt, the hole was tied between the Americans and the Europeans. However, a rules official came out and stated that the hole was won by Nelly Korda since the ball was hanging on the hole and the mandatory ten-second rule was not followed by the Sagstrom. 
The rule states that an overhanging ball should be given ten seconds to drop into the hole after it reaches the location. However, Sagstrom didn't wait for ten seconds as she thought the ball was not "overhanging." A lot of people seemed to have agreed with her, but the rules official didn't. 
Golf fans took to the internet to express their disbelief 
Controversy fell upon the Solheim Cup 2021 as early as Day 1. Sagstrom assumed she was conceding the tap-in birdie, but the ruling suggested that she did not allow enough time for the ball to fall into the hole. However, a lot of people were convinced that the ball was never hanging onto the hole. 
This sparked massive outrage on Twitter, where a lot of fans, reporters, and some former pros also got involved: 
More chance of the boy rolling down the hill dropping into the cup than the overhanging ball…#SolheimCup

— Graeme (@gnethercottpga) September 4, 2021
Surely the 10-second rule can only apply when a ball is overhanging the hole and, sorry, that was clearly not the case with Nelly Korda's ball. Bad call by the rules official, in my opinion

— Martin Dempster (@DempsterMartin) September 4, 2021
Do rules officials in golf realise how unbelievably stupid they make our game look.
Clear cut….
🤷🏻‍♂️

— Thomas Bjørn (@thomasbjorngolf) September 4, 2021
Just saw the hanging-putt video for the first time. What an absolute joke. Truly bizarre. Ball clearly wasn't going in. She gave her the putt in totally normal fashion. If the ref didn't get involved, no one would have even thought twice about it. What the hell?!?!?!

— Daniel Rapaport (@Daniel_Rapaport) September 4, 2021
I think "the stalled eagle" should be the enduring nickname of the Solheim controversy

— Shane Ryan (@ShaneRyanHere) September 5, 2021
That ruling in the Solheim Cup was terrible. That ball was never going to drop, not even close to going in really. Why is a referee getting involved there! It's match play and all players seemed comfortable until the ref intervened! Shocking. #SolheimCup

— Richard Jordan (@SpikeJordan10) September 5, 2021
What absolute stupidity from the rules official on 13 in that match. Bar an earthquake that ball was never moving… Tough on @SolheimCupEuro… Could tell the US team didn't enjoy winning it that way #SolheimCup

— Loaf of Bread GAA Podcast (@LoafPod) September 4, 2021
ADVERTISEMENT
Article continues below this ad
ADVERTISEMENT
Article continues below this ad