Luminosity Gaming Warns 'Content Creator' Queen Elizabeth for Toxicity
Published 03/10/2021, 12:08 PM EST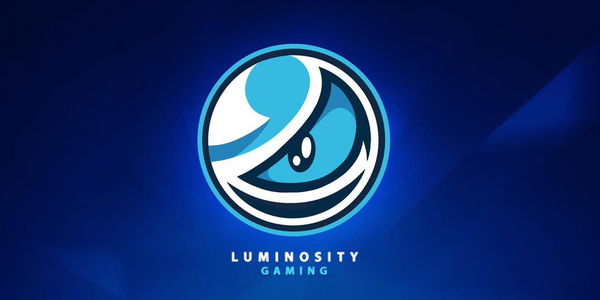 ---
---
The Royal Family has picked up a lot of flak for their alleged treatment of Prince Harry and Meghan Markle. However, the Meghan-Oprah interview has taken the internet by storm. Almost every woke individual has an opinion on the issue. This also includes streamers like xQc and organizations like Luminosity Gaming.
ADVERTISEMENT
Article continues below this ad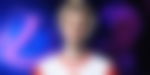 Luminosity Gaming saw this as a wonderful opportunity to take a dig at the recent event. Its latest Twitter troll came at the expense of Queen Elizabeth.
ADVERTISEMENT
Article continues below this ad
The organization, well known for its heavy lineup of content creators, signed another star recently. In a recent tweet, LG announced that it had 'recruited' the British monarch as a variety streamer.
Queen Elizabeth spreads toxicity instead of streaming Valorant for Luminosity Gaming
According to LG's hilarious tweet, the Queen was supposed to stream a bit of Valorant ranked. However, after the Royal Family's 'toxic behavior', LG ended up regretting its latest signing. Just 8 minutes after the initial tweet announcing the comedic recruitment, LG had to issue another one apologizing for the Queen's behavior.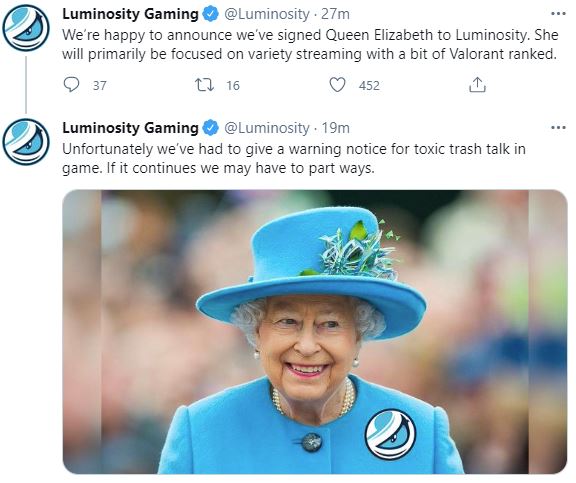 According to LG's apology tweet, the organization gave the Queen a slap on the wrist for her 'toxic trash talk'. Moreover, it also announced that this is going to be her last strike. LG said it might have to let the Queen go if she continues her 'toxic behavior'.
Fortunately for Luminosity Gaming, the Queen loves to wear single-colored outfits. LG managed to find one where she wore all blue, a color matching its logo, and slapped its logo on the image.
ALSO READ: "I should be banned for it"- xQc Apologizes Following Yet Another NoPixel GTA RP Server Ban
ADVERTISEMENT
Article continues below this ad
The internet did not appreciate LG's sense of humor
Luminosity Gaming has deleted the tweets in question after facing a backlash. While the popular gaming organization was only trying to poke some fun at the recent events, going up against an entity as popular and powerful as the Royal Family turned out to be a bad decision.
The allegations put forward by Meghan Markle during the Oprah interview were of a severe nature. Naturally, the internet did not appreciate the thread of tweets from LG.
ADVERTISEMENT
Article continues below this ad
Many users managed to grab screenshots of the tweets and posted them on the internet. They accompanied them with their opinions about how the humor was in bad taste or was weird. Instead of Luminosity Gaming warning the Queen, it turns out the internet has warned LG instead.