"Made Me the Player I Am": Novak Djokovic Owes His Success to Roger Federer and Rafael Nadal
Published 03/09/2021, 6:18 AM EST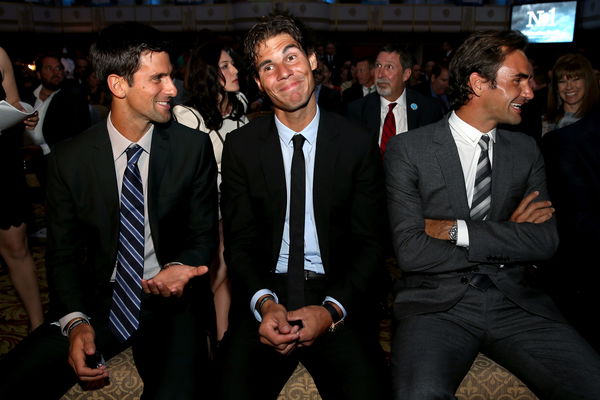 ---
---
On the eve of breaking Roger Federer's record for most weeks as World No.1, Novak Djokovic was brimming with positivity. Deservedly, the Serbian was happy with the elite record. The record again shows the dominance of the Big 3 of Novak Djokovic, Rafael Nadal, and Roger Federer. They have reached a certain level because of their rivalry itself.
ADVERTISEMENT
Article continues below this ad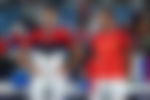 The era of Big 3 is so relevant because the players themselves have pushed each other so much that no one has been able to catch them. Djokovic was frank in his assessment of the rivalry and admits that he had a change of heart about how he felt about his rivals from his initial days to now.
ADVERTISEMENT
Article continues below this ad
"I was probably not so happy and so grateful to be part of their era at the beginning of my career because they were winning against me so much that you know I was hoping that I could be in part of different era. But today I stand and I can say that I'm definitely pleased to share the stage with them because they definitely made me the player I am," Djokovic said in an interview with the Indian news outlet, NDTV.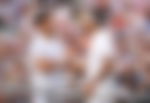 Novak Djokovic on choosing his greatest rival between Roger Federer and Rafael Nadal
It is an interesting fact that the Federer-Nadal-Djokovic have the greatest rivalry in terms of matches played. Djokovic and Nadal have played each other 55 times, Djokovic and Federer have played each other 50 times, and Federer and Nadal have played each other 40 times. These are the most prolific rivalries in tennis history.
And given each of the Big 3 members have their pros and cons, Djokovic is just humbled with the different dynamics of the rivalries and it is hard for him to choose his greatest rival.
"They have two different tennis styles and the way they play the way they behave on the court and off the court so I had to adjust differently to roger and differently to Rafa, but I'm so grateful that I have the rivalries with them and that I was part of this."
The contrasting personalities of the trio and their different game style offer another flamboyance to their rivalry.
ADVERTISEMENT
Article continues below this ad
Now for Djokovic, he stares at the Grand Slam tally record held by Federer and Nadal. He is two Grand Slam titles behind them and could soon be par with them at the end of the year.
When would the Big 3 dominance end?
ADVERTISEMENT
Article continues below this ad