Madness and outrage – on the football pitch!
Published 07/03/2015, 3:34 PM EDT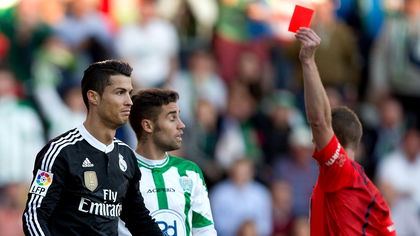 ---
---
Football is the most popular sport in the world. From the stunning long range strikes to the powerful headers, from brilliant defence to wonderful goalkeeper saves, fans love these moments in the sport. But there is a dirty side to this beautiful game.
ADVERTISEMENT
Article continues below this ad
Crashes, clashes, scratches, punches and even bites have been a part of the game for quite some time now.
EssentiallySports brings you a few of these horrendous moments of madness on the football pitch!
ADVERTISEMENT
Article continues below this ad
10: Newcastle United – Teammate Brawl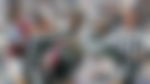 10 years ago, former Newcastle team-mates Lee Bowyer and Kieron Dyer were sent off for fighting each other. The Magpies were losing 3-0 to Aston Villa and were down to 10 men when the duo made it worse for the then manager Graeme Souness. As a result, both the players were suspended for the upcoming FA Cup semi-final against Manchester United.
Bowyer and Dyer offered apologies after the shameful end to the match. Bowyer said: "I would just like to apologize to the fans, the chairman, the managing staff, all the players and everybody that is connected to Newcastle, my family and everybody that witnessed what happened today on the football pitch. I am sincerely sorry."
Dyer added: "I will touch on the same as well. I would like to apologize to my team-mates, the manager, the chairman and the fans and everyone connected with the club as well. We are team-mates and we have disagreements, but we should not be fighting in front of 50,000 people. I am deeply sorry for it, especially because it is a crucial stage of the season."
Souness made his feelings absolutely clear in the dressing room after what he described as a "traumatic day" in the club's history.
"I think it is a first for me, I have never witnessed that before," he said. "Words between players, hard words between players occur in every game of football and it is very unusual for it to lead to what happened today."
The astonishing bust-up occurred in the 81st-minute as Bowyer and Dyer squared up after a heated exchange and the former appeared to throw the first punch before team-mates moved in as the brawl developed.
Later, Kieron Dyer opened up about the incident and said that it was a personal insult aimed at Bowyer's lack of ability that pushed him over the edge, but he never thought that Bowyer would do such a thing in front of 50,000 people.
Dyer has since patched things up with Bowyer. He said: "I still see him now, we are friends. That's just the way Lee was. But I still want to beat him up."
9: Luis Suarez – Biting!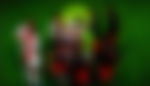 In November 2010, then Ajax captain Luis Suarez was handed a seven-match ban for biting PSV Eindhoven midfielder Otman Bakkal's shoulder in a league match. The match ended in a 0-0 draw. Suarez was fined by Ajax for his behaviour on the pitch.
The incident happened in stoppage time after referee Bjorn Kuipers showed Ajax's Rasmus Lindgren a straight red for a rough tackle on playmaker Ibrahim Afellay.
Suarez argued with Bakkal, who stood on the Uruguayan's foot, prompting him to bite the PSV midfielder's shoulder. The entire incident, though,  was missed by the referee. Although Suarez was banned for domestic appearances, he remained eligible to participate in the Champions league.
8: Eden Hazard – Kicking a ball boy!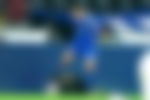 Chelsea winger Eden Hazard was sent off for kicking a ball boy in the Capital Cup semi final match against Swansea City in 2013. Chelsea were desperately searching for a goal with 10 minutes remaining in the match, when the ball went out for a Swansea goal kick. The ball boy refused to give the ball to Hazard and instead held the ball under him. But Hazard's reaction to the situation was poor – he tried to toe poke the ball out of the boy's grip, but instead caught him in his ribs and consequently was shown a red card by the referee. As a result, the match ended 0-0 with the Swans going through with a 2-0 aggregate win.
Hazard later apologized for his disgraceful deed. He told Chelsea TV: "The boy put his whole body on to the ball and I was just trying to kick the ball. I think I kicked the ball and not the boy. I apologize."
South Wales Police did not take any action against Hazard. Later ball boy Charlie Morgan was interviewed in the presence of his father and did not make a complaint.
"The ball boy did not sustain any injuries," a spokesman said. "He's been into the Chelsea dressing room and shook hands with Hazard. John Terry and Frank Lampard were exemplary in welcoming him into the Chelsea dressing room."
Swansea captain Ashley Williams said after the match: "Demba Ba told me that the boy held on to it. I saw him [Hazard] kick him in the ribs, and you can't do that."
Swansea manager Michael Laudrup commented: "I think he [Hazard] will regret it when he sees it. The ball boy should have let it go but he was pushed first and then he kicks him. I understand as a player when you are behind and you are under pressure you sometimes say or do things you shouldn't but there are some things you cannot do."
7: Nigel de Jong – Kung-Fu Kick – 2010 World Cup Finals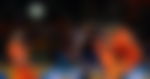 In the finals of the 2010 world cup, Nigel de Jong planted a Kung-Fu kick in the chest of Spanish mid-fielder Xabi Alonso that left him in agonizing pain and a broken rib. Although the then Real Madrid star continued playing, he labelled it as "one of the worst tackles" he has ever received.
The surprising part of the incident was that the referee Howard Webb decided against sending De Jong off and just showed him a yellow card. Even De Jong accepted that he was fortunate not to be sent off by English referee.
"It was a tight game, there was respect from both sides and they had to close us down," added Alonso. "But that challenge was really hard. It was one of the most painful tackles in my life and it was hard to play on. I have probably broken a rib, although I am not too worried about that."
Webb's performance in the final, which Spain won 1-0 thanks to Andres Iniesta's extra-time winner, was widely criticized.
6: Frank Rijkaard – spitting on Rudi Voller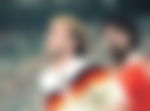 Rijkaard was the cause of this incident, which took place in the second round World Cup contest in Italy in 1990. In a match between Holland and Germany, Rijkaard was booked for a tackle on Rudi Voller, which was followed up by a cheeky spit as he ran past him. Voller complained to the referee and was booked as well.
Then, when Voller went to the ground in the Dutch penalty area, goalkeeper Hans van Breukelen and Rijkaard saw it as a dive in hopes for a penalty. Rijkaard again confronted Voller by twisting his ear and stamping on his foot. Both Voller and Rijkaard were sent off, but Rijkaard again spat in Voller's hair as they left the pitch.
The German press nicknamed him "Llama" for his spitting. Rijkaard would later apologize for his behavior to Voller, who graciously accepted the apology.
5: Luis Suarez – Biting! (Round Two!)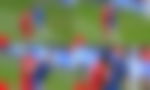 Former Liverpool striker Luis Suarez was in the limelight again in 2013, as he was accused of biting an opponent for the second time in his career in the form of Chelsea defender Branislav Ivanovic. He was seen trying to sink his teeth into the Blues player's arm as they wrestled in the Chelsea penalty area. As a result, he was handed a 10 match ban by the FA.
The referee did not see the incident and as a result took no action against Suarez who scored late in the match to snatch a point for Liverpool.
After the match, then manager Brendan Rodgers told the reporters: "No player is irreplaceable no matter how good they think they are." Former Liverpool player and manager Graeme Souness labeled Suarez's apparent bite on Ivanovic as "embarrassing".
Suarez apologized for his conduct on the pitch: "I apologize to my manager and everyone at Liverpool for letting them down."
Later Suarez tweeted: "I've spoken to Ivanovic on the phone and I could apologize directly to him. Thanks for accepting."
4: Giorgos Katidis – Nazi Salute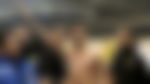 Chalk this one up as "What the hell was he thinking?"
In March 2013, AEK Athens player Giorgos Katidis gave a Nazi-style salute after scoring the winning goal against Veria. This incident created an international controversy and the Hellenic Football Federation gave Katidis a lifetime ban from all Greek national football teams and he was fined €50,000.
Later, Katidis told the public that he was totally unaware of what the gesture means and he just wanted to dedicate the goal to a colleague in the stands. AEK's German coach Ewald Lienen said, "He is a young kid who does not have any political ideas. He most likely saw such a salute on the internet or somewhere else and did it without knowing what it means."
The Greek football federation called it "a severe provocation" that insulted "all the victims of Nazi bestiality."
He was banned by AEK for the rest of the season. AEK failed to win even a single match after the suspension of Katidis and were relegated for the first time in their history.
3: Eric Cantona – Attacking a Fan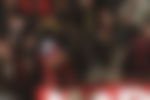 On January 25, 1995, Manchester United forward Eric Cantona threw himself, feet first, at Palace supporter Matthew Simmons. Even before that night 20 years ago, Cantona had "incidents" which damaged his reputation. But this time, Cantona crossed the line, and how!
United were the defending champions and were travelling to Crystal Palace seeking to catch up with the league leaders Blackburn Rovers. Cantona's threat was immense, and therefore Palace defender Richard Shaw was constantly marking him. They were involved in a series of clashes in the first half. Cantona, being frustrated by Shaw, lashed out at him and was therefore sent off by the referee just three minutes into the second half. But that was not it.
Palace supporter Simmons raced towards the front of the stands and taunted him. Simmons claimed that he called out: "Off, off, off! It's an early bath for you, Cantona." Others have claimed he had actually shouted: "You dirty French bastard. F— off back to France."
But Cantona reacted by launching himself at Simmons with a kick that would make Bruce Lee proud, and though there was not much contact between the two, Cantona was punished for his reaction. He was suspended by United til the end of the season and fined £20,000, with the Football Association then extending his ban until October and fining him a further £10,000.
He was also sentenced to 14 days in prison by a magistrate after pleading guilty to common assault, but that was overturned by a judge at the end of March, who ruled the player should not be jailed simply because he is a public figure.
United lost two crucial points in the match after Palace equalised and ultimately lost the league title to Blackburn by a single point.
2: Luis Suarez – Biting! (Third time's the charm!)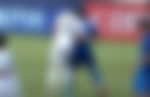 In the 2014 World Cup, Luis Suarez completed a hat-trick of bites when he bit Italian defender Giorgio Chiellini on his shoulder. As a result, he was banned for nine national team matches, and for four months from all football, including domestic Premier League games for Barcelona. He was also fined £66,000.
The ban was more severe because it was the third time that Suarez had done such a thing in his career. Uruguayan Football Association appealed against the ruling. Suarez denied that he had bitten Chiellini. "These situations happen on the field," he said. "I had contact with his shoulder, chest against shoulder and I got a knock to the eye – nothing more."
But Jim Boyce, the Fifa vice-president and the UK's most senior official, disagreed. "I have watched the incident several times on television," he said. "There is no doubt Luis Suarez is a fantastic footballer but, once again, his actions have left him open to severe criticism."
The referee, Marco Rodriguez, missed the bite in the match and therefore did not take any action against Suarez. Uruguay won the decisive match 1-0 and progressed through to the Round of 16 of the World Cup, whereas Italy were knocked out.
1: Zinedine Zidane – THE headbutt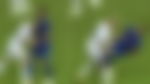 France midfielder Zinedine Zidane was sent off in the 110th minute of the 2006 World Cup final for headbutting Italy defender Marco Materazzi. Zidane, who had already declared that he would retire after the World Cup in Germany, had the most controversial of exit of all time.
Zidane gave France the lead in the final by scoring a penalty, but Materazzi equalised 19 minutes later through a header. The match went on to extra-time, and reacting to shirt tugging and provocation from the Italian defender, Zidane forcefully shoved his head into Materazzi's chest, sending the defender crashing to the ground. As a result, he was sent-off by the referee.
France went on to lose the final to Italy 5-3 on penalties.
Zidane gave little away in the days that followed, only offering that the insult was 'very personal' and concerned his mother and sister. Zidane claimed in 2010 that he would rather die than apologize to Materazzi.
ADVERTISEMENT
Article continues below this ad
"Of course I reproach myself," Zidane told El País. "But, if I say 'sorry', I would also be admitting that what he himself did was normal. And for me it was not normal. Things happen on the pitch. It's happened to me many times. But I could not stand it there. It is not an excuse. But my mother was ill. She was in hospital. This, people did not know."
"But it was a bad time. More than once they insulted my mother and I never responded. And [then] it happened. To apologize for this? No. If it was Kaká, a regular guy, a good guy, of course I would have apologized. But not to this one."
Materazzi was later handed a two-match ban from world governing body FIFA, while Zidane was banned for three games and fined £3,260.
ADVERTISEMENT
Article continues below this ad
Zidane was arguably one of the best the players of his generation and was an icon for all the people around the world. But this incident left a stain on the otherwise glorious career of the midfield maestro.