Isco or Kovacic – Who should Madrid Prefer?
Published 10/03/2015, 11:39 AM EDT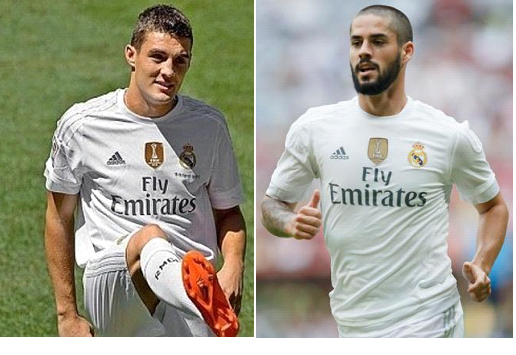 It has been a good start for Rafael Benitez as Real Madrid's new boss. The 55-year-old Spaniard has been very impressive with his squad rotation policy, and has handled the injuries to key defensive players. But with Bale and James both missing from the squad due to injuries, Madrid have lacked sharpness in their attack. Ronaldo's performance against Malmo in the Champions League saw him equal Raul's all time goal scoring record of 323 goals for Real Madrid.
ADVERTISEMENT
Article continues below this ad
But due to the injuries, Benitez has been forced to field both Isco and the new Croatian signing, Mateo Kovacic. Both have been good so far, but with James expected to return from injury this weekend, who will face the axe, Isco or Kovacic?
Isco has been a sensation since his arrival in Spain. The 23-year-old Spaniard was the backbone of the Malaga side which made it to the quarter-finals of the Champions League in 2012-13. But since his move to Real Madrid in 2013, Isco has been performing on a different level. In every match, he has shown an improved performance and has proved his worth to the team.
But due to a packed Madrid midfield, Isco's chances to shine have been limited. With Bale, James and Kroos coming into the squad, there has been a lot of speculation about the future of Isco at the club. Now the young midfielder is so desperate to prove himself, that he often plays a little selfishly and has therefore attracted criticism from the Spanish media.
While Isco is more of an attacking choice for Benitez, Kovacic gives him an option not only in an attacking sense, but also as a shield for the back four. The young midfielder arrived from Italian side Inter Milan in August for a hefty fee of €35 million. Kovacic has been impressive so far whenever he has been given a chance, and the 21-year-old Croatian midfielder is expected to make Benitez's job harder. And Kovacic will only get better by playing with the likes of experienced players like Luka Modric in the Madrid midfield.
While the Bernabeu's choice will always be Isco, and given Benitez's liking for the academy players, Isco will be expected to start more games ahead of Kovacic. But given the performances shown by the young Croatian, it will be a tough and healthy competition for a place in the team, with Madrid ultimately the one benefitting from the situation.