Will the Manchester City Juggernaut be Halted at Old Trafford?
Published 12/09/2017, 9:59 AM EST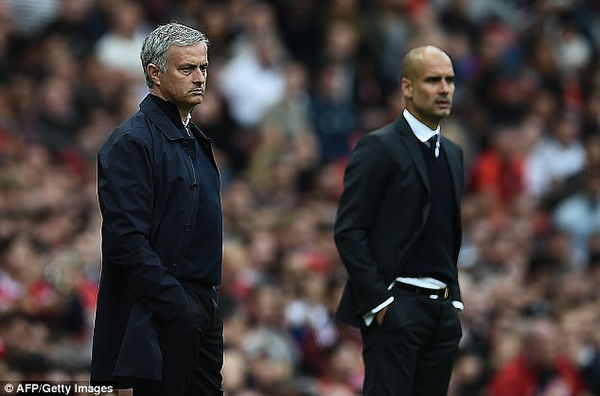 ---
---
Nothing quite attracts the attention of the football world like an intensely fought derby game. Nobody, the fans want to see their team get the better of more than their local rivals. Hardly any derby in the world matches the intensity of the one in Manchester these days. Hence, the blockbuster Sunday evening clash between Manchester United and Manchester City promises to be much more than just a top of the table match.
ADVERTISEMENT
Article continues below this ad
Manchester United v Manchester City
While their geography has ensured a rivalry on paper for years, on the pitch for a long time it was Manchester United who dominated. Be it trophies or head or head or as a global brand, in reality, there was barely a contest.
ADVERTISEMENT
Article continues below this ad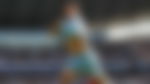 The balance has reversed since the Shiekh Mansour took over of the Citizens. Since then it can be said they have had the upper hand over United. Manchester City has won Two Premier League titles since and two sides have contested in numerous title races. In no time, the Manchester Derby has become one of the most heated rivalries in World football. It has also witnessed some great moments over the years from Aguero's goal vs QPR snatching the title in the last second from United to Owen's 97th-minute winner to Rooney's unforgettable bicycle goal.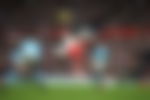 The arrival of Jose Mourinho and Pep Guardiola at United has taken the intensity of the rivalry between the two sides to another level. Who would have thought that time will take them to another set of arch-rivals in a different country.
What is the real story? 
The battle of Manchester will resume this Sunday at Old Trafford. In midst of a hectic festival schedule, the importance of this match does not need to be elaborated upon. A derby game, top two sides in the league, and arguably the two best managers in the world. It's no exaggeration that the world will have its attention on this mouth-watering fixture.
You might be wondering- Form guide 
Both teams would come into this match feeling confident. Manchester City has been phenomenal to say the least. The citizens have been in record-breaking form having won their last 13 Premier League games. Except for an encounter with Everton in August, Guardiola's team have won all their Premier League matches so far this season. Their marvelous form has spread across all competitions. A run of 20 consecutive wins only came to end this week to Shakhtar Donetsk in the Champions League, where they notably played a weaker lineup.
While it pales in comparison to their opponents, Manchester United have been pretty impressive themselves too. The Red Devils have only lost two games this season and drawn a couple more in the league. Alike City, they topped their Champions League group and are in the quarterfinals of the carabao cup.
On the league table, the sides are eight points apart. Manchester City is top of the pile having taken 43 of the 45 available points. While Manchester United are in second place with 35 points. A victory would Old Trafford would make it realistically impossible for anyone apart from Manchester City to win the league. If Manchester United can nick points of them, the rest of the league can at least hope again.
Where would the match be decided? 
Paul Pogba 
A red card in Manchester United's 3-1 win against Arsenal last weeks means Paul Pogba is ineligible for this fixture. Paul Pogba qualities were on full display at the Emirates last weekend before his red card and hardly need any mentioning. The importance of the club's record signing to the Manchester United team was vivid in his two-month injury absence from the team. Its as big a loss as United could have had before a fixture of such significance. There is barely player a team that offers the same amount of stability and creativity than Paul Pogba. How Jose Mourinho makes up for his absence could be critical in deciding the outcome.
Romelu Lukaku 
From Didier Drogba to Diego Milito, to Zlatan Ibrahimovic and Diego Costa, No9's have always been a critical aspect of Jose Mourinho's team's side. These are the players who have time and again made the difference for him in encounters of this magnitude in the past. Their influence goes way past scoring goals for him. Hence it was hardly a surprise that he spends an enormous amount of money to bring Lukaku to the club in the summer. After a strong start to the season, the Belgian has hit a blimp having scored only one goal in the league since the start of October.
It would have given Jose Mourinho enormous relief to see him break the drought against CSKA Moscow in the Champions League midweek. Lukaku has been given enormous criticism for not turning up in big matches. There isn't a better occasion to shut his critics and get back to goalscoring form than the Manchester Derby. Manchester United will need him to deliver the goods at Old Trafford to get a positive result.
Kevin De Bruyne and David Silva 
While the likes of Aguero, Jesus, Sane, and Sterling have stolen the credit on the scoresheet, it is Kevin De Bruyne and David Silva who have been the architects of Pep Guardiola's brilliant setup. These two have run show the show and pulled the strings for the Citizens from the center of the park.
If Manchester United allow them to operate optimally, they are bound to find themselves in big trouble. Stopping them from getting freedom and restricting space to the duo is crucial if United aspire to come out triumphs from this match. Hence the likes of Nemanja Matic and Ander Herrera have a big task on their hands.
Jose Mourinho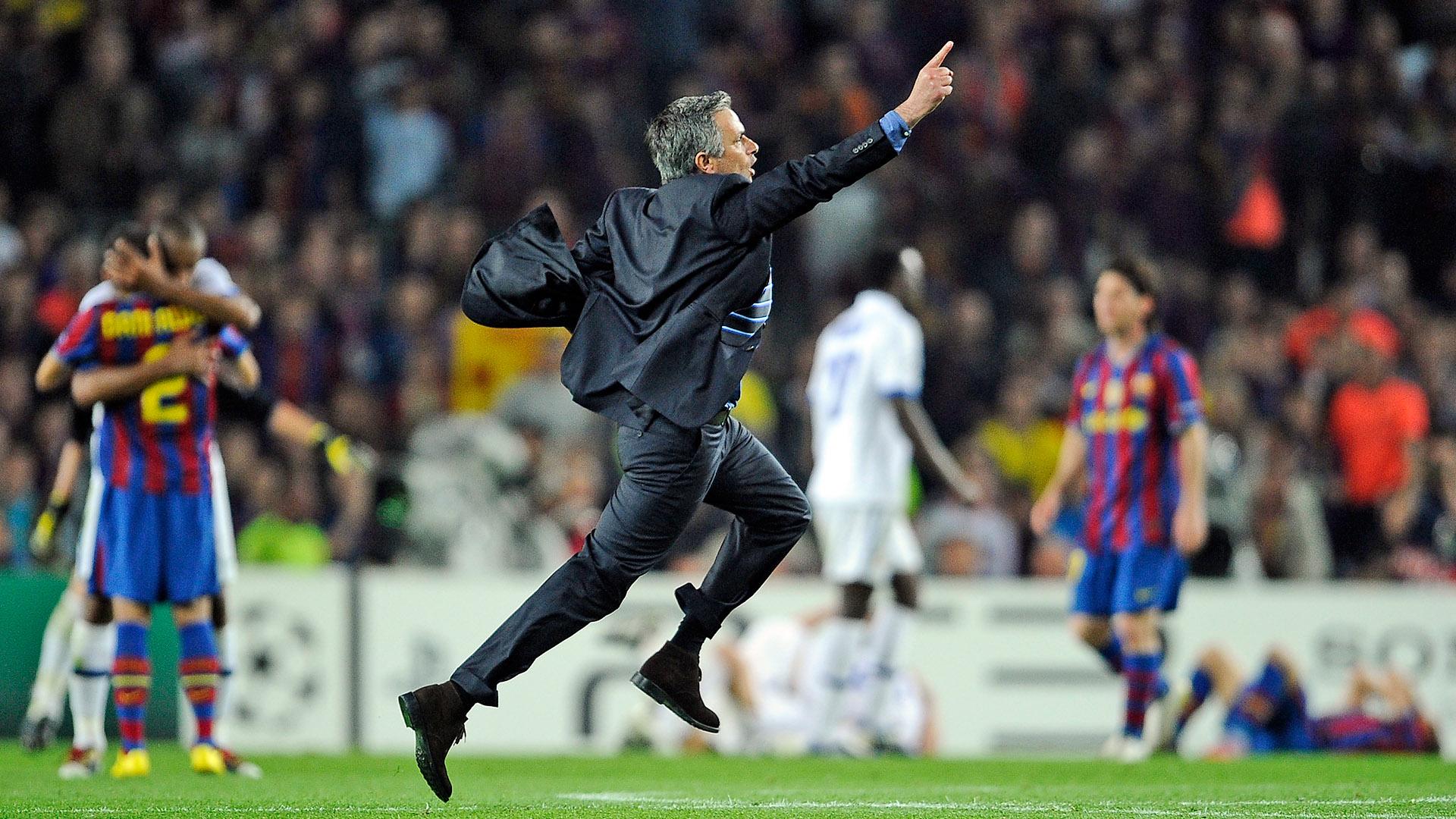 If there is one man you would want to manage your team against a team of Manchester City quality and form, it would be Jose Mourinho. Love him or hate him, the fact that Jose Mourinho is the one person who can break the best of team's remains undebatable. One only has to remember his Inter Milan team defeating Pep Guardiola's Barcelona in the 2010 Champions League Semifinal. Manchester United and possibly the chasing pack of the Premier league will lay their hopes on the Portuguese to spark some life back in the title race.
Interesting facts 
Their 2-1 victory vs West Ham meant that City equaled the record of Arsenal (2000-01) and Chelsea (2016-17) for the most consecutive victories in Premier League history. If they are able to come back with 3 points from Old Trafford would mean a 14th consecutive league win and a new record being set.
Manchester United are unbeaten in their last 40 home games. Ever Since Jose Mourinho took charge, the 13-time Premier League winners have only lost 1 game at Old Trafford. While it gives enormous confidence to the team and fans going into the Manchester Derby, it's worth remembering that one loss was to Manchester City in the early parts of last season.
Line up predictions 
De Gea, Valencia, Smalling, Lindelof, Jones, Young, Matic, Herrera, Lingard, Lukaku, Martial.
Ederson, Walker, Otamendi, Kompany, Delph, Fernandinho, Kevin De Bruyne, Sterling, David Silva, Sane, Aguero.
When is the match? 
The match will kick off at 16:30 local time/10 PM IST
ADVERTISEMENT
Article continues below this ad
ADVERTISEMENT
Article continues below this ad