Manchester City Rue Over not Involving VAR as Liverpool go 9 Points Past them
Published 11/11/2019, 5:37 AM EST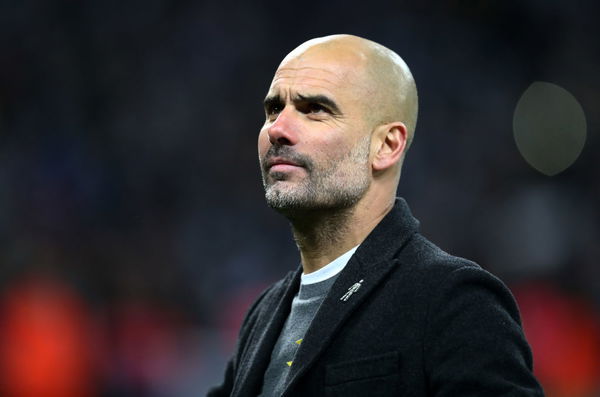 ---
---
Once again, VAR caused drama in a football match. Once again, Manchester City and Pep Guardiola were involved, and once again, Guardiola felt his team were on the receiving end.
ADVERTISEMENT
Article continues below this ad
But this time, the drama was caused because of VAR not involving rather than it making a decision. And if you are a neutral, you would be thankful it didn't for what followed immediately was much more than what VAR's intervention would have brought in.
The very reason many had opposed the introduction of VAR was saying it would disturb the flow of the game. Had it then, the world would have missed an absolute thunder of a strike from Fabinho.
ADVERTISEMENT
Article continues below this ad
But being from a Manchester City fraternity can make you deter at why the game was not stopped. Had that been stopped for a check, there is every opportunity for the score to be 0-1 instead of 1-0. And moments before Alexander Arnold incident, the ball had also hit Bernardo Silva on the arm, which seemed unintentional.
Guardiola said it was the responsibility of Mike Riley as the general manager of Professional Game Match Officials Limited to explain the varying interpretations of the handball rule and the use of VAR over it.
"Ask Mike Riley and the big bosses about that," he said. "Don't ask me. Ask Mike Riley and his people. I'm here to talk about the game. Every time I'm being asked why one day it's handball, the next day it's not. Don't ask me. Ask them. I know the way we were champions last two seasons, I'm so proud of that.
"I'm uncomfortable because it looks like Pep is complaining but congratulations to Liverpool, 3-1, could we have done differently on the second, third one – is it a penalty, isn't it a penalty? I don't know what with all these ifs, you don't know what will happen in the future. Ask the big bosses.
ADVERTISEMENT
Article continues below this ad
"Tomorrow I go to the Uefa meeting and we discuss these things. What can I say? It's not nice for this club. We have started to be in the elite in the last 10 years, not like Liverpool, you'll never walk alone, who have been there 30 years, 40 years, 50 or 60 years. We are new to that. The organisation will help us to grow, these experiences will help. These games are part of life, sometimes for us and sometimes against. The referee and these kind of decisions, ask the big bosses, they know more than me."
ADVERTISEMENT
Article continues below this ad
Six minutes after Fabinho's thunderous strike, Andy Robertson delivered a delicious cross for Mohamed Salah to devour. This again brought about a few controversies asking why it was not taken back for an offside check.
Sadio Mane, six minutes into the second half took Liverpool to a comfortable position. Bernardo Silva's effort in the 78th minute was a mere consolation as Liverpool opened up a nine point lead over the defending champions and stay on top with an eight point gap.