Manchester United 0-0 Burnley FC: Talking Points
Published 10/30/2016, 2:56 AM EDT
By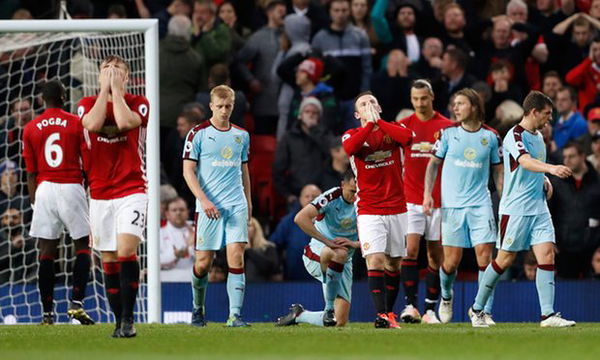 With only one win in their last 5 Premier League games, Manchester United came onto the field today with every intention of taking 3 solid points home but alas, not everything is easy and cotton candy-esque in life and especially in football. This game had Manchester United written all over it. As for goalless draws, this game sure was entertaining with a red card for United, Jose being banished from the sidelines and another hearty performance by Tom Heaton.
ADVERTISEMENT
Article continues below this ad
They dominated the game inside and out, whether it was in regard of possession, tackles or the number of shots on target but despite all their efforts Manchester United failed to hit the back of the net. Giving credit where its due- Tom Heaton, ManUtd born and bred kept Burnley's hopes of taking at least a point home alive with brilliant goalkeeping which cost The Red Devils their 2 points.
Juan Mata- Man of the Match for Manchester United
ADVERTISEMENT
Article continues below this ad
This does not come as a surprise considering just how Juan Mata has saved United in their previous games. This game, however, was special for both Juan Mata and the fans who adore him as he put on the captain's armband against Burnley and proved his worth yet again. Mata was all over the field, making important tackles, creating chances and even missing a few. He showed up wherever he was needed and that is exactly why Mata had a successful game today.
Spaniard Mata was famously offloaded by Mourinho at Chelsea but it just seems so ironic that he be the one to carry almost all of United's games now that Mourinho's in command. Mata had a 100% pass accuracy, 100 take-ons, had 7 chances and created a whopping 6 shots! Mourinho's decision to sub him off seemed pretty outlandish considering after Ander Herrera, Mata was the only creative midfielder on the field and bringing Fellaini in for Mata made very little sense.
Zlatan Ibrahimovic had one of those 'off' days
Yes, Manchester United fans know just how lucky they are to get a player like Zlatan Ibrahimovic and yes, he's been an important player for them, too but there's no point in being an important player if you can't be consistent. Sure, he's scored some pretty nasty goals for ManUtd and sure, he's got an aura around him that just makes him favourable but it is important to admit that Zlatan had a very bad game today. In fact, he hasn't had a very good game in a long time now. In the last 6 PL games, he's played 540 minutes with 35 shots and 0 goals/assists. There's a problem and Mourinho needs to see that.
Burnley's strategy remained the same: DEFEND, DEFEND AND DEFEND
Burnley had just one tactic that played out quite well for them- defend till the time's up and defend, they did. However, Sam Vokes' shot did make things difficult for De Gea but unfortunately for The Clarets, that did not convert into a goal. Burnley also took the lead somewhere in the start of the second half but soon faded away as United took over. Dean Marney and Ward were the Burnley players who put forth their hearts and souls to make this game count but to no avail.
Manutd fans lift their team up; Yet again.
The reality of it all is that football clubs are nothing without their loyal and relentless fans and United fans have proven it time and again that fighting back is the braver thing to do than giving up. Like always, United fans came roaring in and supported their team through the frustrating game. Cheering, applauding and singing their way on, United fans made sure that the spirits were high even if the score wasn't.
Tom Heaton- Man of the Match (Overall)
ADVERTISEMENT
Article continues below this ad
If someone really deserves appreciation, it's Tom Heaton, the busiest goalkeeper in Premier League this season. Tom Heaton put up an absolutely stunning performance of goalkeeping wherein he became an unstoppable force that not even Zlatan Ibrahimovic could move.  What the home supporters must have been praying for was an early goal, but largely due to Heaton's goalkeeping heroics it never came. Heaton made crucial saves including shots from Mata, Lingard, Pogba and Zlatan.
ADVERTISEMENT
Article continues below this ad