Manchester United Lacklustre in a 1-1 Draw vs. Sunderland
Published 08/24/2014, 6:09 PM EDT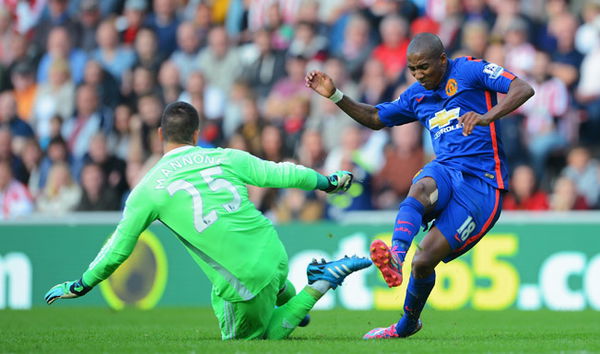 ---
---
It was another disappointing outing for Manchester United and Louis Van Gaal. But despite this,it marked some progress; one point is better than nothing. The return of Robin Van Persie was much welcomed by the United faithful and Van Gaal kept faith in the 3-4-1-2 system which brought out a horrendous performance by United against Swansea in their opening game.
ADVERTISEMENT
Article continues below this ad
Sunderland came firing out of their blocks in the first few minutes forcing mistakes out of the United defence by pressing high and not allowing the three center backs time on the ball. Fletcher once again looked poor on the ball and the inclusion of Tom Cleverly didn't help him. The top most concern for United right now is the absence of pace and penetration in their attack. There is a general lack of purpose about their attack and shakiness in defence which comes from lack of experience. The combined age of United's three centre backs when Keane came on was lesser than Sunderland's two.
The goal in the 17th minute by Mata was against the run of play and United were lucky to be leading through the brilliance of Antonio Valencia who beat Aanholt before delivering a low cross between the keeper and the line of defenders. Valencia took on players and defended absolutely brilliantly. He definitely looked to be the best player on the pitch for me today.
ADVERTISEMENT
Article continues below this ad
Sunderland played well and deserved their 30th minute goal by Jack Rodwell who must have been relieved considering that he played only five times and scored no goals for City last season. All in all it was a sluggish half of football and United were lucky that the score was level. United's poor performance was mainly due to their star men Wayne Rooney, Robin Van Persie and Juan Mata not having enough touches; 28 for Rooney in the first half. Rooney and Van Persie must have passed lesser than five times to each other. Their interplay was virtually non-existent. Van Persie was definitely not 100%.
In the second half United definitely had more purpose and belief in their play. The penalty call which the referee deemed as a dive in the 63th minute was controversial. It was a case of Young's reputation getting the better of him. I felt that Welbeck played well, he used his pace and stretched the Sunderland defence. Sunderland had a few chances but it was quite apparent by the end that they would settle for a draw. The possession stats read 55% to 45% in United's favour. It was a fair result and a well deserved point for Sunderland.
Hopefully United complete the rumored signing of Angel Di Maria in the next week which should arguably boost everybody's confidence and bring the pace that United so badly lack.