Mansell relives moment of magic in Mexico
Published 10/31/2015, 2:43 AM EDT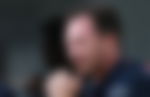 ---
---
By Alan Baldwin
ADVERTISEMENT
Article continues below this ad
MEXICO CITY (Reuters) – A corner of Mexico's Hermanos Rodriguez circuit will always have Nigel Mansell's name on it, even if it is now a shadow of the one that witnessed one of the bravest overtaking moves in Formula One history.
In 1990, at Ferrari, the future world champion pulled off a breathtaking 300 kilometre per hour pass on Austrian Gerhard Berger's McLaren around the outside of the fearsome Peraltada corner to take second place.
ADVERTISEMENT
Article continues below this ad
The overtake instantly entered Formula One legend.
"I think, did I really do that? Because in that day if it went wrong, you were going to get seriously hurt. So you've got to be a bit mental to take it on," the Briton told Reuters on his return to the track where he won in 1987 and 1992.
"On the entry, because we were real close, I thought if he touches me now I'm history. Big time. I think it shocked him and frightened him a bit too because if he'd tangled with me he'd have gone too.
"I think he had a better sense of self-preservation that day than I did."
The same corner had triggered national mourning in 1962 when Mexico's rising star Ricardo Rodriguez crashed and died there on November 1, the day of this year's race, in practice for the non-championship grand prix.
The bumpy, flat out corner was a huge test of bravery and skill even after the banking was reduced in the 1980s but for the sport's return this weekend, having last had Mexico on the calendar in 1992, it is no more for obvious safety reasons.
Instead, it has been cut in half with the track now twisting through what had been a baseball stadium before rejoining the second part of the curve.
That has now been renamed the Nigel Mansell corner and the 62-year-old, back in Mexico for the first time since his 1992 championship year with Williams, went out to take a look.
To his surprise and gratification, the track marshals immediately recognised him.
"Some spoke very good English and were just embracing 1992 and that manoeuvre. It's legendary in folklore in their history. It was very rewarding everyone congratulating me 23 years later," he said.
Mexican driver Sergio Perez said Mansell was "a hero to motorsport fans in Mexico and I admire all he has achieved."
"ICONIC CORNERS"
Reliving his famous overtake, the Briton recalled how it had just been instinctive — a decision made after Berger had passed him on the main straight with three laps to go in an extremely aggressive fashion.
"I was so incensed by the way Gerhard passed me down the straight, I thought there's no way you are going to take second place from me. He was on new tyres, I was on old tyres. So I just did a do or die and it came off," he said.
"Gerhard was my team mate the year before so we knew each other quite well. But he gave no quarter…It was a great fight and a great finish."
Mansell, a big fan of compatriot and now triple champion Lewis Hamilton, regretted that there was no place in modern Formula One for corners such as the old Peraltada even if he understood full well why they had to go.
"I have a lot of regrets that two people lost their lives in 1994 which changed all circuits around the world forever," he said, referring to the deaths of Brazilian triple champion Ayrton Senna and Austrian Roland Ratzenberger at Imola.
"We've lost iconic corners all around the world because unless they were able to have massive runoffs…at Silverstone, our own grand prix, you only have to look at Becketts, Copse, Stowe and even Club have all disappeared pretty much.
ADVERTISEMENT
Article continues below this ad
"I have to say for some of the right reasons, obviously," added Mansell, who these days provides his fans with more literal magic moments.
The 1992 champion has joined the exclusive 'Magic Circle', performing card tricks initially as a way of recovering from severe bruising of the brain he sustained in a Le Mans sportscar crash in 2010.
Bringing out his pack of cards to entertain guests at a dinner on Thursday, it was clear that the man Ferrari fans dubbed 'Il Leone' (The Lion) could still put on a show in Mexico.
ADVERTISEMENT
Article continues below this ad
(Editing by Mark Meadows)