Maradona Eyes FIFA Vice President Role
Published 06/09/2015, 1:55 PM EDT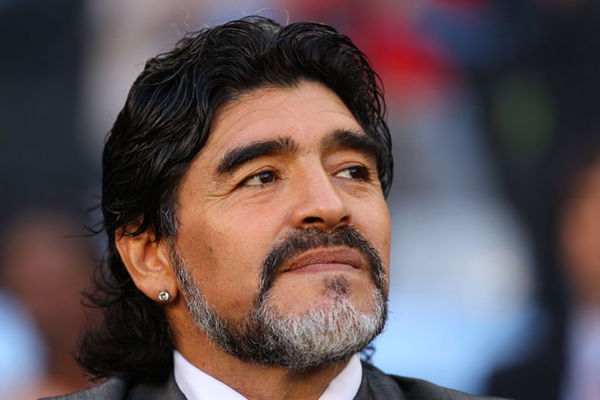 ---
---
Football great Diego Maradona has claimed that he could be in line to become the vice president of Fifa, should Jordanian Prince Ali Bin al-Hussein be elected as the next Fifa president in the elections to be held closer to the turn of the year.
ADVERTISEMENT
Article continues below this ad
The 1986 World Cup winner and former Argentina coach has always been a critic of the former Fifa president Sepp Blatter and described him as "a dictator" last month.
The Prince had a good chance in these elections as he staged the most competitive challenge to Blatter's rule in years.  Therefore, it won't come as a surprise to see Prince Ali stand again for the Fifa Presidency, and Maradona insists that he can be a part of this organization and will get rid of all the corruption in the governing body's system.
ADVERTISEMENT
Article continues below this ad
"If Prince Ali wins, I have many chances to become Fifa vice-president. If I arrive I'll clean them all up," he said on The Football Show on Argentinian TV channel America.
ADVERTISEMENT
Article continues below this ad
"Blatter is afraid of the FBI and the Swiss police. He was afraid to leave Fifa in handcuffs," he said when asked about Blatter's resignation. "That hadn't happened in a long time because Fifa bought the votes and said, 'Lunch is over, Blatter won. Have some whisky, champagne, whatever you want.'"
He dismissed the former Portugal striker Luis Figo's chances of succeeding Blatter: "I respect him, but his word is worth less than Zorro's friend's" – a reference to Bernardo, the masked hero's mute servant.
He also took aim at the Uefa president Michel Platini: "He has to clarify the 187 matches he rigged, which he told me about in Dubai."
ADVERTISEMENT
Article continues below this ad
If given a post at Fifa, Maradona said, "I would not go with a thirst for revenge, but to build football fields in needy communities."