Mardy Fish Makes The Perfect Player And Does Not Choose Roger Federer
Published 04/09/2020, 10:48 AM EDT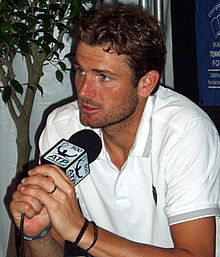 ---
---
The 2004 Olympic Silver medalist Mardy Fish has just revealed his vision of the perfect tennis player. Most of his selections for the various aspects of the game were very good. However, he did not include one player which will definitely upset a lot of people. Check it out.
ADVERTISEMENT
Article continues below this ad
Build me your perfect tennis player…. (All-Time) Mine…

Serve: Isner

Forehand: Nadal

Backhand: Djokovic

Return: Djokovic

Volleys: Edberg

Movement: Monfils

Mental Toughness: Lendl

— Mardy Fish (@MardyFish) April 8, 2020
ADVERTISEMENT
Article continues below this ad
The Perfect Tennis Player Made By Mardy Fish
Mardy Fish focused on 7 aspects of the game when creating his perfect player. He focused on the serve, the forehand, the backhand, the return, the volley, movement, and mental toughness. Check out his selections in the Twitter post which include some vintage players like Stefan Edberg and Ivan Lendl.
Mardy Fish's selections were very accurate. He chose Rafael Nadal's forehand and Novak Djokovic's return which are arguably the best. However, people were very unhappy about the exclusion of one player – 20-time grand slam champion Roger Federer.
Why was Roger Federer excluded? That is a question only Mardy Fish knows the answer to. Unfortunately, he has not explained why which is why many people have tried to guess. One of those guesses was, 'Roger is not the best at each of those aspects but he is the best sum of all those'.
ADVERTISEMENT
Article continues below this ad
This guess has a lot of merit to it as Roger Federer is one of the most complete players. There is not a single shot that he cannot play with incredible skill and there is not an aspect of the game he is not good at. This is why he holds the record for the most grand slam titles.
While this is a good guess, we don't really know why Mardy Fish excluded him from the list. And even though he did not include Roger, his selections were still extremely good. Let us all hope that one day we get to see a player who fits Mardy Fish's description of the perfect tennis player.
ADVERTISEMENT
Article continues below this ad