Marsh waiting for moment to shine at crease
Published 12/23/2015, 8:50 AM EST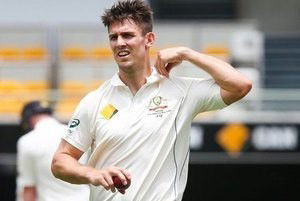 By Ian Ransom
ADVERTISEMENT
Article continues below this ad
MELBOURNE (Reuters) – Mitchell Marsh's spot in a rebuilding Australia side is assured for at least the Boxing Day test against West Indies but the all-rounder is feeling some heat to score runs to shore up his place.
The 24-year-old has been a virtual fixture since replacing Shane Watson after the first Ashes test in July and has picked up 17 wickets at an average of 33.70 in his 11 matches.
ADVERTISEMENT
Article continues below this ad
His batting has been less noteworthy, however, and his top score in the last seven tests was a 34 against New Zealand in the drawn match in Perth.
With Australia's newly minted top order performing well this home summer, Marsh's modest run has been glossed over.
Circumstances have rarely called for a big score from the Western Australian, however.
Marsh has come in on the back of some monster totals, instructed by captain Steve Smith to smash quick runs before a declaration.
In the series-opener against West Indies in Hobart, he had to wait for the end of a record 449-run fourth wicket partnership between his brother Shaun and Adam Voges before getting a chance.
His innings of one lasted 11 balls before Smith declared.
Waiting for a chance to shine has had its frustrations but Marsh was just happy to have his spot guaranteed for the Melbourne test starting Saturday by coach Darren Lehmann.
"It's obviously very nice when you read that sort of stuff, for the coach to come out and say that," Marsh told reporters at the Melbourne Cricket Ground on Wednesday.
"There's obviously been a little bit of pressure on me to score runs.
"I've tried not to take too much notice of it because, as a team, three out of the four tests (this summer) we've made over 500 in the first innings."
The spotlight has fallen on Joe Burns and brother Shaun as two players who could make way for top order batsman Usman Khawaja, who is tipped for reinstatement after recovering from a hamstring strain.
ADVERTISEMENT
Article continues below this ad
Shaun Marsh scored 182 in Hobart and would be unlucky to miss out.
Burns has had a lean few tests but his partnership with opener David Warner has been a success since the series-opener against New Zealand last month.
Mitchell Marsh said his older brother, dropped a number of times since making his 2011 debut in Sri Lanka, had learned not to worry about speculation over his place.
ADVERTISEMENT
Article continues below this ad
"Shaun has changed a lot as a person over the past couple of years," Marsh said. "He doesn't buy into what people say, he's just extremely focused at the moment. You can see that in his batting, he's batting absolutely beautifully."
(Editing by John O'Brien)