Marshmello To Live Stream Call Of Duty With CouRage
Published 04/16/2020, 3:24 PM EDT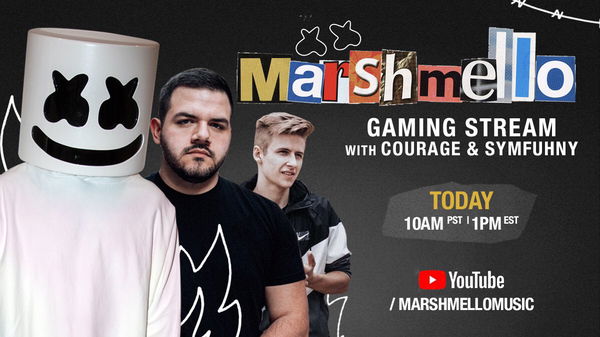 Call Of Duty Warzone is a game that everyone is on. During this time of global lockdown, everyone is staying home enjoying video games. From rappers to musicians to sportsmen. We have already seen Neymar and Pogba and Griezmann live-streaming the game. Marshmellow tweeted today that he would be playing with CouRage & Symfuhny. His stream is now setup on Youtube.
ADVERTISEMENT
Article continues below this ad
The EDM-producer-cum-DJ already teamed up with Noah J (NoahJ456), Jack Dunlop (CouRage), and Marcel Cunningham (BasicallyIDoWrk). It might come as a surprise, but Marshmello definitely has some pro-level experience. He also joined a live-stream with the gaming organization FaZe clan back in March.
Celebrities Spending Time Indulging In Gaming
ADVERTISEMENT
Article continues below this ad
This pandemic situation has forced everyone to stay home and stay safe. What was once deemed as a disease, was now rectified and declared as one of the very things which people should practice. WHO rephrased its statement of labeling gaming as a disease. In these times of social distancing, it is one of the best ways to keep the human spirit alive. Celebrities are also contributing to this in their own way. Besides footballers, we have seen the likes of Snoop Dogg coming out, with all his swagger complaining about the server. Marshmello also streamed with members of the FaZe Clan, Diplo and Alesso, in a charity event for COVID-19. That charity game raised about $50,000 to support the victims. As influencers, they are doing their best to make sure that people realize the gravity of this pandemic. At the same time, they are still entertaining us, this time with video games.
How Did The Previous Game Go Down?
The previous game of Call Of Duty where Marshmello player with CouRage was an absolute nail-biter. They won the match quite easily with their skills against cheaters trying to wallhack and pin them down. However, that did not affect their love for the game. They kept being matched up against cheaters, and yet with their abilities, they brought home the victory. Marshmello even managed to kill a cheater who was one of the highlighting moments of the stream. We are eagerly looking forward to the upcoming stream, hoping that they won't be plagued with cheaters this time.