Martinez already looking forward to 'phenomenal' semi-final
Published 12/04/2015, 12:01 PM EST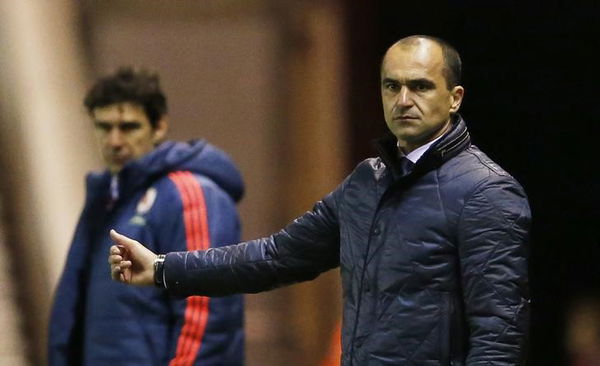 ---
---
LONDON (Reuters) – Everton's Roberto Martinez broke with the managerial convention of only taking one game at a time on Friday to look ahead to a "phenomenal" league Cup semi-final against Premier League leaders Manchester City.
ADVERTISEMENT
Article continues below this ad
Speaking for the first time since the draw was made, the Spaniard told reporters he was already excited by the two-leg tie, which will be played early in January.
"We didn't expect an easy draw," he told reporters on Friday.
ADVERTISEMENT
Article continues below this ad
"We are excited, we feel good and are confident of enjoying it.
"We all felt the expectation could work both ways (in the quarter-final against Middlesbrough) — either positive or be cagey. I thought our team showed a real enjoyment of what we could achieve.
"We haven't won a cup for a long time and we want to achieve as much as we can.
"It will be a phenomenal, phenomenal occasion for our club."
Everton, who won the FA Cup in 1995 and reached the final in 2009, have never won the League Cup.
Before meeting City, however, they must concentrate on maintaining an impressive recent run of six unbeaten games in all competitions.
"December is the most significant month in the Premier League in terms of competing for 15 points," said Martinez, whose team lie ninth in the table, six points behind the Champions League places.
Belgian striker Romelu Lukaku's goals have been behind the recent success and former Barcelona forward Gerard Deulofeu was outstanding against Middlesbrough.
"The hardest thing to do is scoring goals and this season we have found an interesting run of form of certain players," Martinez said.
"As a football club we have done incredibly well to assemble this squad. It has taken a lot of work and a lot of scouting."
Crystal Palace, the visitors to Goodison Park on Monday, were described by Martinez as "a team with a really good mentality, pace and power and difficult to stop — they are dynamic."
Palace manager Alan Pardew was equally complimentary about Everton, who are point behind his team.
"They are dark horse for Europe, even for the Champions League," he said.
ADVERTISEMENT
Article continues below this ad
"But it's an opportunity to get a result and stay above them."
Palace will be without winger Wilfried Zaha, who is suspended after collecting a yellow card for diving against Newcastle.
"Last week was a dive and now he can't play this week. He's had my feelings on it," Pardew said.
ADVERTISEMENT
Article continues below this ad
"It's just a tiny aspect of his game he needs to correct."
(Reporting by Steve Tongue, editing by Ed Osmond)